Teach me to break my bad hair habits please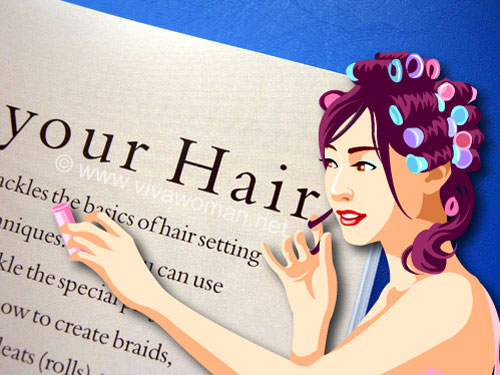 I'm not very good with my hair; I don't think I've taken very good care of it all these years. In fact, I have a few bad hair habits and I'll talk about these today. Maybe you can teach me something about breaking them or maybe you can learn something from them. Otherwise, well, take it as some silly hair musings then. (#k8SjZc9Dxk__#k8SjZc9Dxk)
Twirling, twirling & twirling
I love to twirl the hair on my left side. It's something I've not been able to stop doing since I-don't-know-when. It happens mostly when I'm thinking and my fingers will unconsciously move up to touch my hair and soon, I'll be twirling at them non-stop to the point of "squeezing" them. I've known for a long time that this is bad for my hair and it can possibly contribute to hair loss because my actions are causing undue strain on my hair follicles and sometimes I can feel a slight pain even.
Combing, combing & combing
I've probably got a OCD complex about my hair. I'll be checking them ever so often to make sure they're in place and the first thing I do when I arrive at a destination is to comb my hair. I just can't stand the idea that they maybe messy. However, I also know that excessive combing and brushing are causing my scalp to produce excessive sebum and making them oilier…but I just can't stop!
Fingering, fingering & fingering
Okay, I've probably kicked about 80% of this habit but for many years, I was always flipping and then running my fingers through my hair. I used to be teased so much about this that I decided to stop but I still do it once awhile, and sometimes, I find myself actually fingering all over my scalp just to feel for the sebum. The thing is, doing that probably contributed to more oil secretion in the end!
Massaging, massaging & massaging
I've definitely kicked this habit for good for when I was younger, I thought that massaging my scalp for a good 10 minutes or so was good. Well, it's good for some people but not me because I have oily scalp. So over massaging, like over combing, will only cause my scalp to produce excessive sebum and making them oilier!
Washing, washing & washing
I wash my hair every day. This is probably quite normal but the thing is, each day, I'll wash my hair twice. It's no wonder that my shampoo runs out so quickly and it's no wonder that my hair is quite dry at the ends. I should try to stop this but I just can't because I always feel one shampoo doesn't clean my hair quite adequately.
So anyone of you have such or other bad habits? Or is anyone willing to provide me some free counseling on how I can break these bad hair habits?
Comments