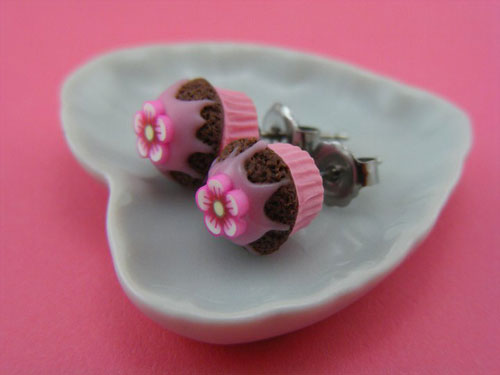 Hello VivaBellas! Since Chinese New Year is just two days away and it's a festive period where the main preoccupation is eating, I thought you might like these sweet polymer clay earrings and rings handmade by Shay Aaron, a brilliant artist from Israel who makes the most astonishingly lovely miniature food items. I don't know about you but these make me hungry.
Shay Aaron actually make various kinds of food and you really want to check them out. Here, I am only posting some of the pastries he made; they're absolutely a delight to ogle at and I hope nobody is drooling too badly now.
This beautiful and delicate pair of fruit tart earrings come complete with toppings of vanilla cream and some slices of grapefruit, strawberry and kiwi. Don't you just want to sink your teeth into them?
I swear I can just smell how fragrant this ring is. Noticed it's got toppings of bananas besides the grapefruit, strawberry and kiwi?
I have no idea what these are but those look like coconut flakes on top to me. Anyway, if this pair of earrings were for real as tarts, I am pretty sure they'll be snatched up in no time.
I love the color combination of this pair of chocolate cupcake, which comes with toppings of orange and lemon slices. They may look sour but I bet they're all sweet.
Check out the details at Shay Aaron Miniatures. If you're into wearable art, you won't want to miss them. And yeah, you can purchase them as international shipping is available.
Before I go, here's wishing all my Chinese readers – 萬事如意!