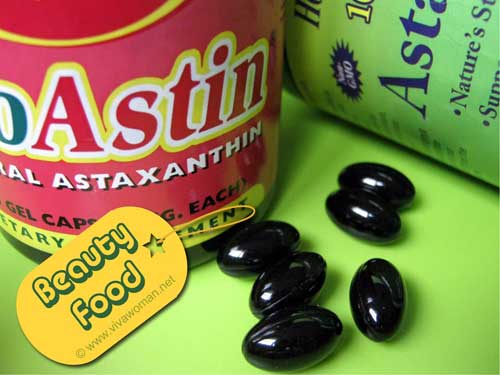 Okay, this is what I'm SO EXCITED to share today – Astaxanthin supplements! I learnt about it last October when a reader by the nick of Destiny mentioned the beauty benefits of this supplement in one of her comments. In fact, she has been taking it regularly together with her husband and she noticed their eyesight actually improved within weeks! Since reading her comment, I began to research materials on this and once I've established that this supplement can provide sun protection, I immediately latched on to a spree at iHerb and ordered two brands (Healthy Origins and BioAstin), which I later discovered, were also recommended by Destiny.
Inspired by the positive customer reviews
Yes, I'm just overwhelmingly passionate about anything that can protect my skin from the sun! I was so amazed when I read the customer reviews of these supplements and was even more inspired when I learned that some of them managed to stay out under the sun for long periods of time just taking Astaxanthin, and not getting burned even without using a sunscreen! And some customers even mentioned that their pigmentation were subsiding after taking this supplement. So how can I pass this on??? All right, there are plenty of research materials out there about Astaxanthin so I'm not going to bore you by putting them here. I'll just make some quick introductions and point you to those relevant resources.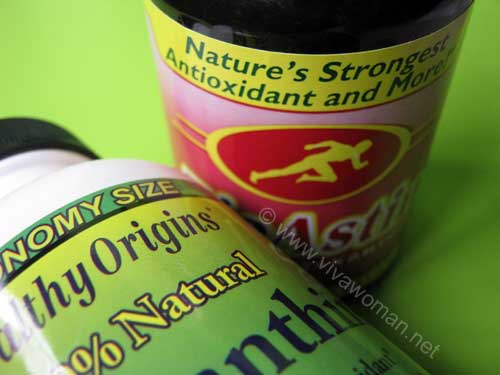 A super antioxidant
Astaxanthin is a derivative of the microalgae Haematoccous pluvialis – the part that gives salmon and flamingos that eat the algae their orange or pink coloring. It is produced when the algae's water supply dries up, forcing it to protect itself from lack of nutrition and/or intense sunlight. Now, what's interesting to know is that a growing body of scientific literature and epidermal analysis determined that the quantity of Astaxanthin was 133 times that of lycopene and 28 times that of beta-carotene! So there are plenty of benefits to be derived from taking Astaxanthin but I'll just touch on the benefits to our skin here.
Works as an internal sunscreen
Initial animal studies in Japan had discovered that by ingesting Astaxanthin, mice could stay under UV radiation longer without getting burned or experiencing deleterious damage to their skin. The Journal of Dermatological Science published a study in 2002 finding Astaxanthin is able to protect against alterations in human DNA induced by UVA light exposure. And Cyanotech, the company that produces BioAstin from microalgae, tested it on human volunteers and found that taking 4 mg per day for just two weeks statistically increased the amount of time the subjects could stay in the sun without getting burned.
Powerful quencher of inflammation
Many users of Astaxanthin supplements reported that they are able to spend significantly more time out in the sun without burning than they were able to before. This is due to the powerful anti-inflammatory properties that Astaxanthin has. Hence, this also means that as an antioxidant, Astaxanthin scavenges the free radicals in the skin surface which ultimately helps reduce moisture loss and keeps skin smooth. So this supplement can effectively help to reverse external signs of aging from the inside out. But do note that taking this as a suppplement will not eliminate the risk of sunburn in everyone, but it can radically reduce your risk of developing severe sunburn and related skin damage. Plus, it will take some weeks for the dose to build up to achieve UV protection, and to help improve your skin's overall moisture balance and elasticity.
For more information about the health and beauty benefits of taking Astaxanthin, read these articles:
– Sunscreen & wrinkle prevention in a pill
– King of carotenoids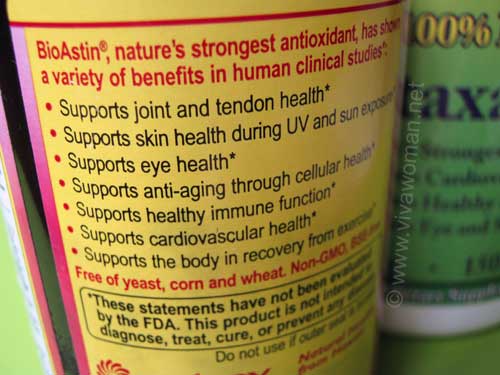 My personal experience taking Astaxanthin
I've completed my first bottle of Astaxanthin supplement consisting of 150 capsules, each containing 4mg. I have to say I wasn't too impressed initially because I did not see much of a difference to my skin. However, I did notice a change in my energy level and my joints for the better. I also did an experiment using my hubby as the guinea pig, by making him take this prior to his outdoor exercises. I noticed that while he returned tanned, but there were no visible signs of sunburn. So I suppose it does provide some levels of protection and I persisted with the supplement myself, taking two capsules daily.
Double up with topical application of Astaxanthin
And after around two months now, I noticed my skin is looking better. I still have my pigmented spots but I noticed some of them are lightened although I have to qualify that I'm not sure if this can be completely attributed to Astaxanthin as I'm also using topical products. But I'm pretty happy to continue taking this supplement because one, it gives me peace of mind when I'm out under the sun, and two, it's cheap! A bottle cost me something like S$30? That's like half the price of Heliocare! Anyway, I'm just so thrilled by all the research materials on Astaxanthin that I've even gone on to order topical products containing the ingredient! Heheh! So yes, read all about my experience using Astaxanthin topically – coming right up real soon.
Update: I have stopped taking astaxanthin for awhile but it is only recently that I found that synthetic astaxanthin supplements are being sold in the United States and these are downright dangerous to human health.