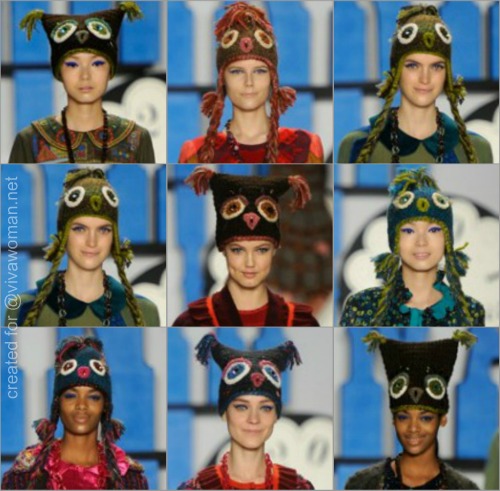 Anna Sui definitely made a hooting fashion statement with these funky knit owl hats! They are totally cute, and most definitely added some original sparkle of fun to her whimsy, mod 1960s inspired collection at the recent Mercedes-Benz Fall 2012 Fashion Week.
"There's something about the '60s. I love the color palette, and so much of the '60s was inspired by folk art but also the Victorian period, and I love that," Anna Sui said in an interview. The retro collection is a fun mix of psychedelic patterns and colors, and the playful owl motifs are supposed to endear the younger generation to embrace the retro look.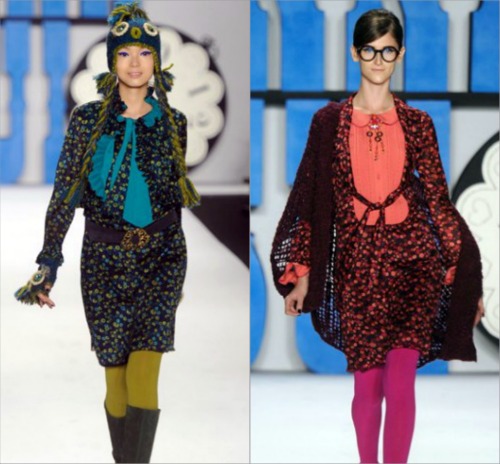 While said to be a '60s style inspired fashion collection, I don't really see why the younger crowd would have an issue embracing the retro look because Anna Sui has given the designs a modern spin that is all so hip and eye catching – whether it's a baby doll dress, a dropped-waist dress or an artsy printed caftan.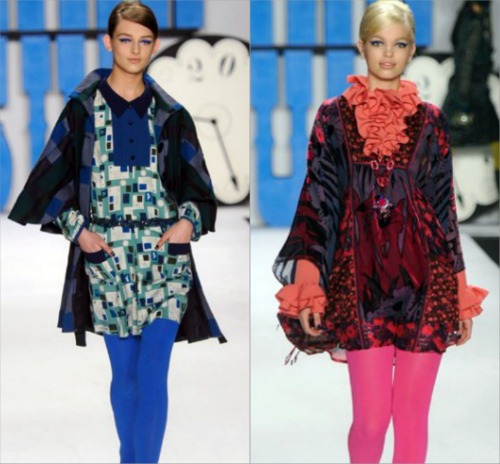 Outfits featured here are predominantly orange and turquoise and many feature feminine prints in cherries and florals, complete with matching stockings. Models were also strutting their stuff looking bookish in big, round glasses. I bet some librarians want to look this fun.
I'll tell you that the first thing that crossed my mind after looking at her collection was – does Anna Sui enjoy watching Austin Powers?