For your eyes only: Botáni Rescue Eye Treatment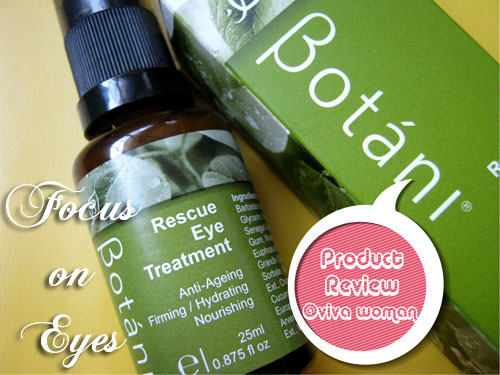 I am feeling very sad while writing this review. It's got something to do with this product all right but it's not what you're thinking and you'll see why in a minute. Moving along, let me introduce you to Botáni Rescue Eye Treatment from Australia, a product I've specifically requested to be sent to me. Now, very rarely do I request for products but this one piqued my interest because of the ingredient list. Plus, I am on a quest for effective eye products too!
Made in Australia
Some of you might remember Botáni, a brand I've introduced to you sometime at the end of 2011. This is a range of toxic-free botanical skin care from Australia formulated with skin friendly and organic active ingredients, and I had mentioned that their products look rather promising for those with particularly sensitive or problematic skin.
Natural eye lift and support gel
The Botáni Rescue Eye Treatment is described as a natural eye lift and support gel. Some of its promises include:
– providing strength and elasticity to the skin tissue of the delicate eye area
– reducing and softening the appearance of fines lines and wrinkles
– hydrating and nourishing the eye area
– reducing darkness around the eyes
Ingredients: Purified Water (Aqua),Aloe Barbadensis Leaf Extract,Xanthan Gum,Glycerin Hydrolysed Soya Protein, Acacia Senegal Gum (and) Hydrolysed Rhizobian Gum Water (and) Glycerin (and) Beta-Glucan, Euphrasia Officinalis (Eyebright) Extract,Citrus Grandis (Grapefruit) Seed Extract, Potassium orbate, Glycyrrhiza Glabra (Licorice) Root Extract , Chamomilla Recutita (Matricaria) Extract, Cucumis Sativus (Cucumber) Extract Olea Europaea (Olive) Leaf Extract, Equisetum Arvense (Horsetail) Extract, Arnica Montana Extract, Vanillin, Squalane (Olive)
Hydrating and nourishing formula that is not heavy
This is a gel-like, lightweight formula that is non-greasy and non-sticky. Hence, it is great for day application under makeup. Despite the light gel-like consistency, this formula is very hydrating and does help to nourish my eye area and reduce the appearance of fine lines upon application. I started out using this sort of interchangeably with the Kelly Edwards Eye Gel initially before using it more consistently every morning. I have to say this is a product that works "slow and steady" because I only saw improvements to my puffy eye area maybe after 3 weeks of usage. But certainly, this eye treatment did nothing for my dark eye circles.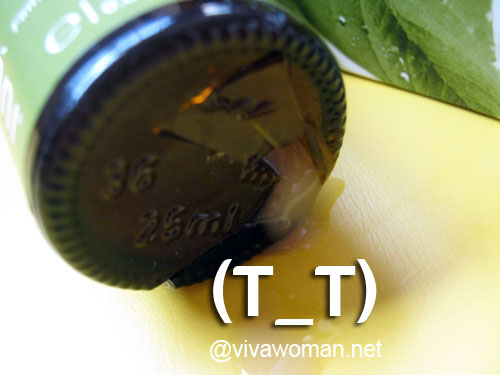 Comes with a light vanilla scent
Although I can't heap too much raves on this product, but I actually grew fond of it over time as it is not heavy and is both very soothing and hydrating for my delicate eye area. In addition, it's got a very pleasant light Vanilla scent. But sadly, I broke the bottle. I'm usually very careful with bottles but this one just slipped and although I've tried to save whatever I can in another container, I'm truly saddened.
Overall summary
Overall, I find the Botáni Rescue Eye Treatment a fine product that does most of what it claims. If you're looking for a product to soothe, nourish and protect your eye area, this one should do it.  It might help with puffiness overtime like in my case but I have to say that the reduction could also have come in part from a change in my breakfast habits. The 25ml bottle retails at AUD $49.95 at their website. The only thing is you won't find Botáni in Singapore and so that's quite a bummer.

Comments