Do you and your BFF have similar fashion sense?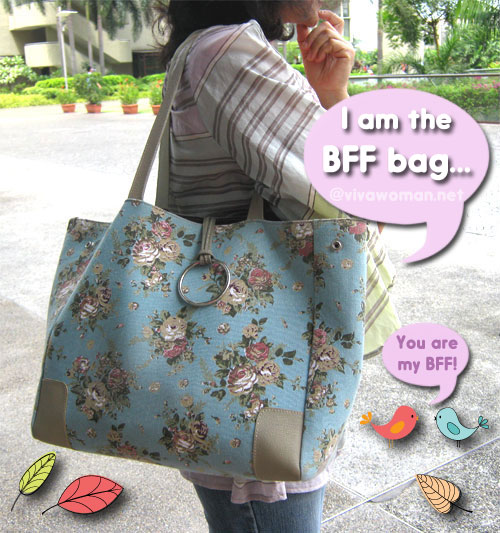 Are diamonds a girl's best friend? S-e-r-i-o-u-s-l-y? Because my best friend is not some sparkling thing but a lovely woman I've known for over twenty years now. Yeah, that's her, or rather, her bag in the picture. It looks kind of familiar only because I've got the same bag, just in a different color. And we got them together while shopping in Bangkok last year.
Nah, we don't have that many fashion items that are similar; bags are probably the only ones as we did end up purchasing similar designs on a few occasions. But otherwise, my BFF and I have rather different standards when it comes to other fashion items. Not vastly different but we'll probably be hard pressed to find something we can wear if we were to ransack each other's closet. The funny thing is that we have about the same built and there were many times in the past when we were mistaken for sisters. Yet, I cannot recall an instance of us sharing or exchanging clothes. Okay maybe once when she passed me a dress she bought for herself but thought it suit me better – I never ever got down to wearing it though.
My BFF has an artistic flair and makes really nice handmade jewelry, which I've featured them here before. Yet, even our tastes in the designs of jewelry differ. Come to think about it, our taste in shoes aren't similar too and despite telling her some time ago about FitFlops, she only got started on them very recently. So that's good in a sense because we don't look too similar when we stand together now and people no longer identify us as sisters, although being called that is not something I mind at all.
So yeah, bags are the only items my BFF and I have similar taste in. Other than bags, we have nothing that much in common and we can't really share or exchange fashion items. The good thing is that we can go shopping together quite safely though as we hardly have to vie for the same item. Heheh. So what about you? Is your BFF your best shopping buddy? Do you two have similar fashion sense or like sharing fashion items?
© www.vivawoman.net copyright notice ☺
______________________________________________________________
Comments