Pre-cleanse with Logona Rose And Aloe Cleansing Milk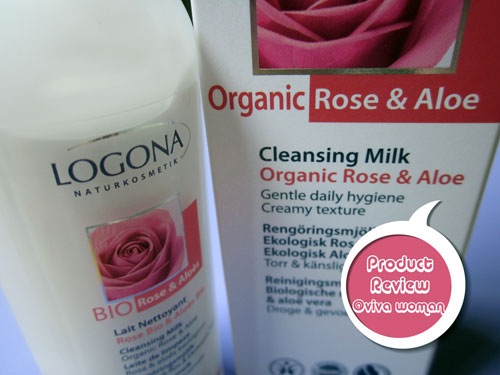 I use cleansing milk or cream as a pre-cleanse in my facial wash routine and this is what I bought from Bud Cosmetics recently – the Logona Organic Rose & Aloe Cleansing Milk. Since it is really intended to dissolve my make-up as well as impurities such as sebum and sweat before I use my foaming cleanser, I wasn't prepared to pay too much and this one came at a reasonable price. I also hadn't realized until much later that this was part of the set that Bud Cosmetics had sponsored in last year's Green Beauty Box Giveaway.
Established German natural brand
Many of you haven seen Logona's products around and some of you may be aware that it is an established German natural brand which has been around for over 20 years. Their products are certified under BDIH and NaTrue, and are free of synthetic colors, silicones, paraffins, petrochemicals, fragrances, and preservatives. They are also not tested on animal and said to be dermatologist tested for optimal skin compatiblity.
Cleansing Milk Organic Rose & Aloe, 125ml S$28
The Logona Organic Rose & Aloe Cleansing Milk is described as a gentle cleanser to cleanse and yet protect the skin from excessive dryness. It contains natural composition of organic oils of wild rose, jojoba, and almond, plus the extracts of organic aloe vera and Damascus rose. This is not an organic certified product but it does contain some organic ingredients marked by * in the list below.
Ingredients: Aqua (Water), Glycine Soja (Soybean) Oil*, Glycerin, Glyceryl Stearate Citrate, Sorbitan Stearate, Parfum (Essential Oil), Rosa Damascena Flower Water*, Prunus Amygdalus Dulcis (Sweet Almond) Oil*, Rhus Verniciflua Peel Wax, Xanthan Gum, Rosa Canina Fruit Oil*, Simmondsia Chinensis (Jojoba) Seed Oil*, Rosa Damascena Flower Extract*, Rosa Canina Fruit Extract*, Aloe Barbadensis Leaf Juice Powder*, Sucrose Cocoate, Alcohol*, Lactic Acid, Sodium Lactate, Sodium Anisate, Sodium Levulinate, Ascorbyl Palmitate, Lecithin, Tocopherol, Hydrogenated Palm Glycerides Citrate, PCA Ethyl Cocoyl Arginate, Citronellol, Linalool, Geraniol
Light and soothing
The Logona Organic Rose & Aloe Cleansing milk is indeed gentle. I don't find the texture heavy nor greasy; it is called a cleansing milk and the texture is lotion like. It has a very light rose scent, which is very pleasant. It's effective to remove my makeup but I need about 5 pumps of the milk to do the job. Additionally, unlike other similar type of cleansers I've tried, this one only works well if you start out applying on your face without water; you'll find that it doesn't work so well if you apply it on a wet face. So what I do is to spread the cleansing milk onto my face, then use a little water to massage through afterwards. It cleanses away my makeup but it does leave a residue, and so I will always follow on by using a foam cleanser.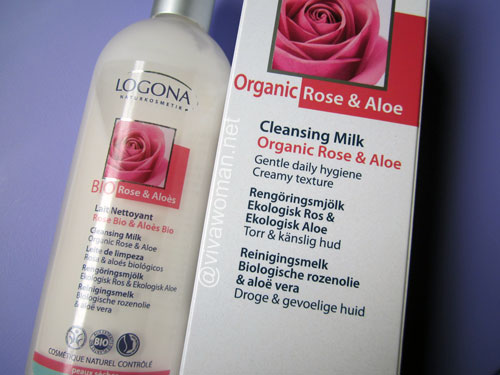 Overall comments & comments from other users
Because I don't wear heavy makeup, and so cleansing milk or cream works pretty well for me because I find such products more suitable for my skin type, which is combination type with drier skin around my cheeks. So yes, I've tried a few brands of similiar cleansers so far and no, this is not the best I've used. I actually like the Kimberly Sayer Light Cleansing Lotion and the Ren Cleansing Milk better but both are costlier of course. However, while the Logona Organic Rose & Aloe Cleansing Milk isn't the best I've tried, it does quite an effective job as a pre-cleanser. Two of my readers who won this cleansing milk in the Green Beauty Box Giveaway told me they like it and Keidi, another reader who tried the same cleanser just told me that although she felt it didn't cleanse off her sunscreen initially, her skin felt clean after using her foaming cleanser. I believe the feeling of "not clean" is quite a common association with with most cream or milk cleansers because they usually do not contain any surfactants and hence, have a tendency to leave a waxy film on our skin.
Price and availability
You can purchase the Logona Organic Rose & Aloe Cleansing milk for S$28 at Bud Cosmetics. Alternatively, you can also get it cheaper for S$23 at selected Unity Pharmacies, because the chain is running a promotion. I believe Logona products are also available in a number of countries so most of you outside of Singapore should be able to find the product quite easily if you wish to give this a go.

Comments