Sleep early and say good night to skin pigmentation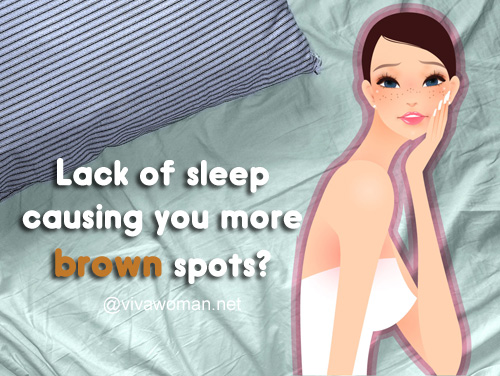 I usually try to sleep by 11pm but I'll admit it's not an easy thing to achieve. However, I have one major motivation that will immediately send me scrambling for my bed in no time and that is, I don't want to develop any more pigmentation on my face! Yes, lack of sleep will cause those ugly brown spots to proliferate!  I don't know if scare tactics work for you, but this certainly works for me!
Link between lack of sleep & pigmentation
While UV light exposure is one of the main causes of dark spots on the skin, there are many other factors that can contribute to skin pigmentation such as diet, health or lifestyle.  Lack of sleep, apparently is a major contributor because it can wreak havoc at different levels. One, it causes poor blood circulation and this results in a lack of oxygen in the blood and hence, this can also cause skin pigmentation, dark spots or blotchy complexion. Next, sleep deprivation can increase stress hormones that causes skin pigmentation. One such hormone I read about is the adrenocorticotropic hormone, which causes an increase in skin pigmentation (source).  And according to a report published at NCBI, adrenocorticotropic hormone released by stress may activate tyrosinase in melanocytes, resulting in the augmentation of ultraviolet-induced pigmentation.
Melatonin to suppress UV-induced damage
In addition, in one of my older posts about 5 things to know about your skin at night, I've mentioned that melatonin is a natural hormone made by your body's pineal gland and your body produces more melatonin when it is dark. Melatonin does several things for us and some researchers believe that melatonin is also able to suppress ultraviolet (UV)-induced damage to skin cells and shows strong antioxidant activity in UV exposed cells (source).  This means that sleeping earlier at night will encourage more melatonin production.
Sleep earlier
So if you're wondering why your face is still getting pigmentation despite being diligent about sun protection and slathering plenty of whitening products, maybe it's time to have an early night.
Comments