Original Sprout Face & Body Sunscreen SPF24+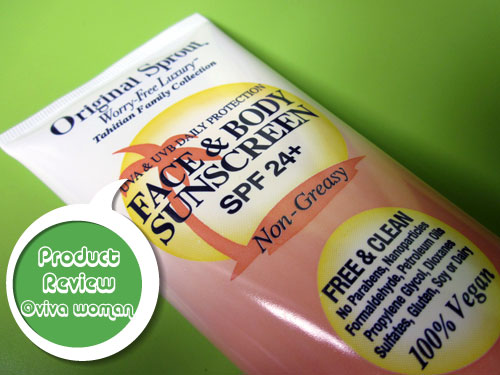 I miss reviewing sunscreens and so when I saw that Original Sprout has a sunscreen containing zinc oxide, I jumped at the chance to try it. I have been using this mostly on my neck and hands since receiving it this along with the complimentary Original Sprout family-friendly products from Pout more than a month ago. I don't really understand why it has an odd value to 24+ to its SPF but I'll be discussing if the protection is sufficient based on the ingredients.
Worry-free brand from US
As a quick recap, Original Sprout hails from US and the formulations are said to not contain natural or synthetic ingredients linked with estrogen & hormone disruption, cancer & autism such as Phthalates, Dioxanes 1, 4, Sulfates, Parabens, Lavender or Tea Tree Oils, Clove, Soy, Mineral or Petroleum Oils, Placenta, Synthetic Colors & Titanium Dioxide or Nanoparticles. All products are also free of insect attractors such as honey & soda fragrances. So this Original Sprout Face & Body Sunscreen is really formulated to be used by both adults and children.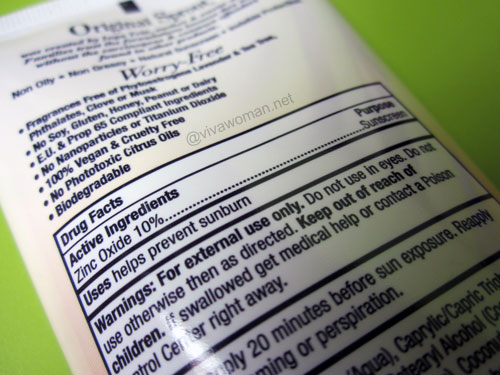 Original Sprout Face & Body Sunscreen SPF24+
Active Ingredient: Zinc Oxide 10%. Inactive Ingredients: Aqua (Water), Caprylic/Capric Triglyceride, Cetearyl Glucoside, Cetearyl Alcohol, Vegetable Glycerin, Polyglyceryl-10 Laurate, Cocos Nucifera (Coconut) Oil, Fruit Extracts of Pyrus Malus (Apple), Prunus Armeniaca (Apricot), (Vanilla) Planifolia, Dipteryx Odorata Seed, Ananas Sativus (Pineapple), Rubus Idaeus (Raspberry), Organic (Basil) Ocimum Basilcum, Organic (Rosemary) Rosmarinus Officinalis, Lonicera Caprifolium & Lonicera Japonica (Japanese Honeysuckle), Extracts of Organic Rosmarinus Officinalis (Rosemary) Leaf, Organic (Arnica) Montana Flower, Organic Cucumis Sativus (Cucumber) Fruit, Organic (Calendula) Officinalis Flower, Organic Vaccinium Macrocarpon (Cranberry) Fruit, Polysilicone-15, Stearyl Dimethicone, Glyceryl Isostearate, Polyhydroxy Stearic Acid, Sodium Phytate, Xanthan Gum.
Zinc oxide & coconut oil offers sun protection
This product is a non-greasy natural sunscreen said to be excellent for sensitive, dry or acne prone skin as it is able to help preserve moisture without being greasy. It does not contain titanium dioxide or nano particles. Instead, the formula contains 10% zinc oxide, which is the active ingredient offering sun protection. Based on my understanding, this percentage is rather low to offer good broad spectrum sun protection. Although the zinc oxide is only 10%, but I notice the product contains coconut oil, which offers some level of sun protection and Polysilicone-15, which is the INCL name for Parsol SLX, a silicone-based UVB filter said to be safe for babies and sensitive skin (source). Based on information I've read, this is an ingredient approved for use in sunscreens in EU but not in USA yet.
No pore clogging experience
Because of the low zinc oxide content and the fact that Polysilicone-15 is only a UVB filter and it's listed quite low in the ingredient list, I use this sunscreen mostly on my neck and my arms under casual sun exposure. I'll admit the texture is ideal as this product does not leave a greasy residue nor whitecast. In fact, I have to say that this is probably the only sunscreen in the natural category I found to be ideal for my neck as most of the others turned up too drying and powdery after application. Both cetearyl alcohol and coconut oil are known to be highly comedogenic but I don't really have issue using this. My neck gets clogged by comedogenic ingredients quite easily but this product hasn't given me any issues thus far. I am also happy that this sunscreen does not contain phototoxic citrus oils. This product does not contain parabens but uses Japanese Honeysuckle as a preservative instead. If you want to know more about this ingredient, you can read my post "Japanese honeysuckle extract a hidden paraben?"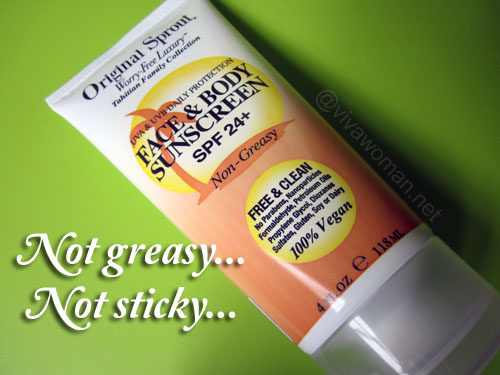 Overall summary
The 118ml Original Sprout Face & Body Sunscreen SPF24+ is available at Pout, a family and children hair salon based in Singapore's Upper Thomson Road at S$32.50. If you're in US, you can get it from their US website for US$17.95. I really like the texture and the mild vanilla scent but I wish the zinc oxide content is higher as this makes an ideal sunscreen for the face and works well with makeup too. So I would only recommend this to be used mostly indoors or if you're usually just limited to casual sun exposure. Personally, I certainly would not take this out to the beach when the sun is scorching hot and I'm not too sure if this sunscreen is water resistant. In any case, all sunscreens should be reapplied regularly at least every two hours if you head for the water.

Comments