Beauty snacking: what I munch on for beauty sake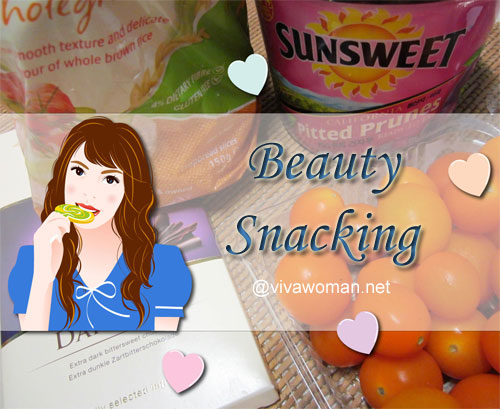 I need to snack really often, almost like every two hours or so. Sometimes it's hunger but most of the time, it's just a craving for stuff in my mouth. I used to munch on junk food, such as Kit Kat, potato chips, prawn crackers, salted prunes and sweets. However, since going through my first detox, I realized the need to eliminate these unhealthy snacks. In fact, I stopped snacking for a period of time and it was literally, just to save my skin because my poor snacking habit was contributing to my breakouts then! Right now, I'm back to snacking again but this time, I've picked up some healthier alternatives that contain less sugar and salt content to keep my mouth and skin happy.
Sugar fix
Somehow, I need to munch on sweet stuff but thank goodness I don't fancy pastries. The thing about sugar is they can cause wrinkles and leathery looking skin too because sugar hastens the breakdown of collagen and elastin. So how do I keep my sweet craving happy now? Well, for awhile, I was binging on my son's sweets but I've since, hehe…come to my senses. Currently, my regular snacks are pitted prunes and raisins. They're naturally sweet without the addition of processed sugar and prunes are actually great for my digestive system because they're a good source of fiber.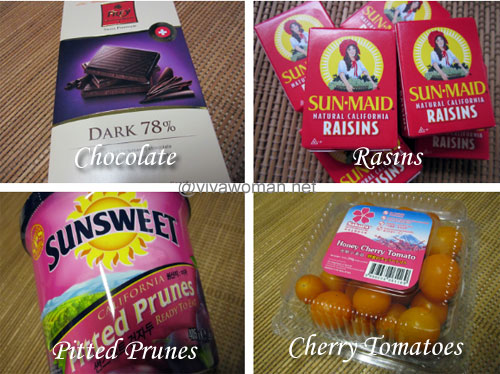 Dark chocolate absorbs UV light
Occasionally, you'll find me popping cherry tomatoes as snacks too but I usually prefer them in my salads. As for my chocolate fix, I now go for those with at least 65% cocoa content because those with high sugar and milk content totally break me out. They're bitter all right but they do have an exquisite taste. And apparently, the darker the chocolate, the better they are for our skin as research has shown that women given half-cup of special extra-flavonoid-enriched cocoa every day for three months turned up with moister, smoother, and less scaly and red skin when exposed to ultraviolet light. The researchers think the flavonoids, which absorb UV light, help protect and increase blood flow to the skin, improving its appearance (source).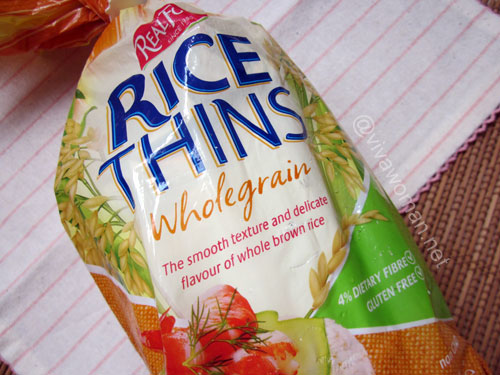 Popping grains of whole brown rice
Rice thins are a new snack I've been munching on. They're a replacement of my chips and they're definitely a healthier alternative because these are made from grains of whole brown rice and they come with a subtle and delicate flavour – great to taste even without any toppings. The best part is they're fat free, GMO and gluten free. Going by the ingredients of wholegrain brown rice (99%), sunflower oil, sea salt, natural herb extract, I'll say they're pretty natural.
Inspire me
Okay, I need more snacking ideas and so I'm keen to know if snacking is your thing too? Do you snack as often as I do and what do you like to munch on mostly? If you have a healthy snack to recommend, I'll certainly like to know!
Comments