Beauty blogging: 5 things to avoid as a better blogger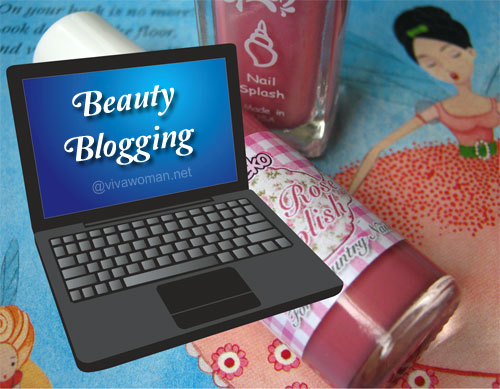 Once in awhile, I have something to contribute in the name of beauty blogging and this usually happens after some observations or discussions with fellow bloggers. It can also be borne out of a personal experience. So today, I'll share my thoughts on five areas that I think a better beauty blogger should avoid.
Don't ask for favors when you haven't networked with the blogger
If you really want to grow your blog, then you should be prepared to network. Sometimes, that simply means going round to the blogs to comment WITHOUT expecting anything in return. If you do that long enough, the blogger will start noticing you and may visit your blog. Sometimes that can even result in some link love or even requests for product testing. However, approaching an established blogger cold and asking her to help you promote your blog contests or promotion is just wrong on all counts.
Don't be obsessed with your statistics
I know how bloggers can become obsessed with their blog statistics. While it's good to track your blog's statistics to find out areas you can improve on, you don't want to be checking them every 15 minutes. I have been publishing content online for about ten years in all to know that web traffic can become unpredictable especially from the search engines. Your numbers can look really good for a period of time and then suddenly take a plunge for reasons you don't know.  It can therefore be discouraging for a new blogger if one gets too focused on those numbers.  So know that traffic that goes up can come down and don't be too upset when that happens.  If you can, read up a bit to find out what could have happened and how you can nip the problem in the bud but I'll say if the downturn is coming from search engine, sometimes lying low and waiting out is the best strategy.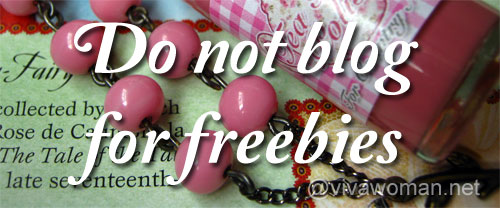 Don't blog for free products and services
Actually I really doubt those who blog solely for free products can ever become good bloggers. The reason is simple: such bloggers only write lop-sided reviews with the motive to get into the brand's good books. And because of this, they can never become established nor can they ever expect to have good traffic numbers. While it's quite a thrill in the initial stage to receive free products from brands you covet, blogging just to receive them is very short-sighted and will earn you a bad repuation in the long haul. And this motive is very different from those who blog to make money because these bloggers who want to make money out of their blog may know how to strategize their priorities better such as producing quality content over one-sided product reviews. Related to this is that I also know that some better bloggers are actually worried about offending brands because they do not wish to be "blacklisted". Let me just say that if you are always blogging under the shadows of these fears and worries, you can never rise up to become better.
Don't employ sensationalism indiscriminately in your blogging
Sensationalism is often used by the media to play up emotions in order to increase readership. By definition according to Wikipedia, sensationalism is "a manner of over-hyping events, being deliberately controversial, loud, self centered or acting to obtain attention". So simply put, it is an exaggeration of facts. Unlike bloggers who write for freebies, there are groups of bloggers who write to bash products to the extent of exaggeration and I find this group equally distasteful. I've also come across bloggers who run down other bloggers or create untruths just for the sake of making themselves look better. This strategy may gain you some short term readership but it's definitely not going to gain you long term fans when the truth is exposed. And I want to remind you that if you're not careful, you can land yourself in some hot legal soup because I've came across a few incidents like that where bloggers were asked to remove content from their blogs because what they have written were viewed as libel.
Don't copy ideas persistently in the name of community sharing
I don't know what is worse – copying blatantly or copying discreetly. While some of our ideas may have been born out of an inspiration from another blogger, it's another story altogether to keep implementing other's ideas on your own blog. Sure, blogging is about community sharing but it's also about respect for the community. Your readers may not know but the blogger whom you're consistently copying from will get a sense and really, who likes having a wannabe colleague or girlfriend who keeps buying the same outfits, accessories or makeup items? It's highly annoying and not flattering at all! Have your own identity and for all you know, you may just shine being yourself!
And there, I've said my piece! There are a couple of other things I would like to say but perhaps I'll keep it for another time. Now, it's your turn to tell me what you think we beauty bloggers should be avoiding. Come on in and share your thoughts!
Comments