Project Wardrobe Revamp: it's the no-brainer dress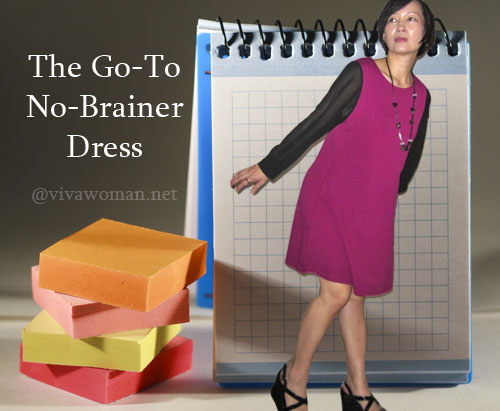 So what's a girl to do when she needs to rush out and she's got absolutely no idea what to wear? Well, go put on that no-brainer dress already! Well, at least that's what I do. I love dresses. They're feminine, they're pretty, and best of all, they're no-brainers. I've got a few no-brainer dresses that require no ironing and so it's just slip on, accessorize and I'm ready to go! Here, I'll show you just a few that I wear to work on some days along with three specific reasons on why I'm so fond of dresses.
Reason 1: "matchless"
I don't need to think too hard about what to coordinate with my dress. Oh come on, how wrong can a dress get even without accessories? And it's always good to know that my limited number of bags and pairs of shoes will always go well with all my dresses.
Reason 2: "ageless"
I think dresses make me look younger. At least that's what I've observed when others wear dresses – like an ex-colleague who look at least 5 years younger after she switched from wearing corporate suits to dresses. Like how I was once mistaken for being a tertiary student by a taxi driver.
Reason 3: "stressless"
Because it's a no-brainer, I never have stresses over my dresses. It's just one piece of garment to slip in and out and did I tell you how much easier a dress is when I have to visit the ladies?
Over to you
Okay, your turn now. Do you like wearing dresses? Is there a specific color or design you like or dislike? Like how I would never wear a yellow sundress for example?
Comments