Share: do you expect cosmetics to be freshly made?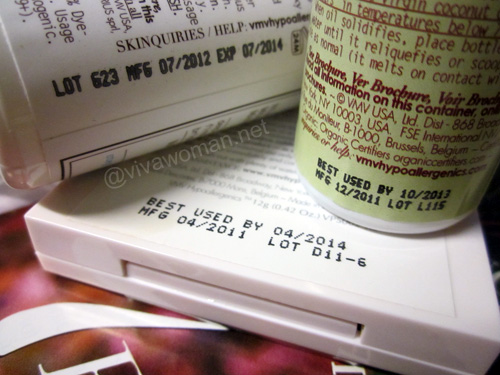 I don't usually notice manufacturing dates of cosmetics that often because most products I get usually only feature expiry dates. However, I noticed that two of the items I redeemed from VMV Hypoallergenics had the manufacturing dates printed on their packaging and they were dated in 2011. Like one the items featured in the picture you see here is a pressed powder with a manufacturing date of April 2011 and expiry date of April 2014.
Dated too far back
I was actually slightly miffed that the product is dated so far back because it means it's not so fresh. Okay, granted that this isn't a natural or organic product and so it can last quite a while but that didn't bring comfort to me. I really expect newer stocks and not something manufactured in April 2011. In fact, the first thought that came to my mind was that they had shipped in older products for our market. But apparently this isn't true because some of the samples I'd received earlier bore the manufacturing dates of 2012.
Product may have lost its potency
While I suppose a pressed powder need not be so fresh – something made a year ago is probably still acceptable to me – but I would like my skin care products to be freshly made if possible. If it's truly a natural or organic product, I'll give six months for anything made for too long ago may have lost its potency even when it's unopened. That and the issue of preservation since most of them do not use parabens. Maybe that's why cosmetics that are handmade in small batches appeal more to me. However, I also noticed that most of the products that bear an expiry date may not necessarily state their manufacturing date. So in this case, VMV Hypoallergenics is actually more transparent as consumers can base their purchasing decision on both dates they see.
Over to you
So my question to you today is, do you expect your cosmetics (both skin care and makeup) to be freshly made? What kind of manufacturing dates are acceptable to you? Do you like the idea of having both manufacturing and expiry dates clearly marked on the packaging or is the expiry date alone good enough for you?
Comments