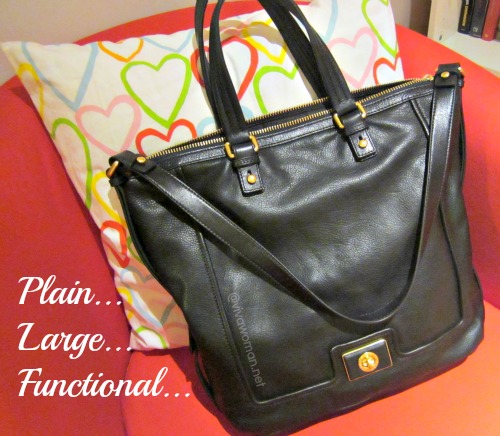 The folks at Shopbop are really clever because they were able to heighten my interest to actually spend time over two days trying to grab this ordinary looking Marc by Marc Jacobs Revolution Zip Tote just because it was on sale. It was actually a matter of "the fastest fingers win" because bags from the Marc by Marc Jacobs label are really popular and so only a limited number were released for sale at certain hours. I had already missed a couple of bags from the label and so I was forced to strategize. How?
Well, I actually studied the pattern of timing and when this one was released, I was already all geared to "add to cart"! Boy, it was so fun and satisfying! So never mind if the design isn't as great. Scoring the bag was itself a win for me! LOL. But alrighty. It did meet most of my requirements. Black. Leather. Large. Functional. And I'm most happy that it's big and sturdy enough to hold my 1.5 litre water bottle! It's my go-to bag for now!
Okay, in case you're wondering why I've only been buying bags from Shopbop, it's because I'm doing a fashion collaboration with them this stretch. I can choose to buy anything from the store but I prefer their bags, especially if they're on sale because they're like a prize catch for me. It's called competitive shopping and it is fun when you grab hold of something that everyone else is also eyeing! Ha. Oh come on, I'm sure some of you are like me too…yes? And you'll definitely agree with me that it's also VERY addictive!
Anyway, whether you're into competitive shopping or not, you might want to know that Shopbop is going to organize another major sale come end of the month and if there's something you fancy from the store, do get prepared and be ready to flex your finger muscles then!