Did my chemical sunscreen give me hyperpigmentation and melasma?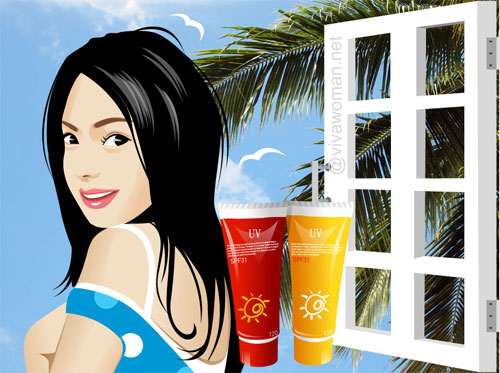 I think I've mentioned a few times in the past that I don't mind using chemical sunscreens. In fact, I recall writing that I use chemical sunscreens for sports. However, I realized that this is no longer true. Over these past two years, I've grown leery of chemical sunscreens. Maybe I'm finally sold to all the theories propounded by the scaremongers (or scare mongrels I like to call them).
The truth is, I've been making some observations and am increasingly concerned about the harm some of them can potentially do to our skin and I'll tell you why in a bit. But first, let me share what happened to a reader who wrote to me just a few days ago about her sunscreen.
My name is Karin. I was reading your article from a couple years back about sunscreen. I am wondering if you've ever heard of XX sunscreen causing brown spots.

I had never had extreme spots before and two years ago I developed what looks like melasma on my cheeks and forearms. It was nearly instantaneous and it has not gone away. I truly felt that it happened in one day while at the beach—I was sitting under an umbrella and had used my new XX sunscreen for the first time that weekend.

I reapply sunscreen all the time and sit in the shade when possible. I've never had these dark spots before. Now I've had them for over a year. Is it really possible that it is old sun damage from childhood and it was just coincidental that it showed up after using this sunscreen?

I have been out in the sun many times. During that time, I was not necessarily at the beach, but I work in the yard, mow the lawn etc and even spend time in Jamaica every year. I'm always careful about sunscreen and when possible sitting in the shade. This was the first time I had used the XX sunscreen…and the brown spots were almost immediate and have not gone away.
I'm not revealing the brand here because this is not based on my own experience but let it be known that this is a rather popular counter brand from US and the sunscreen in question is a chemical one. Karin also told me that she had confronted the brand with her problem and of course, she was refuted. In fact, she was told that the spots surfaced because of the sun damage she'd developed when she was younger.
I ran some checks on the ingredient list and found that the product contains these active sun protectors: Oxybenzone (5%), Octisalate (5%), Homosalate (5%), Avobenzone (3%), Octocrylene (2.7%). It also contains some antioxidants. Going by the ingredient list alone, this product appears to offer broad spectrum protection.

While it is hard to conclude that this sunscreen indeed caused sun damage for Karin, her melasma-like patches appeared only after she'd used the product. Prior to that, I understand that she was always careful about using sunscreen and have been out under the hot sun before but had never developed any sun spots. So if we put two and two together, there is a connection somewhere. Anyway, I told her that this topic is of interest to me and I would do more research into it and after some digging around, this is what I found about some of the chemical filters used in this particular sunscreen.
Promote free radicals
A few of the active ingredients like Oxybenzone and Octocrylene promote free radicals to the skin when exposed to UV radiation according to research by the University of California. Avobenzone is another ingredient reported to degrade quickly in the sun (depending on what other ingredients are used in the same formulation). According to the research, the oxidative damage happens when the UV filters have penetrated into the skin and sunscreen has not been reapplied to prevent ultraviolet radiation from reaching these filters. Which means, chemical sunscreens with no photostable active ingredients need to be reapplied every two hours. But note that Karin did reapply so I'm not sure if the reapplication really worked or that the UV rays were just too strong.
Trigger hyperpigmentation
Something else I read at Examiner.com is that while the chemical sunscreen agents absorbed into the skin surface may prevent sunburn, they generally do it by absorbing UV rays in sunlight and dispersing the energy/heat into the surrounding tissue, which in turn can stimulate melanin production (as the skin's heat sensors signal that it is being attacked).  So in essence, the process of absorbing the rays and dispersing the energy can still trigger hyperpigmentation in the skin.
Increase abnormal melanin production
Many sunscreens contain chemicals that are said to be estrogenic and that cause hormonal imbalance which in turn can lead to abnormal melanin production. This is why some pregnant women suffer from melasma as they experience increased estrogen. And you may like to know that lab tests have shown that Benzophenone (benzophenone-3), Homosalate and Octy-methoxycinnamate (Octinoxate) exhibit estrogenic activity (source). Moreover, parabens found in all chemical sunscreens are also said to be estrogenic although that topic remains contentious.
Cause skin irritations
Something else I want to highlight is that the chemical sunscreen as well as other chemical sunscreens typically contain alcohol and fragrance, amongst others, and these ingredients can cause skin irritations for some skin types. According to the American Family Physician website, skin irritation can lead to postinflammatory hyperpigmentation.
Concluding remarks
So based on these information I've found, Karin's sunscreen might just have triggered the melasma-like patches for her because it contains some of the questionable ingredients highlighted. This is quite alarming because we all know sunscreens are meant to protect our skin against sun spots and not cause them to multiply. Granted, I don't suppose everyone experiences such adverse effects using chemical sunscreens but if any of you reading this are using chemical sunscreens and have experienced increase in your pigmentation, it might be time for you to do a sunscreen audit. Personally, I'm steering clear of them completely as I'll rather not take the risk. Anyway, I'm happy using mineral sunscreens, especially those using only zinc oxide.
Comments