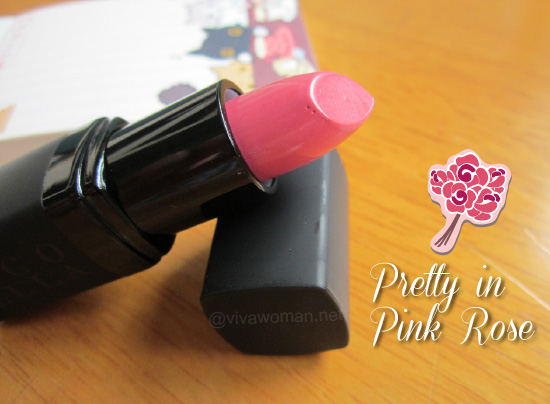 Here's an insight into my makeup habit: I can use a lipstick like forever. Which means, I rarely buy new ones. I'm quite contented with using the same color every day. Is that boring? I suppose but I don't really care. I used to buy and own more of them but over the years, I've lost interest in lipsticks. I realized that they're quite a waste of money for me because I usually just end up using the one I like and then leaving the rest to collect dust. Anyway, I told you all of that so you'll not be too surprised when I tell you that this Ecco Bella FlowerColor Lipstick in Pink Rose is the first lipstick I've bought this year.
Brand intro
I've been checking out Ecco Bella for awhile and was actually more interested in their foundation. However, I decided to try one of their smaller items first, to see how their products will fare for me. For those who haven't heard, Ecco Bella has been around since 1992 and is considered a pioneer in the natural beauty field. They started off as a brand out of protest to the use of animals for testing cosmetics and subsequently expanded to inventing natural beauty products from the universe of organics and nutraceuticals. Their products are free of water, gluten, dyes, GMO's, slaughterhouse products, and preservatives. According to their website, most products are 50 to 70 percent organic.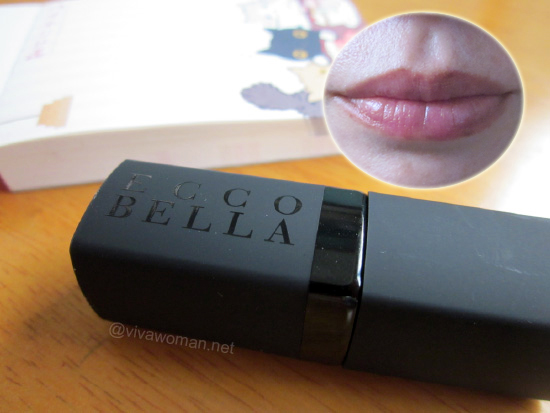 A lip balm with color
The Ecco Bella FlowerColor Lipstick is described as a lipstick that thinks it's a lip balm formulated based on a simple healthy formula of vegetable waxes, oils, and mineral pigments that go on creamy and don't feather. Like a lip balm, Ecco Bella FlowerColor lipsticks moisturize without flaking or chapping. They are gluten-free, FD&C dye-free, petroleum-free, preservative-free, fragrance-free. Unfortunately, not all of them are vegan.
Contains carmine
This Pink Rose I ordered and their Mauve Rose, Claret Rose, Tuscany Rose and Napa Grape are colored with carmine. For those who don't know, carmine is derived from the shell of the female cochineal beetle to produce a red coloring and can cause allergic reactions for some people. I haven't had issues with this ingredient and so I'm quite willing to try this, given that the color is really pretty and natural looking.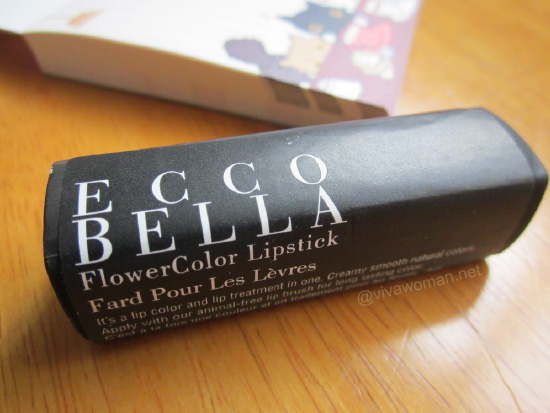 Full ingredient list
Here are the other ingredients: castor oil, isopropyl palmitate (from coconut), candelilla wax, 100iu Vitamin E, organic calendula oil, organic chamomile oil, organic jojoba oil, flower wax coated iron oxides. Pink colors contain carmine.
Good quality lipstick
Ingredients aside, this lipstick is very wearable in terms of both color and texture. It yields a light creamy and moisturizing coat and delivers what it promises—no flaking and no chapping. And yes, I can apply this alone without having to use it over a lip balm but even if I do wear it over a lip balm, it doesn't weigh down my lips. Very pretty, very light and very good quality! I'm definitely liking it a lot!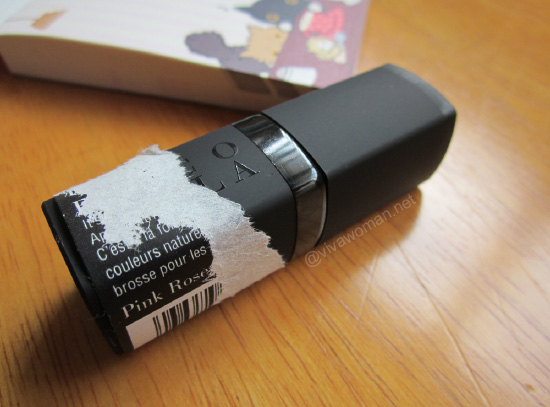 Ecco Bella FlowerColor Lipstick In Pink Rose
reviewed and
updated
by
Sesame
on .
Eco-friendly packaging
The 3g Ecco Bella FlowerColor Lipstick cost US$14.36 at iHerb. The lipstick is available in 16 different colors but iHerb doesn't carry all of them, just about 10 to 12 currently.One thing that caught my attention when I received the product was that it's got really eco-friendly packaging with just an outer wrapper. No box! Although that means it doesn't look quite as premium, I think that's an excellent idea because a lipstick box is pretty much useless IMO. Anyway, once the wrapper is removed, a tasteful, matte black lipstick case is revealed, which reminds me of NARS lipsticks.
Well-rated at iHerb
You can look up the Ecco Bella brand at iHerb to read the other reviews. This lipstick is popular and well-rated. If carmine is an issue for you, you can always look up their own non-pink shades. I'm not sure if I'll order any more lipsticks but I'll certainly be interested to check out their other makeup items. If any of you have used Ecco Bella's products, do leave a note about your take on them ya?
Rating: 4