My new glasses have an SPF 25 & keep UV rays away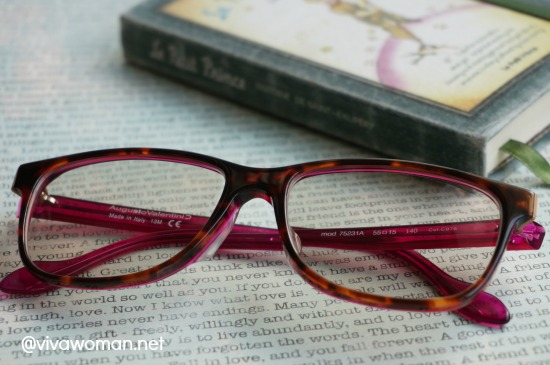 Yipee! I've got a new pair of eyeglasses and this one comes with photochromic lenses! Okay, did that just pass over your head? (o.O) Sorry lovelies but I am kinda excited because my new glasses filters out the oppressive UV rays. I don't always wear sunnies and this is just perfect for my needs—not only does it allow me to have clearer vision, it doubles up as an eye shade too! Woo hoo!
I really should have considered such lenses in my last pair of eyeglasses but I didn't because all my budget went into paying for the lightweight NXT optical frame. I thought it wasn't so important but I was so wrong especially after spotting my colleague wearing one with such responsive lenses. However, I wasn't quite prepared to fork out another couple of hundred dollars just to make another pair. In the first place, I don't wear my glasses all the time but only when I need to and so I felt my money could be better spent on something else.
But my Daddy God is good; He answers my desires and this new pair of eyeglasses came complimentary in line with the new launch of the all-new Crizal Transitions Signature Lenses with Chromea7 technology by Transitions Optical and Essilor.
Offers front and back UV protection
When I popped by W Optics at Suntec to have my new glasses prescribed, I was shown how the patented Chromea7 technology works. The Crizal lenses were placed in a box with a UV lamp and I saw firsthand how this unique dye formulation enables the revolutionary lenses to become darker once the UV index increased.
I also learned how the lenses on my new glasses are made even better with Crizal Forte UV, and comes with both front and back UV protection, a first in the market. The result? Besides combating the existing five enemies of vision—reflections, scratches, smudges, water drops and dust—harmful UV exposure from the front and the back of the lenses are also filtered away.
25 times more protected against UV
As you see here, the Crizal Transitions Signature lenses are transparent to begin with and become darker according to the intensity of the UV rays. When UV light is no longer present, including indoors or at night, the lenses fade back to its original state. That makes it responsive and adaptive.
By the way, my lenses are equipped with Eye-Sun Protection Factor(E-SPF) 25, meaning I am 25 times more protected against UV than without any lens. You can think of it like the SPF in our sunscreen except this is for our eyes! Although these lenses are not the only one available in the market with UV protection, what's worth noting is that they provide five times more UV protection. That totally sounds awesome to someone like me who is so fanatic about sun protection!
Dorky or trendy?
So here you see me picking different frames after having my eyesight checked. While smaller frames are more flattering for my face shape, I wanted to depart from my current eyewear look and so I ended up picking an Italian-made Augusto Valentini with a larger frame. Never mind it doesn't hide my eyebags too well!
And while I like the design but this frame is a lot heavier than my existing eyeglasses and that means I have marks on my nose bridge every time I put them on. What a bummer!
High responsive lenses
When I first wore the glasses, I noticed that the lenses are indeed very responsive to UV light. They are clear as long as I'm indoor but as soon as I was outdoor, I noticed the lenses became darker. Even that level of darkness varies according to the environment. They also turned darker when I was inside the car because these lenses adapt very well to indirect UV light, such as those reflected from buildings, cars and windows.
My husband was telling me that these lenses don't work like sunglasses and I suppose he is right—they don't cut out glare as much. But still, it works well for someone like me who don't wear contact lenses but need both clarity and UV protection for my eyes when I'm out under the sun.
Availability
If you're thinking of prescribing a new pair of glasses and you wear them all the time, whether indoors or outdoors, I highly recommend you to opt for photochromic lenses. They do cost more but the price comes with having your eyes protected from both UVA and UVB rays.
If you like, you can check out these all-new Crizal Transitions Signature lenses which are retailing at major optical stores island wide. Users can pick the lenses in neutral gray or color-enhancing brown according to different frame designs and personal preferences. I picked the latter because it suits the color of my frame.
Comments