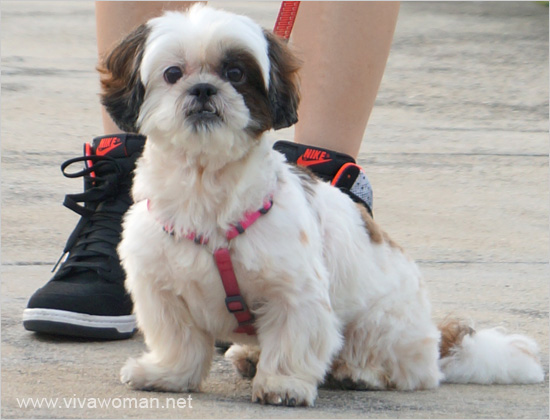 Gracie came to our family last year on June 8 so she's officially over a year old with us now! How time flies and how much she has grown! She's about two years old now but she still looks and sounds every bit a puppy. As a matter of fact, she's often mistaken as one and when I mention her age, people would then comment she is a "mini shihtzu". I don't really think she looks that mini but she definitely behaves like a puppy most of the time. You should hear how she whines in the morning just to get me out of bed! (-_-)
When she first came, we brought her out pretty often–until a little nasty cycling accident caused all of us to develop a phobia of bringing her out. So apart from the necessary walks and grooming trips, she's home most of the time. She doesn't seem to mind the least bit.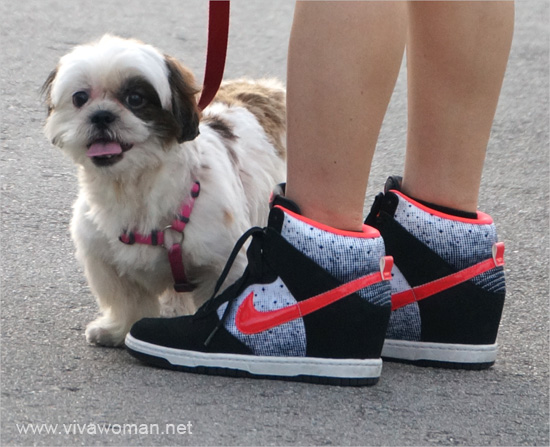 But lately, she showed some signs of wanting to join us by dashing out of the door when we were heading out. So we thought perhaps we can venture further with her again beyond the neighborhood. Well, it turned out quite a disaster because we brought her to Marina Bay Waterfront Promenade, totally unaware that there was a NDP rehearsal going on and she was in complete distress with all the helicopters, 21-gun salute, and fireworks. The shots and the explosions totally freaked her big time!
Thank God she eventually managed to find some solace under my son's stool when we headed for dinner. That aside, I have to say Marina Bay Waterfront Promenade is a great place to bring the furkid. Most people like the sight of little dogs and the eateries are pretty dog friendly. Well, at least at Southcoast Bistro and Bar. It's a nice spot with decent food and a great view. And they were very accommodative in so far as Gracie was concerned.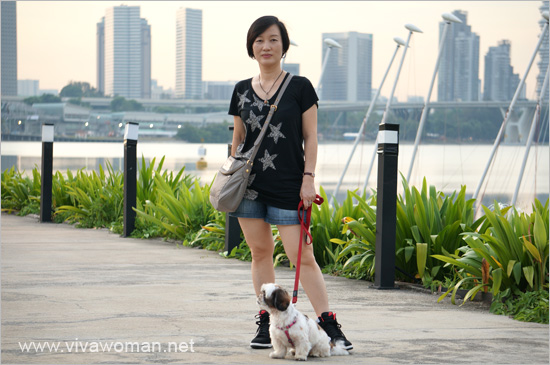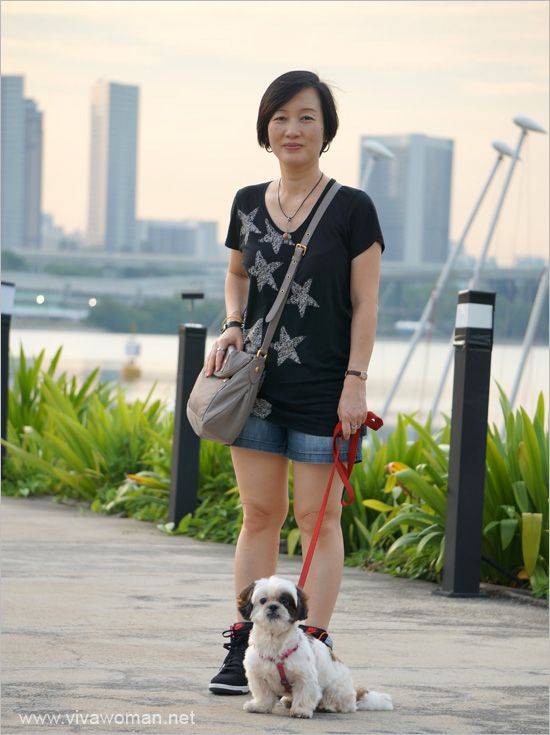 This is what I wore while walking Gracie from Gardens By The Bay To Marina Bay Waterfront Promenade. I suppose I can dress up better if I have an assistant who can pick up after Gracie. But until then, what's the point of looking all glammed up and then having to stoop down to pick up her poop? LOL.
Outfit details:
– Marc by Marc Jacobs Cosmic Cluster Tee
– Marc By Marc Jacobs Preppy Nylon Natasha Bag
– My go-to shorts from eons ago
– Nike Dunk Sky Hi trainers
Yeah, I had a good hair day but I wish my thighs are slimmer!