Antipodes cleansers answer prayer for clean, radiant skin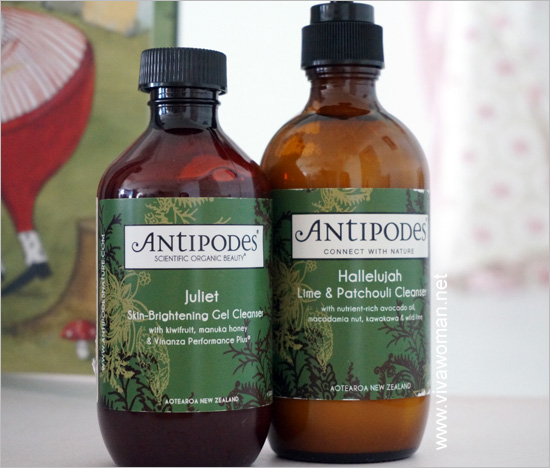 Hey green beauty lovers in Singapore! Look at what we have in our market now! It's Antipodes, an organic beauty brand from New Zealand! I don't know about you ladies but I'm really excited that this brand has finally graced our shores. I was disappointed that they'd dropped me to run a review for them some years ago when they learned that I'm based in Singapore. But hallelujah, I'm finally reviewing the products now that they're here–better late than never!
So why am I so excited about this brand? Well, we're not just talking about a natural brand with cleaner ingredients. We're talking about an organic beauty brand backed by science to deliver validated results. Green beauty purists would be pleased to know that most of Antipodes' products are certified organic by the independent government body AsureQuality Ltd, the leading provider of food safety and biosecurity services in the southern hemisphere. In addition, Antipodes believes in science and has invested into research and development with top experts to create high-performance anti-aging products. Now that's a potent combination of science plus nature guaranteed to deliver some visible results!
The distributor who brought in Antipodes had sent me a couple of products for review and today, I'll share with you about two of their popular cleansers.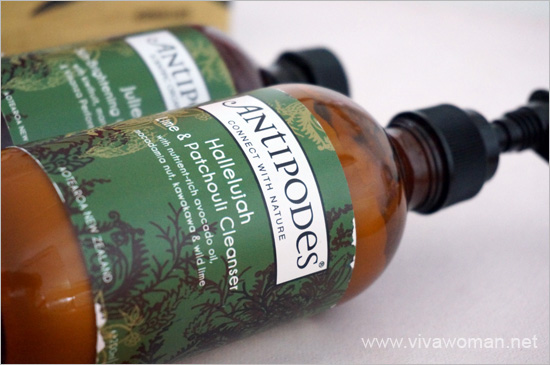 Antipodes Hallelujah Lime and Patchouli Cleanser | 200ml, S$58
Here is a creamy cleanser that is in a league of its own. Described as being able to clear impurities while revitalizing your skin's surface, the product features botanical extracts and essential oils of patchouli, kawakawa and citrus to purify and uplift. I've never heard of kawakawa but apparently this is an ingredient that removes impurities. Besides kawakawa, here's what the cleanser contains:
Aqua (water), glycerin, persea gratissima (avocado oil), macadamia ternofolia (macadamia oil), buxus chinensis (jojoba oil), wheat straw glycosides, cetearyl alcohol, daucus carota sativa (carrot oil), macropiper excelsum (kawakawa leaf), citrus nobilis (mandarin oil), citrus limetta (lime oil), pogostemon cablin (patchouli oil), tocopherol (vitamin e), gluconolactone, sodium benzoate, calcium gluconate, citrus grandis (grapefruit seed extract), d-limonene*, linalool*, citral*. * Componant of essential oil.
I'm an avid user of creamy cleanser–I use them in the mornings and also to remove my makeup. This category of cleansers is the gentlest for my skin but I have to admit they don't cleanse that well with just one wash. Typically with creamy cleansers, you would have to use a second wash or perhaps an extra aid like a muslin cloth to ensure all impurities are properly cleansed. Some people have also said they dislike how cream cleansers leave their skin with a somewhat sticky film.
So I was totally expecting the Antipodes Hallelujah Lime and Patchouli Cleanser to behave like a typical cream cleanser—nothing extraordinary. But boy I was wrong for this product exceeds my expectations on all front! It is so creamy, smells so refreshing and most of all, cleanses my skin really well in a single wash. I did an experiment by using Le Mieux Skin Perfecter after washing my face with this creamy cleanser and the tool didn't pick up too much residue except from the nose area. This is a creamy cleanser that doesn't make you feel like you didn't wash your face clean enough. Yet, it doesn't dry out your skin, leaving it taut and tight. What can I say? Hallelujah! Two thumbs up!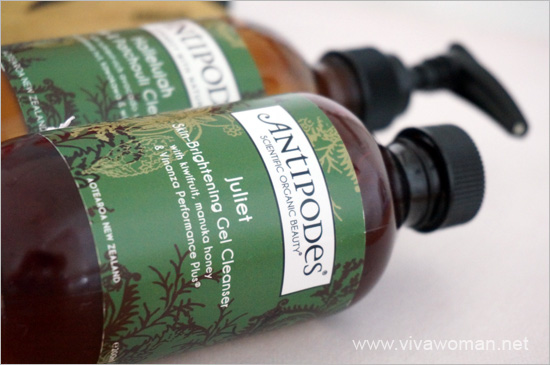 Antipodes Juliet Skin Brightening Gel Cleanser | 200ml, S$54
This is their most popular cleanser and I can see why. It is a gel cleanser that lathers up with good amount of foam, and contains exfoliating extracts from the New Zealand kiwi superfruit and vibrant hibiscus flower. Other ingredients include manuka honey with antibacterial properties, antioxidant-packed vinanza grape which help reduce and balance oil production. It is also lightly scented with refreshing green apple and cardamon. And the result? It smells very sweet like children's candy. In fact, it reminds me of the cherry candy I often eat from Yummy Earth.
Although suitable for all skin types, Juliet Skin-Brightening Gel Cleanser is especially formulated for skin that is sun damaged because it targets pigmentation, aiming to brighten complexion, reduce skin redness/erythema, and even out skin tone. Here's the full ingredient list:
Aqua, herbal extract mixture of vitis vinifera & actindia chinensis (Vinanza Performance Plus sauvignon blanc grape seed & Kiwi fruit pulp), sodium cocoyl glutamate, sodium lauroamphoacetate, wheat germamidopropyldimonium, hydroxypropyl hydrolysed wheat protein, sodium hydroxymethyl glycinate, persea gratissima (avocado) oil, buxus chinensis (jojoba) oil, leptospermum scoparium mel (manuka honey), hibiscus sabdariffa (hibiscus) flower extract, sodium benzoate, gluconolactone, calcium gluconate, essential oil fragrances of green apple & cardamon: benzyl alcohol*, cinnamal*, citral*, citronellol*, geraniol*, limonene*, linalool*. * Component of essential oil.
I use this cleanser once a day in my double cleansing, right after using the Antipodes Hallelujah Lime and Patchouli Cleanser. It a bit too sweet smelling for my liking but otherwise, it is an effective cleanser. I'm only in my second week of using this cleanser so it's too premature to talk about the effects of brightening. I do like it but between the two, I prefer Antipodes Hallelujah Lime and Patchouli Cleanser.


Comparison of the two Antipodes cleansers
The reason I prefer Antipodes Hallelujah Lime and Patchouli Cleanser over Antipodes Juliet Skin-Brightening Gel Cleanser is purely due to personal preferences and has nothing to do with their efficacy for both make effective cleansers. Both cleanses efficiently and you do not have to use too much of the product to achieve cleaner skin.
However I like that Antipodes Hallelujah Lime and Patchouli Cleanser comes in a pump glass bottle and smells just right. Whereas Antipodes Juliet Skin-Brightening Gel Cleanser is too sweet smelling and comes in a plastic bottle without a pump but a screw top. I had to squeeze the gel from the bottle and it's a wee bit troublesome if you ask me. I wonder why it does not come in a pump bottle or a tube?
You can get Antipodes online via Skintegral or Bud Cosmetics. The prices are mid range but I personally find them reasonable for the quality formulation. I'll be reviewing three more products in another few weeks' time. Perhaps by then, I can run a quick review if the Antipodes Juliet Skin-Brightening Gel Cleanser has any whitening effects for me.
Comments