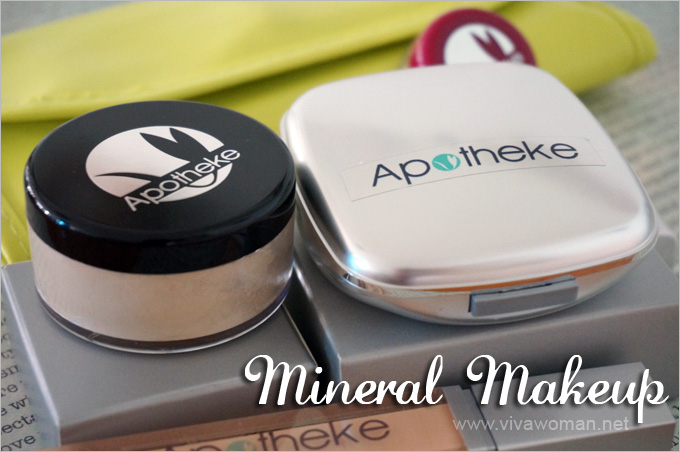 When I was approached to review Apotheke Mineral Makeup, I was a little hesitant because I realized this is a Singapore brand. I'm not saying made-in-Singapore is lousy but with makeup, I don't think I'm alone in assuming that imported brands fare so much better. I mean how can Apotheke outdo brands like Alima, Everyday Minerals or LA Splash?
So while I like to support local, I was also mindful that a negative review is not going to help the brand in any way. But in any case, I went ahead with the review even amidst my trepidation and I'm ready to present you with my thoughts on Apotheke Mineral Makeup, complete with a few FOTDs.
First off, I have to say I was a little confused when I was introduced to the brand. I was like, "Wait, which Apotheke? Is this from Skin Apotheke? Or is this another Apotheke?" It was after awhile that I realized this is an independent brand from Singapore. In fact, I later found out that Apotheke Mineral Makeup is formulated by Michelle, a Singapore pharmacist, but manufactured in the United States. So while this is a local brand, it isn't really a 100 percent made-in-Singapore brand per se.
But I was quite impressed that apart from loose mineral foundation, Apotheke Mineral Makeup carries a baked version. Now, that is something brand new to me, something that I was keen to give a shot to see well it compares with the conventional loose mineral foundation.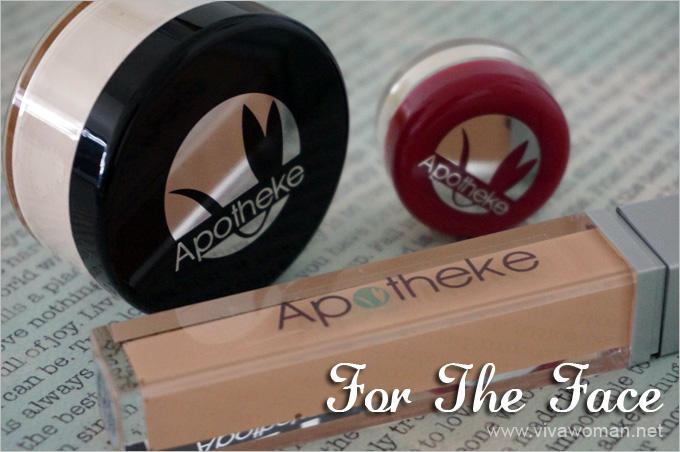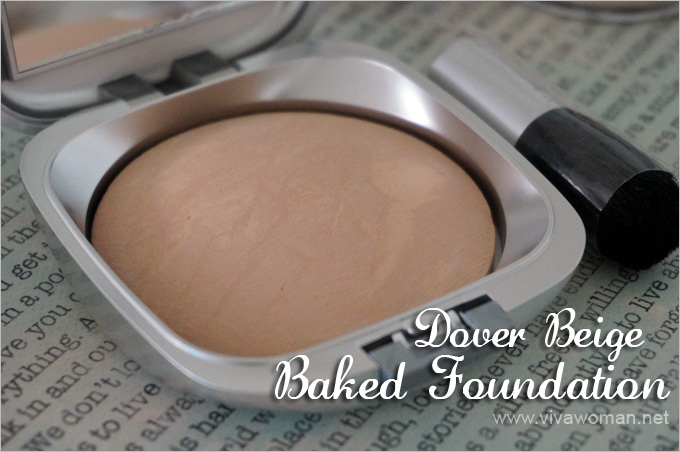 Apotheke Baked Mineral Foundation-Dover Beige | S$39.90
What exactly is a baked mineral foundation? Apparently, it's one that incorporates a light refracting technology that allows each colour to adjust to the individual's skin tone. Wow. Sounds like something I could do with. So did I like it? Well, I do! In fact, I'll tell you now that this is my absolute favorite. Why?
First, the shade of Dover Beige that Michelle sent to me works well for my fair complexion (An antique beige version is available for those with medium or tan complexions). When applied using a foundation brush, it evens out my skin tone quite well without the need for a liquid foundation. I'll even say it glides very well onto my skin without accentuating my skin pores.
I really like this because makeup is so much faster now that I only need to use concealer under my eye area and this! Like five minutes and I'm ready to head out! The coverage is decent for daily use and if I want a heavier coverage, I use a sponge over a brush.
Okay, the best part about using this baked foundation powder for me is that my skin doesn't dry out or become too shiny after a few hours. I don't see my makeup turning streaky because of too much oil on my face at the end of the day so that's good news for me!
Anyway, Apotheke Baked Mineral Foundation comes with a complimentary baby kabuki brush which I don't use. It's a tad too tiny and slows down my application. But I reckon it's useful for times when I need to bring my baked mineral foundation out.
Interestingly, I noted that Apotheke Baked Mineral Foundation contains some plant extracts as listed in their ingredient list: Mica, Serecite Mica, Jojoba (Simmondsia Chinesis) Seed Oil, Safflower Seed Oil, Lavandula Angustifolia Flower Extract, Thyme Extract, Green Tea Extract, Vitamin E (Tocopheryl Acetate), Rosemary Leaf Extract, Magnolia Bark Extract, Iron Oxides. I certainly don't recall having seen such ingredients in other mineral makeup I've tried.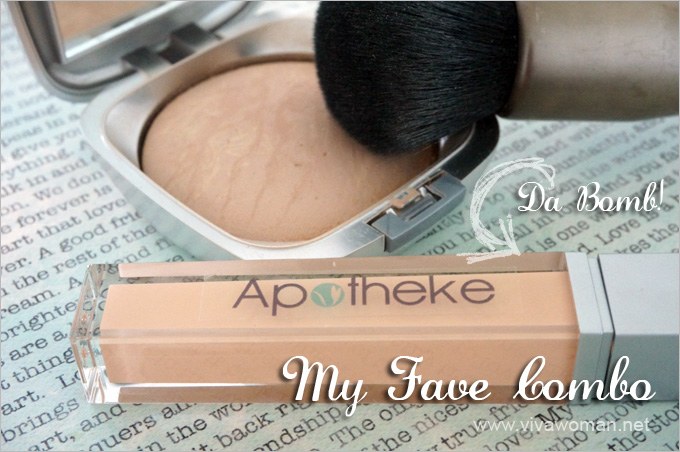 Apotheke Ultra Beige Mineral Concealer | S$19.90
Okay, next on my favorite list is this! I've been looking for a concealer for a long time but none in the natural category I've tried seem to deliver what they promise. I was skeptical about this one until I used it. It works well on my undereye without causing my delicate skin around that area to cake up as long as I apply with a light hand. In fact, one dot provides very decent coverage!
In terms of the ingredients, I was a little disappointed that it contains silicone but I noted that it's not the top 10 ingredients so I'm less concerned over the hazards of having clogged pores using this. Anyway, I apply concealer minimally–mostly under my eye area–so I figure I'm good to continue using it.
Here's the full ingredient list of the Apotheke Ultra Beige Mineral Concealer: Deionized Water (Aqua), Glycerin, Stearic Acid, Glyceryl Stearate SE, Caprylic/Capric Triglyceride, Isostearyl Neopentanoate, Magnesium Aluminum Silicate, Tocopheryl Acetate (Vitamin E), Dimethicone, Mica ( CI 77019), Titanium Dioxide (CI 77891), Iron Oxides (CI 77498, CI 77491, CI 77492), Xanthan Gum, Silica, Sodium Benzoate, Phenoxyethanol
The concealer sent to me is ultra beige but Apotheke has another one in bisque beige for those with darker skin tone.
So here I have three FOTDs using Apotheke Mineral Makeup or rather just their foundation and concealer. The first is where I'm showing you a half FOTD using Apotheke Baked Mineral Foundation. As you can see, the mineral foundations all yield a very natural look with decent enough coverage. Yeah, I don't have flawless complexion like some of the younger bloggers but flawless or not, this is me! (-_-)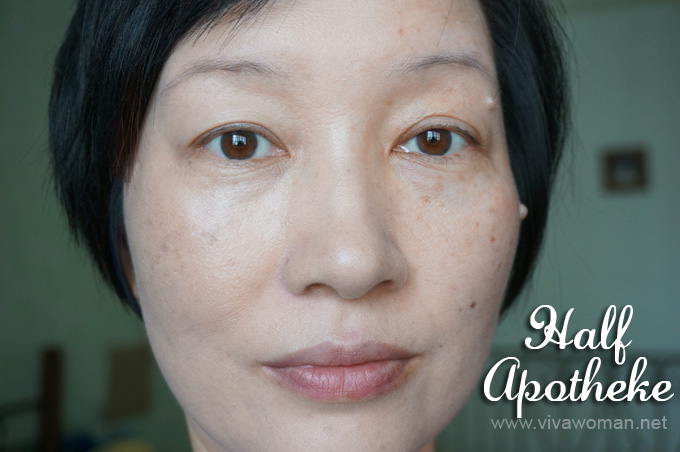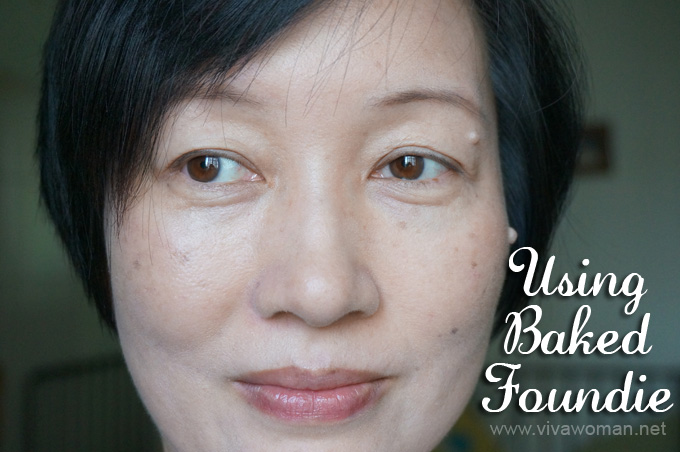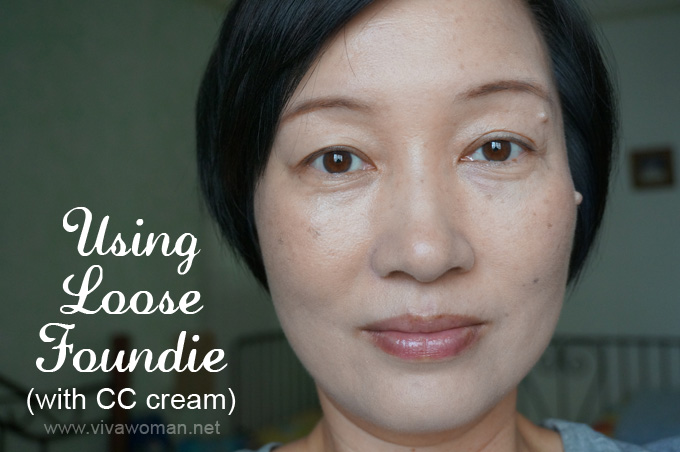 Apotheke Honey Medium Essential Loose Foundation | 8g, S$32
The last FOTD is where I used the Apoteke Honey Medium Essential Loose Foundation over a very light layer of Physicians Formula CC Cream. Actually, this loose foundation can be applied on its own but the results are a lot better when applied over a CC cream in my case or any liquid foundation of your choice. Oh yes, I did use the Apotheke Ultra Beige Mineral Concealer under my eye area too. And I even dabbed a bit of the Apotheke Pressed Mineral Blush over my cheeks but it's hardly noticeable because I'd applied with a very light hand.
According to description on Apotheke's website, this loose foundation powder provides high coverage and is specially coloured to suit Asian skin. Interestingly, the shade of Honey Medium is suitable for medium complexions with cool undertones but it kinda worked for me. Two other shades–Cream Medium and Cream Tan–are available for those with darker complexions. In addition, Apotheke offers the option of 'Essential' for dry to normal or combination skin types, and 'Clearskin' for oily or acne-prone skin types. I thought that's really thoughtful of Michelle to offer options for different skin types.
And here's the full ingredient list of Apotheke Honey Medium Essential Loose Foundation: Titanium Dioxide, Zinc Oxide, Kaolin Clay, Magnesium Stearate, Rice Powder, Mica, Iron Oxides. If you're using the 'Clearskin', these are the ingredients: Rice Powder, Titanium Dioxide, Zinc Oxide, Magnesium Stearate, Kaolin Clay, Mica, Allatoin, Iron Oxides.
I like that the ingredients are very short and as a whole, I think this loose foundation is decent enough. But I noticed that the powder turns a little streaky after a couple of hours so that's a sign that it is perhaps a tad drying for my skin on its own. It does better when I add a mineral veil over. So if you ask me, my pick is still their baked mineral foundation as not only does it auto corrects to adjust to my skin tone, I can use it on its own without anything under or anything over.
Apotheke Mineral Veil | 8g, S$30
So this is the mineral veil that I used to set my loose foundation. I was sent a sample pot of the mineral veil to try. Those familiar with mineral foundation would know that a mineral veil is basically a finishing powder, to add that final touch and to help set your foundation. As it is particularly useful in controlling shine and can be akin to a long mattifying loose powder. Apotheke actually offers two formulas to address different skin concerns but I reckon those with oily skin would find this something worthwhile to invest in? Personally, I'm good with or without it but I only use this on days I want my makeup to last longer.
Apotheke Pressed Mineral Blush-Peony | S$28.50
Some of you may know that I hardly apply blush. I hate the idea of having a color accentuate my pigmentations and so it's something I consciously avoid. But when Michelle asked if she should send me one to try, I thought, "Heck! Why not?"
The shade of Peony is a sweet cherubic pink. Yes, indeed! It's a very pretty pink and I'll say it's very pigmented. I tried it once and boy, it made my cheeks too rosy! So this blush is best applied with a very light hand unless you want your cheeks to look like some baboon's ass. I also like the packaging where it comes with a secret and clever blush brush compartment!
But I noticed that this blush has silicone as the third ingredient! Uh-uh…definitely not something I want to use daily. Here's the full ingredient list for your reference: Mica, Zinc Oxide, Dimethicone, Ascorbyl Palmitate (Vitamin C), Iron Oxide, Titanium Dioxide, Carmine, Ultramarines. Also available in Nectar, a peachy pink.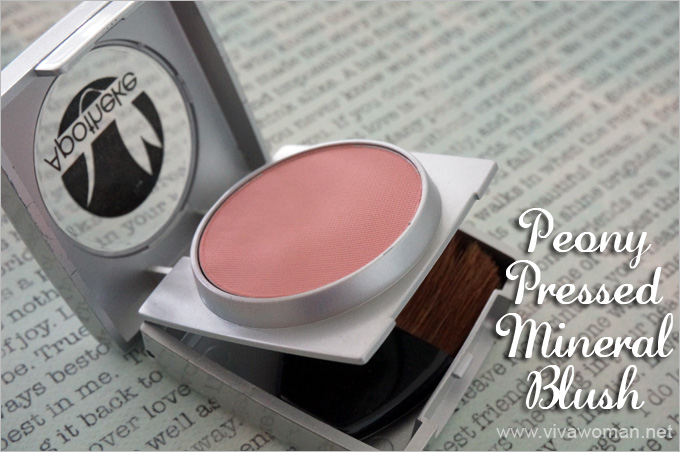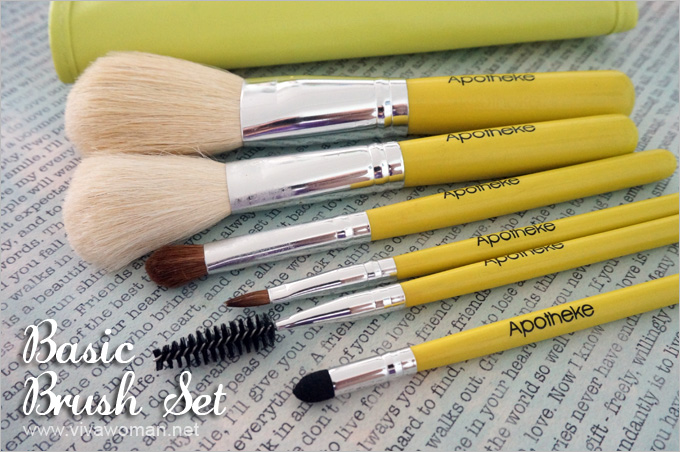 Apotheke 6-Piece Basic Brush Set | S$25
I also received this set of Basic Foundation Brush containing a foundation brush, blush brush, a concealer brush, a mascara brush, a lip brush, and an eyeshadow sponge applicator. I love the color of the handles and the fresh lime carry all case! Don't you think the colors are so bright and cheery looking? But that's about all I love about this basic set. Both the foundation and blush brushes are too scratchy for my liking. Also, the foundation brush is not as dense as I prefer it to be. The smaller brushes are okay but if you already have your own brushes, I'll say just save your money for their makeup instead.
Apotheke Baked Eye Shadow Trio | S$28.90
I didn't get to try the eyeshadows but I noticed Apotheke has them as baked minerals. Interesting that they're not loose powder like what you normally see from mineral makeup brands and that appeals to me because it'll mean less messy application! But the selection is kinda limited. You have a choice of three trios to choose from–sky, pastel and bronze–with each trio working as a complete color palette.
And these are their ingredients: Mica, Sericite Mica, Jojoba (Simmondsia Chinesis) Seed Oil, Safflower Seed Oil, Lavandula Angustifolia Flower Extract, Thyme Extract, Green Tea Extract, Vitamin E (Tocopheryl Acetate), Rosemary Leaf Extract, Magnolia Bark Extract, Iron Oxides.
My overall thoughts
This is a very long review! But before I go, let me sum up my thoughts on Apotheke Mineral Makeup quickly. I think the brand of makeup is above average with rather impressive formulation and quality products. I like their philosophy of providing innovative cosmetic solution according to a woman's skin care concerns. If you're into mineral makeup, I would recommend you to give their baked mineral foundation a try. Also, their mineral concealer if you're in the market for one. Although I have yet to try their eyeshadows, they also look like something that would work well.
Special promo for Viva Woman readers
Finally, Apotheke is offering a continuous 10% discount storewide for all my readers. Just enter "VIVAAPOTHEKE10" when you check out. Also, you can enjoy free shipping within Singapore if you place an order including one of the following products: Baked Mineral Foundation, Baked Shimmer Blush, Baked Eyeshadow Trio, Ace-of-Base Kit or Basic Sample Kit. Don't forget to select the 'Free Shipping' option at checkout. International shipping is also available according to Singpost air parcel rates. For more information on the products and how to order, click through the Apotheke Mineral Makeup website.