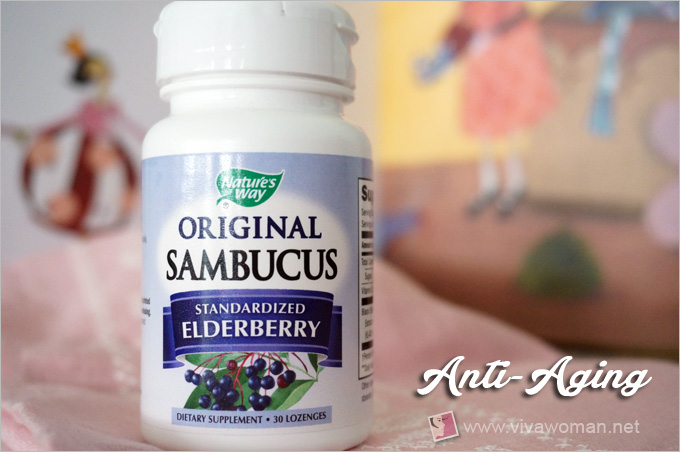 I've been buying a number of supplements from iHerb for my family. Why won't I, considering the price is a lot cheaper and the selection is wider? Unfortunately, not all of them work miracles for us. Heck! I've even had a review where I discussed how some of the highly raved supplements didn't work well for me. But here's one that is loved by all in my family, dog excluding, and it's the Nature's Way, Original Sambucus, Bio-Certified Elderberry Lozenges. I couldn't believe it cost less than US$10 at iHerb because I used to get Sambucol Elderberry at S$40+ down here! Blistering barnacles!
Anyway, many mothers are probably familiar with Elderberry products. For those who don't, here's a quick introduction:
Elderberry is the fruit of the elder tree, and has been used in folk medicine for centuries to treat cold and flu. These berries make an effective immune booster because they contain flavonoids which help to reduce swelling and fight inflammation. In fact, studies have shown elderberry extract to offer an efficient, safe and cost-effective treatment for influenza (source: NCBI). When taken at the onset of a flu during the first 24 to 48 hours after the symptoms begin, elderberry could cut the duration of flu symptoms by more than 50 percent.
I used to get Sambucol Elderberry in liquid form for my son when he was a toddler and it was true the the supplement helped relieve his cold and flu symptoms much faster than when he went without it. However, liquid supplements are always troublesome and after a few years, I stopped buying the product altogether especially since he wasn't getting cold and flu that often.
So imagine my joy when I found Nature's Way Original Sambucus in lozenges! Woot! This is great for both children who can suck and chew, as well as adults! It cost only US$9.13 (S$12.42) and you get 30 lozenges in a small bottle. I also realized that this is another highly faved product with as many as 375 reviewers giving it a high rating of 4.4 out of 5. I bought my first bottle last year without hesitation and have since, replenished many bottles. With a whole family taking this, a bottle of 30 lozenges depletes too quickly.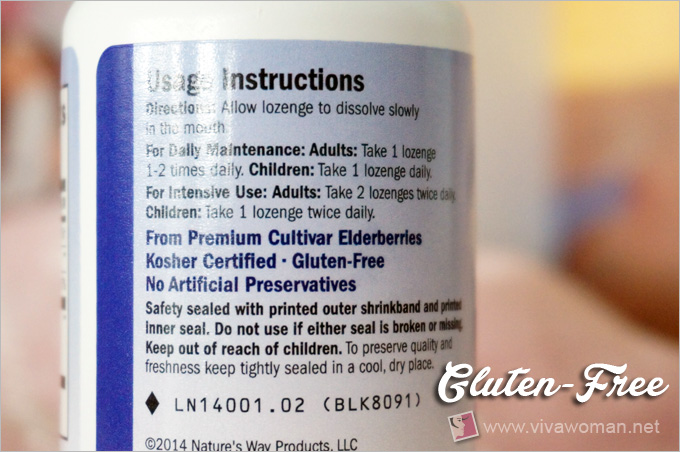 Nature's Way Original Sambucus Bio-Certified Elderberry Lozenges
According to the description on iHerb, Nature's Way Original Sambucus lozenges are made from a premium cultivar of black elderberries (Sambucus nigra L.). These lozenges contain a unique, full-spectrum, standardized black elderberry extract and provides a guaranteed potency of flavonoid BioActives, including anthocyanins, in every dose. Apparently, the elderberries are also "gently extracted" using a solvent-free method to ensure maximum flavonoid potency.
You can take this daily or at the onset of a flu as this helps to prevent as well as minimize cold and flu symptoms. For daily maintenance, one is sufficient whereas two are recommended for intensive use.
I like the lozenges because they're so much more convenient to consume. But if you have a young child, you may want to consider the liquid form (check out the options here) for kids. It cost more but I think you get more too.
Besides the elderberries, this product also contains sucrose, fructose, magnesium stearate, silica, natural flavor. I don't quite know how to describe the taste—it's like a slightly sour berry with a tinge of herbal aftertaste? But I'll say I don't mind it and my son certainly hasn't complained about it.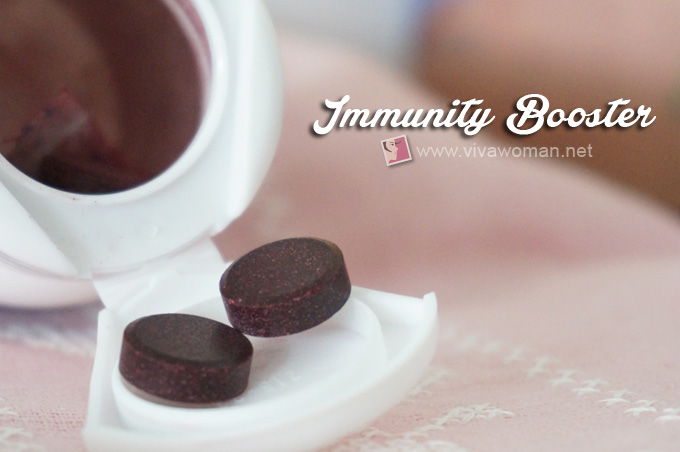 This product has worked very well for us. It has helped ward off cold and flu for my son and my husband. In fact, my husband was very impressed with how it had helped him keep a sore throat at bay. I'll say way cheaper than taking manuka honey (I used to take a teaspoon when I feel a sore throat coming) and probably healthier than counter medication.
I haven't come across any complaints of side effects. Apparently, some reviewers with diabetes have also been taking this supplement long term with no harm. However, as with anything you ingest, please exercise caution and get expert medical opinion when in doubt k?
And ladies, here's a piece of good news as I was looking up on the benefits of elderberries. It appears that elderberries are also good for our skin because they're infused with innate anti-aging and free-radical fighting properties. Some sources even suggest that they act as a natural detoxifying agent to help keep away distressing skin conditions like breakouts, boils and scars.
If you're interested in this product, look up the Elderberry (Sambucus) page on iHerb.
Product highlighted was purchased. Links to this product contain an affiliate code and this review is in line with my
disclosure policy
.