Six Benefits To Hydrating Your Skin And How To Get That Boing Boing Effect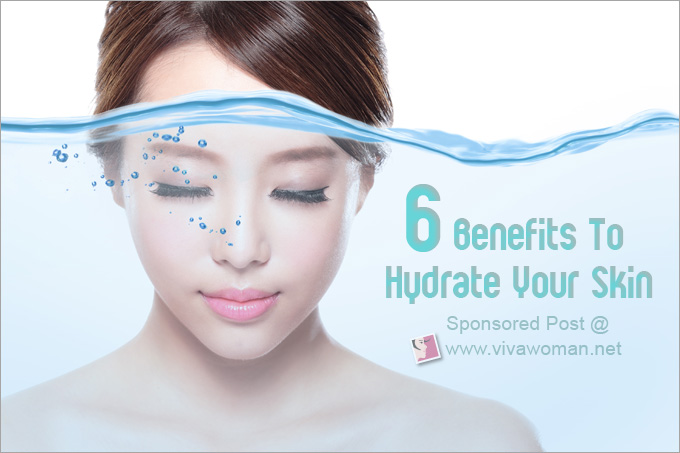 One of the most common skincare tips I hear repeatedly is to moisturize. I bet you've been hearing the same too. While I don't deny the importance of moisturizing, especially if your skin is very dry or if you're coping in a cold climate, there is one other tip I consider equally important. In fact, this is one tip I feel is essential regardless of your skin condition or what kind of climate you are living under.
And what is it?
Well, you should have guessed the answer by now after reading the title of this article. Yes, it's none other than hydrating your skin! Whether your skin is normal, dry, oily, combination or sensitive, you would benefit from an extra dose of hydration one way or another.
Difference between hydrating and moisturizing
Before I discuss the benefits of hydrating your skin, let's try to establish what exactly is hydrating and how hydrating products work, especially in comparison with the moisturizing ones.
Some of you are already aware that the upper layers on our epidermis need a supply of water to make sure they are kept plump and smooth. So hydrating facial products are designed to increase the water content of the skin. They usually contain some occlusive agents to keep moisture from leaving the skin, and more humectants (like glycerin, hyaluronic acid or honey) to attract moisture to the skin. They are also likely to contain agents that are responsible for the uptake of water into the skin (like panthenol, amino acids, certain vitamins, and water).
So this is why hydrating products are often said to be moisturizing as well. However, moisturizing and hydrating are not the same. To me, hydrating means the actual replenishment of moisture or water to skin cells.
This is why hydrating products are formulated to increase water content to plump up the skin while moisturizing products keep the skin soft and pliable by preventing water content in the skin from evaporating. Therefore, you should replenish moisture to your skin first before you apply your moisturizing skincare products.
But perhaps you've realized by now that going by the structure of our skin, we need both hydrating and moisturizing products applied on our skin. The reason is because moisturizing aims to form a barrier film on the skin's surface to prevent moisture loss.
However, does this necessarily means you need to apply two different products? Well, not so because many moisturizers these days are designed to be water-based, containing mostly water-binding ingredients such as hyaluronic acid with some oil.
So what are the benefits of keeping our skin hydrated? Let's look at six here: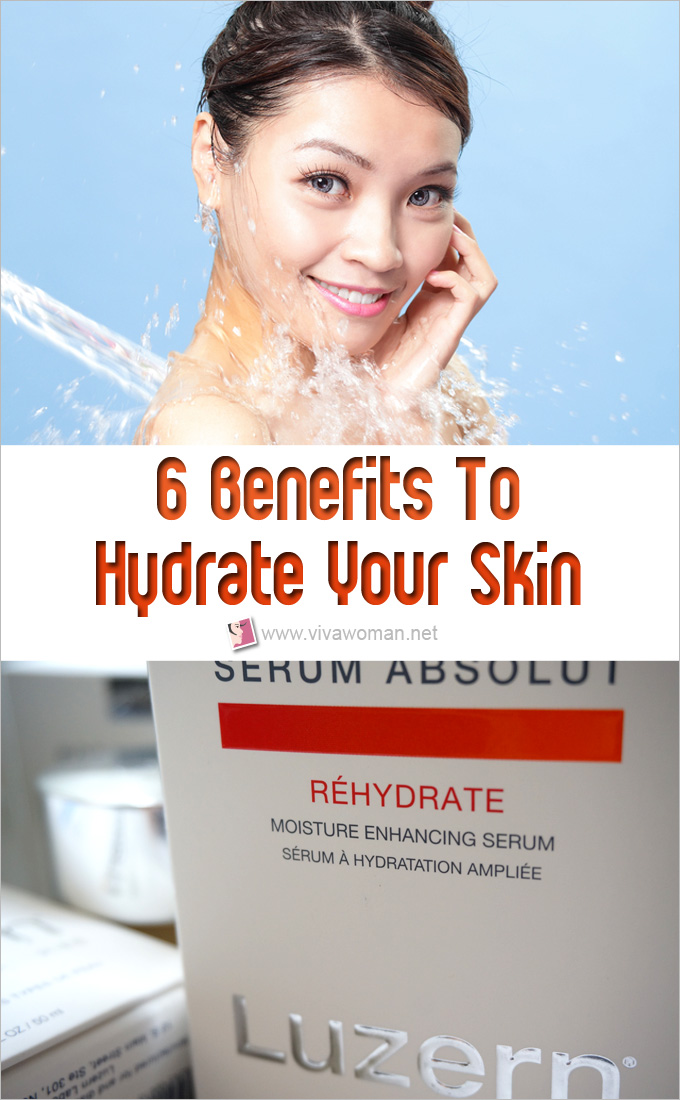 1. Your skin looks more plump and supple
For one, having enough water content in our epidermis would not cause our skin to become dehydrated. When our skin is dehydrated, that isn't a pretty sight. So improving hydration to our skin is actually the key to having plump, supple skin that is somewhat bouncy to the touch.
2. Your skin looks less dull and more healthy
Besides a buildup of dead skin cells, dull skin is also caused by a lack of hydration. So to combat surface dullness, inject a dose of hydration to your skin. You may find the need for more hydration as you grow older though because like it or not, this dreadful skin condition also seems to become more pronounced as we age.
3. Your skin becomes less oily
Dehydrated skin is a key culprit for causing your skin to become oilier. How? When your skin becomes dehydrated, it sends signal for the glands to defend the skin and produce more oil. When that happens, you'll find your skin oilier. So improving hydration in this case can cause your skin to become less oily.
4. Your acne is less aggravated
While acne is not exactly caused by oily skin, most acne sufferers can experience a worsening of their problematic condition when their skin gets oilier. But what they may not know is that their oily skin may have been prompted by dehydrated skin to begin with. This is exacaberated by drying products that are used to control their acne breakout. So this group of people can benefit from having more hydration boost to their skin either through an application of topical products or via a change of diet.
5. Your skin is less itchy and irritated
Dehydrated skin can cause itching, irritation and general discomfort to our skin. Try using a harsh body cleanser and then leave your skin alone. I guarantee you'll experience some sort of itching especially in the night. And for those suffering from eczema or psoriasis, this can be very disconcerting. So improving hydration can prevent itchy and irritated skin, providing relief to those suffering from sensitive skin conditions.
6. Your foundation can adhere better
Have you been noticing that your foundation turns streaky after a few hours? Or maybe you've noticed that your foundation turns darker after half a day? All these makeup woes are caused by an excessive sebum production caused by dehydrated skin. Short of refreshing your makeup every few hours, a better approach would be to up your skin hydration.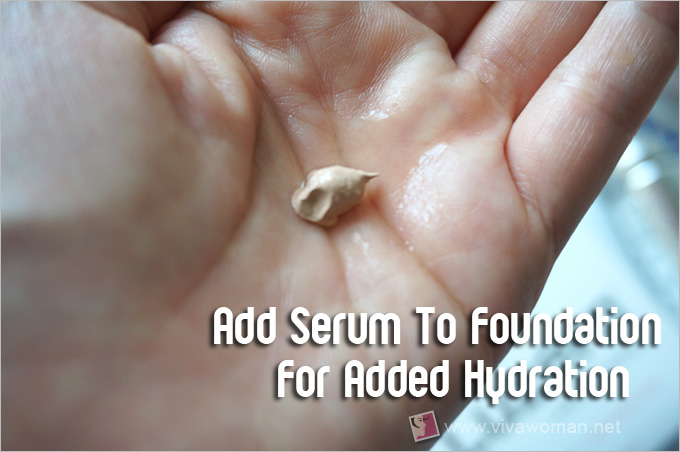 Tips to hydrate your skin
Now that we've looked at the benefits of hydration for our skin, you might want to check out my entry on 5 Tested Tips And Tricks To Hydrate Your Dry Skin Condition which I posted last year. Tips I'd mentioned included limiting diuretic fruits and beverages, avoiding hot water during cleansing, applying moisturizer while the skin is damp, using moisturizer over hydrating products, and using a hydrating mask before bedtime.
However, I do have a new tip to share if you're using a liquid foundation and that is to add a hydrating serum to your makeup routine. Simply squirt some serum into your palm, spray some face mist to the serum and add your foundation. Apply the mixture to your face with a sponge. This provides hydration to the skin and helps the foundation adhere better to the skin. If you're looking for a good hydrating serum to work with your foundation, I'll introduce one from Luzern Labs for you to consider.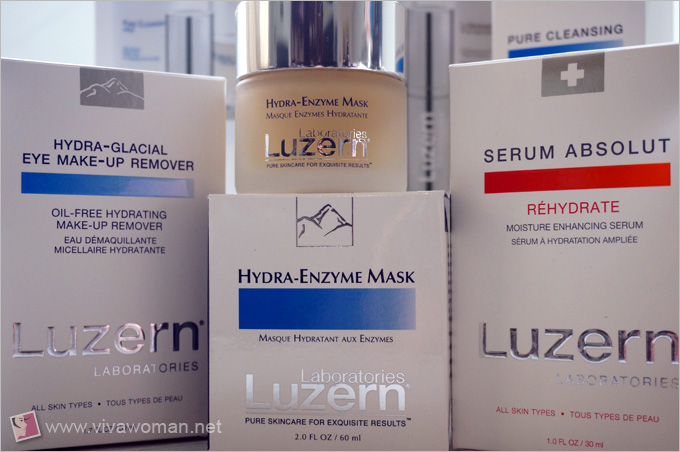 Swiss-made cosmecutical grade products
Luzern Labs is a range of cosmecutical grade products said to use Bio-Swiss certified organic botanicals and medical-grade nutrients. Luzern contains an average of 80 percent advance cosmeceutical actives, eight times more than regular brands. So for those who want natural and organic products that have proven efficacy, this range might get your attention.
Luzern Laboratories' innovative PureProcessing formulating ensures active ingredients are kept effective, while impurities such as parabens and formaldehyde-releasing preservatives are eliminated to help keep the earth and your skin pure, fresh and radiant.
Although Luzern uses Bio-Swiss certified organic botanicals, their products are not certified as organic because many of them are formulated with actives such as Peptides, Vitamins, Oxygen, Co-Q10 and Alpha-Lipoic Acids that cannot be certified organic.
Besides being made without using parabens and formaldehyde, Luzern products do not contain sodium laurel sulfates, PEG, propylene glycol, phenoxyethanol, synthetic fragrances, synthetic colors, mineral oils, and alcohols. Instead of parabens, Luzern formulates with a variety of natural preservative systems such as using Wasabia Japonica Root Ferment Extract, that is said to be extremely effective to fight bacteria and microbes, but also works effectively as a potent skin-calming agent because it helps reduce inflammation and keep rosacea, redness and sensitivity at bay.
All products under the brand are also said to be hypo-allergenic, non-comedogenic, and are not tested on animals.
Luzern Serum Absolut Rehydrate
I had the opportunity to try some of their products in 2012 and have to say the quality of the products are quite impressive.
So this time, I was introduced to their hydration series.Their Serum Absolut Rehydrate is the serum I'd in mind to share with you. Formulated with hyaluronic acid, vitamin b5 + bio-lipid moisture enhancing complex, this lightweight serum absorbs instantly and leaves skin dewy soft and younger-looking.
Hydration is provided through its natural hydrators bind moisture to the skin without feeling heavy. Vitamin b5 + bio-lipid repairs moisture to ensure long-term hydration. This serum will work well with your daily moisturizer to ensure skin looking firmer, smoother and feeling dewy soft.
Here's what it contains: aloe barbadensis leaf juice**†, aqua / water / eau*†, glycerin**†, sodium hyaluronate*†, panthenol*†, triticum vulgare (wheat) germ extract*†, malva sylvestris (mallow) extract**†, lactoperoxidase*†, xantham gum*†, glucose*†, glucose oxidase*†
* natural-derived / dérivés de naturel and/or ecocert
** certified organic/ certifié organique usda / ecocert / bio-swiss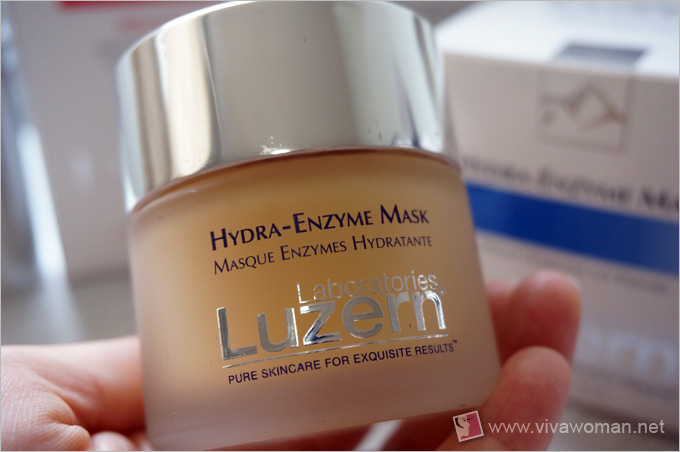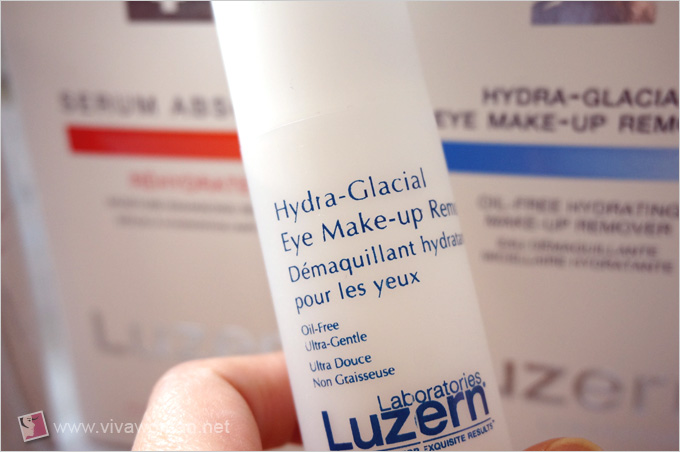 Luzern Hydra-Enzyme Mask
Besides the serum, the Luzern Labs Hydra-Enzyme Mask is another hydrating product to consider. This is a brightening enzymatic cream mask that not only hydrates but promises brighter, firmer and younger looking skin in one application with its pumpkin enzyme, vitamin C and organic licorice extract, organic sweet almond oil, olive-derived squalene and hyaluronic acid.
Ingredients include: aqua/water/eau*†, ethylhexyl palmitate*†, lactobacillus/pumpkin fruit ferment filtrate*†, propanediol*†, polyglyceryl-4 oleate*†, cetyl alcohol*†, cetearyl alcohol*†, glycerin **†, stearyl alcohol*†, sodium hyaluronate*†, l-arginine*†, sodium ascorbyl phosphate (vitamin c) †, glycyrrhiza glabra (licorice) root extract**†, squalane*†, peucedanum ostruthium leaf extract**†, buddleja davidii extract**†, artemisia umbelliformis extract**†, prunus amygdalus var. dulcis (sweet almond) oil **†, citric acid*†, lavandula angustofolia (lavender) oil*†, citrus sinensis (sweet orange) oil**†, glyceryl caprylate*†, carbomer†, tetrasodium glutamate diacetate†, glyceryl undecylenate*†, tocopheryl acetate*†
* natural-derived / dérivés de naturel and/or ecocert
** certified organic/ certifié organique usda / ecocert / bio-swiss
Luzern Hydra-Glacial Eye Makeup Remover
Finally, in the hydra series is the Luzern Hydra-Glacial Eye Makeup Remover, an oil-free, non-rinse makeup remover that gently, yet effectively, breaks down and removes the toughest eye makeup, even waterproof makeup, without irritating eyes.
Ingredients used are: aloe barbadensis leaf juice**†, aqua / water / eau*†, polysorbate-20, glycerin**†, sodium lactate*†, sodium pca*†, mannitol*†, lecithin*†, sodium cocoyl glutamate*†, sambucus nigra flower extract**†, hyssopus officinalis extract**†, glucose*†, xantham gum*†, glucose oxidase*†, lactoperoxidase*†, lecithin*†
* natural-derived / dérivés de naturel and/or ecocert
** certified organic/ certifié organique usda / ecocert / bio-swiss
Availability and promotion
Luzern Labs is available at natureLOVA. The products I'd tried and like from the range include the Luzern Pure Cleansing Creme, a luxurious cream cleanser that is able to clear away surface impurities without stripping, drying or irritating. The other product is the Luzern Serum Absolut – Luminous (formerly Luzern Serum Absolut – Vanish), an eye gel to help reduce dark circles and undereye puffiness.
Anyway, this is a good time to check out the Luzern Labs range as natureLOVA is offering 15 percent discount off their usual prices. Just use promo code LUZERN15 during checkout to enjoy the discount. Shipping is from Singapore but international delivery is available. To find out more, go to natureLOVA online store.
In addition,  the online store is offering Luzern product samples to first time customers of the range. All you need to do is to like the natureLOVA Facebook page, message them about your skin condition and you will be recommended suitable samples for pick-up.