Serenading A Song To All The Oils I've Loved Before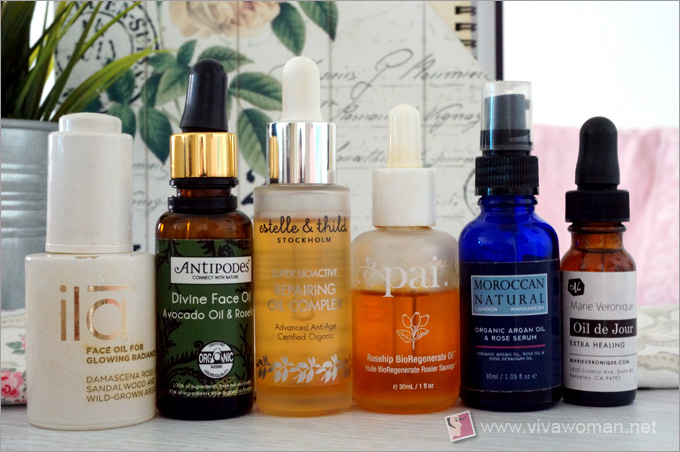 I had a tune in my head when I was lining up all my facial oils for a picture. It's a song titled, To All The Girls I've Loved Before, only this time it's renamed, To All The Oils I've Loved Before. I even have new lyrics for it: To all the oils I've loved before, that kissed my face and soothe my soul, I'm glad you all came along, I dedicate this post to all the oils I've loved before.
Imagine all that sung in a deep throaty Tom Jones' voice. Or Julio Iglesias and Willie Nelson, if you prefer them. LOL. Can you beat that? And to think this all came about during one of my stash clearing sessions when I was trying to bin some of the oils that have turned rancid and are no longer usable. I stopped short of throwing them out because I figured I might as well write a post on the facial oils that I have liked at one point or another—a compilation of reviews.
As you can see, I have six facial oils that I like but obviously, some I like better than others and I must have a favorite too. I mean, don't tell me that a guy has a string of girlfriends and he has no favorites? So come with me as I show you why I like these facial oils and which tickles my fancy most.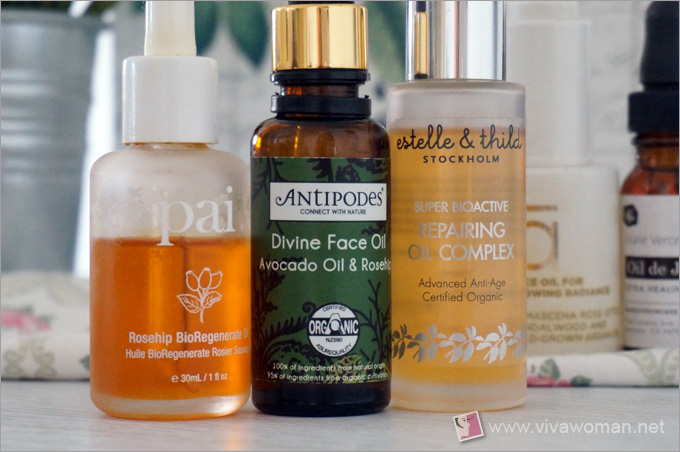 Pai Rosehip Bioregenerate Oil
I've stopped using rosehip oil for a few years now except when it is mixed with other oils. While there are many good things to be said about rosehip oil like how it is a safer form of retinol, I find that using the oil neat can be too rich for my skin, causing milia seeds to develop around my eye area.
So I started using this oil from Pai with some trepidation as it is said to be the most concentrated rosehip oil on the market, containing concentrated fruit hip oil, with double the regenerative sterolds and fives tmes the carotenoids of seed oil. In addition, Pai Rosehip BioRegenerate is far more powerful than simple cold pressed Rosehip seed oils because it uses Premium CO2 supercritical extraction, which delivers the complete and concentrated properties of the plant.
I kinda like the oil when I first started using in the first week or two. My skin reacted well to the oil without any issues. But after awhile, I noticed that I was waking up to oilier skin, not a good thing in my opinion. I used just about two drops of this oil in the evenings and I applied it all over my face, pressing some over my eye area as this is how I use most facial oils. But into week three, I noticed a tiny milia seed on my eyelid and I quickly stopped using the oil around my eyes and also reduced usage to alternate nights instead. That routine seemed more agreeable to my skin and I no longer found my face dripping with oil by morning.
So I would recommend this product to those with very dry skin. If you have combination skin like mine, you may choose to use this product on alternate nights instead. Always apply to a freshly toned face that is slightly damp and do avoid applying over your eye area.
Ingredient list: rosa canina (rosehip CO2) seed extract*, rosa canina (rosehip CO2) fruit extract*, mixed tocopherols (natural vitamin e), rosmarinus officinalis leaf extract*
*Certified Organic by the Soil Association (Organically produced 99.8% of product). Suitable for Vegans. Not tested on animals.
Price: 30ml, S$50
Available from: Pure Tincture
Read my original review here.
Antipodes Divine Face Oil
This is a light yet deeply-penetrating, non-greasy oil with a base of 100% pure avocado oil. I was worried that with the combination of other oils like rosehip oil, this product may turn out too rich for mine. But thankfully, my skin didn't break out when I used this with the two other Antipodes serums (Hosanna and Apostle). But just to be sure, I only applied two drops each time, in case anything more would trigger my skin to cry out in protest.
I found this Antipodes Divine Face Oil a great compliment to the two serums as the combination left my skin feeling properly hydrated and moisturized. I also liked how it nourished my neck region. Not to mention this oil smelled divine with its gorgeously entrancing fragrance of ylang ylang, sweet orange and jasmine.
Ingredient list: Persea gratissima (avocado oil)**, macadamia ternifolia (macadamia oil)**, buxus chinensis (jojoba oil)**, rosa canina (rosehip oil)**, cananga odorata (ylang ylang oil), santalum album (sandalwood oil), amyris balsamifera (torchwood), jasminum officinale (jasmine oil), citrus sinensis (orange oil), benzyl benzoate*, benzyl salicylate*, citronellol*, d-limonene*, farnesol*, geraniol*, isoeugenol*, linalool*, Vitamin E.
* Componant of essential oil.
** Certified organic ingredient.
Price: 30ml, S$58
Available from: Skintegral or Bud Cosmetics
Read my original review here.
Estelle And Thild Repairing Oil Complex
This is the latest facial oil I've tried and the organic antioxidant rich oil containing marine microalgae promises to repair the visible signs of aging and combats UV damage for more luminous skin with a radiant glow.
Although I'm generally fond of facial oil, I find this one a tad too rich and thick. In fact, it's so thick that I've not even used a quarter of the bottle till now as two drops is enough for my entire face, and sometimes even for my neck. However, I keep at it while I'm using the Estelle & Thild Super BioActive Age Control Serum as the pair is supposed to work as a system. I also like the sweet peachy scent.
Ingredient list: coco-caprylate/caprate,prunus armeniaca kernel oil*, squalane, commiphora mukul resin extract, haematococcus pluvialis extract, carthamus tinctorius hybrid oil, simmondsia chinensis seed oil*, caprylic/capric triglyceride, tocopherol, parfum. *Ingredient from Organic Farming.
Price: 30ml, S$153.55 (must be purchased as a set with Estelle & Thild Super BioActive Age Control Serum)
Available from: NET-A-PORTER
Read my original review here.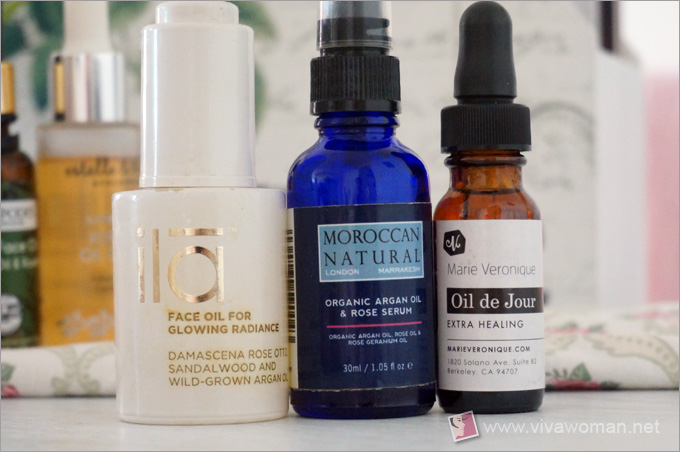 ILA Face Oil For Glowing Radiance
I remember liking this product very much. First, I was thrilled by the hot fuschia pink box—if only the bottle was of the same color. Next, I was very impressed with the scent, especially the mixture of damascena rose otto and sandalwood. The combination was divine and simply a delight to my nose.
Although the blend of argan oil, rosehip seed oil, sandalwood, rose otto oil sounds rich, the product applies well without causing my face to ooze with oiliness. In fact, I was able to apply serums or creams over the oil without any issue. I didn't see my face being particularly more radiant after using this face oil but I still like it nonetheless. I'm also quite sure many are liking it judging from the steep price increase since I last reviewed the product.
Ingredient list: Wild-Grown Argan Oil (Argania Spinosa Kernal), Rosehip Seed Oil (Rosa Canina), Sandalwood (Santalam Spicatum), Rose Otto Oil (Rose Damascena Flower Oil), Vitamin E Oil (Tocopherol Extract), Naturally Occurring Citronellol, Farnesol, Linalool.
Price: 30ml, S$185
Available from: Pure Tincture
Read my original review here.
Moroccan Natural Argan Oil And Rose Serum
I was first attracted by this product as I'd imagined it would be a wonderful serum that would appeal to my sense of smell and my hunch was right. It smells divine and it's nourishing but light enough to be used both day and night. Like most oils I've used, this is good to reduce the appearance of fine lines and works well for me when I use it under my sunscreen or alone in the night. When used in the day, this one worked very well with my sunscreen and my skin did not feel tight or oily. I also noticed that my skin looked fresher in the morning when I applied this to my face before heading to snoozeland. I believe it's the effects of the rose oil because that is one of the best oils to give our skin a shining, fresh and youthful skin.
Ingredient list: Argana Spinosa Kernel Oil, Pelargonium Graveolens Oil, Rosa Damescena Flower Oil, Citral, Citronellol, Limonene, Linalool, Farnesol, Eugenol. It is basically a luxurious blend of oils, rich in fatty acids and the argan oil in the formulation help to regulate oily skin.
Price: 30ml, S$55
Available from: natureLOVA
Read my original review here.
Marie Veronique Oil de Jour
This is my go-to day oil now. It is the equivalent of a sun protection oil as it contains pomegranate seed, tomato seed, raspberry seed and broccoli seed oils as well as astaxanthin to protect skin against UVA damage. Two versions are available: one for vegan and another for those who want emu oil for the extra healing.
I have always loved facial oils from Marie Veronique and this is no different. Price is rather steep but if you look at the ingredients, it's not difficult to see why. Also, this is 60ml, twice the usual size. I use about three drops for my face so a 60ml bottle can probably last me more than three months. If you like facial oils and want something more to protect your skin in the day, this product is worth considering. Personally, this is something I will buy for I used to purchase their sun protection oil. Both versions work for me but if I were to buy, I will probably go for the vegan offering.
Ingredient list: Camellia oleifera (camellia) oil, Limnanthes alba (meadowfoam) seed oil, Simmondsia chinensis (jojoba) oil, Borago officinalis (borage) oil, Persea americana (avocado) oil, Olea europaea (olive) oil, Actinidia deliciosa (kiwi) seed oil, Salvia hispanica (chia seed) oil, Rubus idaeus (red raspberry) seed oil, Sesamum indicum (sesame seed) oil, Calophyllum inophyllum (tamanu) oil, mixed tocopherols (vitamin E), Brassica oleracea italica (broccoli seed) oil, Punica granatum (pomegranate seed) oil, astaxanthin, Opuntia ficus indica (barbary fig seed) oil, Rosa rubignosa (rosehip) seed oil, algae oil, Lycopersicon esculentum miller (tomato seed) oil, Rosmarinus officinalis (rosemary) oleoresin. Essential oils: helichrysum italicum (helichrysum), Cananga odorata (ylang ylang), Myrtus communis (green myrtle)
Price: 60ml, US$90
Available from: Marie Veronique (affiliate link)
Read my original review here.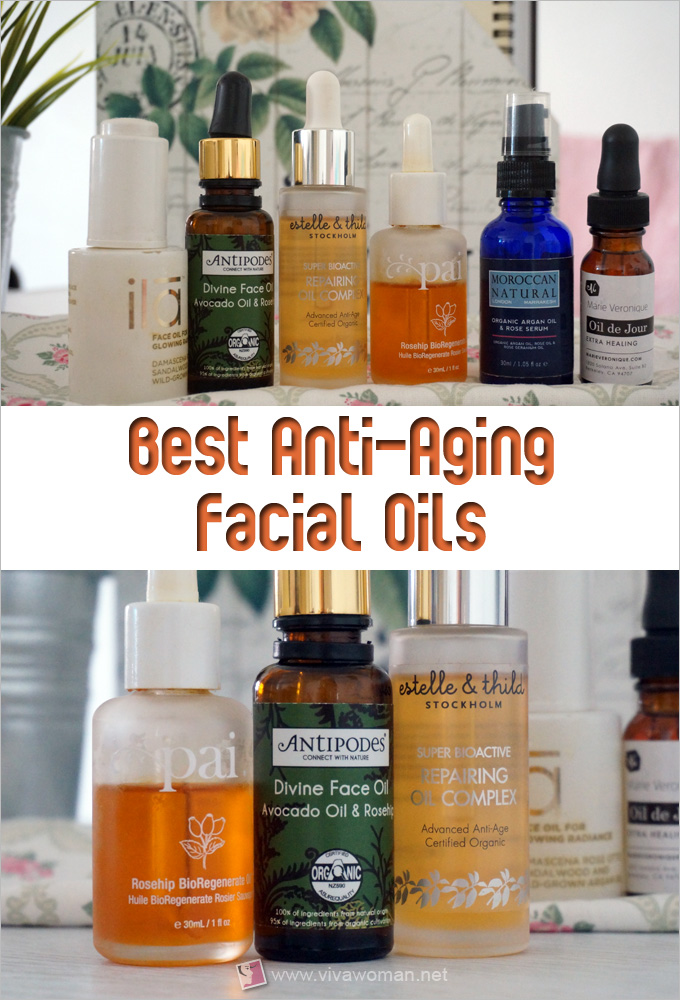 So there. A summary of the facial oils I've loved before. If you ask me, is there one I'll take on for a long term relationship and I'll tell you it's Marie Veronique's Oil de Jour. I'm probably bias in the sense that I've loved their products for a very long time but I can't help it. Also, I love Oil de Jour because it offers both anti-aging benefits and sun protection. Not many oils in the market offer such duo benefits.
Do you have a facial oil that you absolutely love? Or do you love any of these that I've covered here? I'll be keen to know which is it.
* Except for Marie Veronique, you can also get the rest of the oils at  Lovelula or Naturisimo, both of which offer free international shipping.
Products highlighted are media samples and this review is in line with my disclosure policy.
Comments