Soothe And Hydrate Your Face With Whamisa Organic Flowers Fermented Toner & Hydrogel Facial Sheet Mask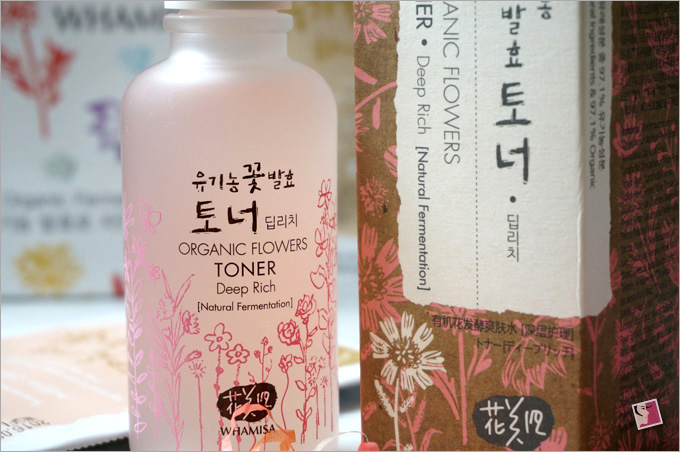 Should you use a facial toner? Does it benefit your skin? Maybe it's a waste of money? How about skipping it altogether? Well, let's tackle all of that with this question: what is the purpose of a facial toner?
Now, to answer that, I'll like for you to pretend you are a college student sitting for a test in a classroom. Oh, fret not. The test is easy and you get to choose your answer from a list of multiple choices. Ready? Let's begin!
Here are your choices to the question–What is the purpose of a facial toner?:
To refresh and clarify your skin
To restore the pH level of your skin
To tighten your pores
To lock in the moisture
To support skin's protective barrier
To counter drying chlorines and minerals from tap water
To help other skin products penetrate quickly
To enhance the results of your skin care program
To remove excess oils and dead skin cells
To soothe, hydrate and moisturize your skin
So tell me–what is your answer? Did you choose more than one answer? Or did you choose all 10? If you did, do you know of any toner that can do all those 10 things?
My bet is you don't for you'll be hard pressed to find one that can meet all 10. I definitely haven't come across one. If a toner can do six or seven on the list, I'll say it's a gem and a keeper.
I've always used a toner but over the years, my preference for the type of toners have changed. When I started out, I was using a toner to remove surface impurities left after cleansing and to tighten the pores. But now, I prefer toners that hydrate my skin.
These toners have a lotion like consistency and they help to prevent skin dehydration with humectants that lock in the moisture in the upper layers of the skin.
When you use such toners, you'll notice a difference between tight, flaky skin and a smooth visage. In addition, your skin is protected and supplied with essential hydration and nutrients, making it less sensitive and more resistant to environmental damage.
Many toners in the market today are formulated to be hydrating. Perhaps you're using one yourself. Are you happy with it? If not, let me introduce to a clear winner in this category–Whamisa Organic Flowers Natural Fermented Toner (Deep Rich). It was love at first drop for me.
About Whamisa
If you remember my recent entry about Korean green beauty products, I'd introduced Whamisa as one of the better made-in-Korea organic skin care line. What I forgot to say is that it is a cult brand. Why is that?
You see, their products are formulated with a unique blend of natural organic ingredients using Korean fermentation technology–the new buzzword in Korean skin care. The process minimizes the destruction of nutrients and divides nutrients into small particles which provide fast and deep absorption to the skin, providing deep hydration.
Another selling point is that the organic ingredients included in their formulation is quite high and many of their toners, lotions and creams are formulated without water. Instead, the product base is organic aloe vera extract or aloe vera water.
Whamisa does not include synthetic preservatives, artificial surfactants, sterilizers, oxidation stabilizers, artificial colors, synthetic artificial fragrance and some other additives in its formulas. Majority of the products contain at least 90 percent certified organic ingredients.
Most interestingly, Whamisa products are made using a natural fermentation process to distill and preserve the potency of select natural ingredients. Plus, the brand is certified under BDIH (Germany) Standards and Ecocert (France).
Whamisa Organic Flowers Natural Fermented Toner (Deep Rich)
120ml, S$52
This is no ordinary toner. It's a rich concentrate that can easily double up as a serum. I really like how hydrating and nourishing it feels on my skin. The best part is…it smells so refreshing, like fragrant flowers in spring time. Unless you dislike flowers, I guarantee you'll relish each application like I do.
In terms of consistency, this toner feels more like a lotion or an essence with a really smooth slip. Not surprising there, considering it is formulated with aloe vera extract, chrysanthemum extract and oat kernel to moisturize and nourish skin. Add to that we have the fermented dandelion and argan oil to help improve skin texture and leave skin dewy and deeply rehydrated, with a bouncy boing-boing touch.
To apply this toner, ensure your face is first cleansed. Drop a few drops onto palms and gently pat into face. You can follow on with your usual products. If you use this in the day, you'll still need sunscreen but if you use this in the night, I won't be surprised if some of you find it sufficiently moisturizing on its own. I use this in the night and usually just layer another serum over.
Besides Whamisa Organic Flowers Natural Fermented Toner (Deep Rich), Whamisa also has their Whamisa Organic Flowers Natural Fermented Toner (Original) and WHAMISA Organic Flowers Natural Fermented Lotion (Double Rich) formulas. I suspect the difference is in the moisturizing properties. The original formula is likely the least moisturizing of the three.
Here's the full ingredient list of Whamisa Organic Flowers Natural Fermented Toner (Deep Rich) that it is crafted with a 97.5 per cent organic formula:
*Aloe Barbadensis Leaf Extract , *Chrysanthemum Morifolium Flower Extract, *Avena Sativa (Oat) Kernel Extract, *Lactobacillus/Chrysanthemum Sinense Flower Ferment Filtrate, *Lactobacillus/Nelumbo Nucifera Flower Ferment Filtrate, *Lactobacillus/Teraxacum Officinale (Dandelion) Rhizome/Root Ferment Filtrate, Galactomyces Ferment Filtrate, *Persea Gratissima (Avocado) Oil, *Argania Spinosa Kernel Oil, *Aloe Barbadensis Leaf Juice, *Helichrysum Arenarium Flower Extract, *Brassica Oleracea Italica (Broccoli) Extract, *Glycerin, ☆Propanediol, **Scutellaria Baicalensis Root Extract, **Paeonia Suffruticosa Root Extract, **Glycyrrhiza Glabra (Licorice) Root Extract, Hibiscus Sabdariffa Flower Extract, Lithospermum Erythrorhizon Root Extract, Xanthan Gum, Aniba Rosaeodora (Rosewood) Wood Oil, *Citrus Aurantium Bergamia (Bergamot) Oil, Cymbopogon Schoenanthus Oil, ***Fragrance
//*Certified Organically Grown **Natural Preservative ***Natural Origin ☆Ecocert/
This toner is definitely a gem. It meets at least six of the answers in the multiple choice question! More importantly, it plays nicely with my other skin care products.
The price is considerably higher than most toner but it is a premium product based on the ingredients and technology behind. But admittedly, I bought this at a sale and so the ouch factor was lessened. You also need to know that this toner comes in a glass bottle with a plastic hole plug. This means you have to exercise caution when you pour out the toner to avoid product wastage.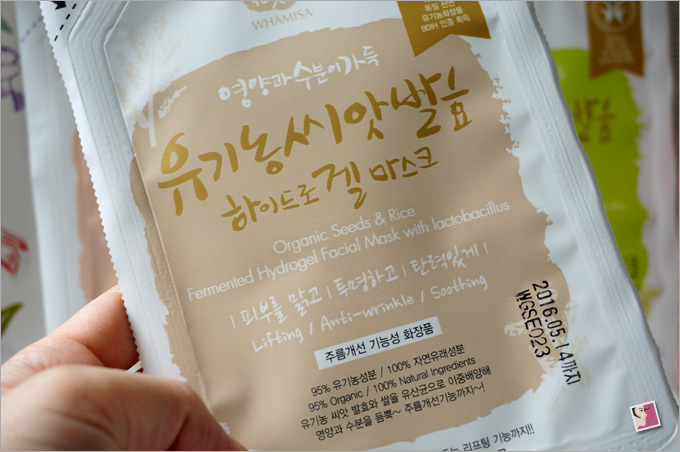 Whamisa Organic Fermented Hydrogel Facial Sheet Masks
$9.90 each
I also bought their hydrogel sheet masks which are soaked in skin-plumping botanical serum. They come in three variations (a bundle of three cost S$20.80 with 30 percent off now):
Whamisa Organic Seeds & Rice Fermented Hydrogel Sheet Facial Mask
Whamisa's Organic Flowers & Aloe Vera Fermented Hydrogel Sheet Facial Mask
Whamisa Organic Fruits & Tomato Fermented Hydrogel Sheet Facial Mask
Sheet masks are great for instant hydration for instantly glowing, clear skin. While I like them, I don't use them regularly because most of the available in the market are full of chemical additives. But these are organic hydrogel sheet mask that come with 95 per cent skin-plumping botanical ingredients–some really interesting stuff too.
Here's the full ingredient list of Whamisa Organic Seeds & Rice Fermented Hydrogel Sheet Facial Mask, my favorite of the three:
Water, *Hordeum Vulgare Seed Extract, *Glycine Soja (Soybean) Seed Extract, Ceratonia Siliqua Gum, Xanthan Gum, *Aloe Barbadensis Leaf Extract, *Lactobacillus/Rice Ferment Filtrate, **Scutellaria Baicalensis Root Extract, **Paeonia Suffruticosa Root Extract, **Glycyrrhiza Glabra (Licorice) Root Extract, *Lactobacillus/Phaseolus Radiatus Seed Ferment Filtrate, *Lactobacillus/Glycine Soja (Black Soybean) Ferment Filtrate, *Lactobacillus/Phaseolus Angularis Seed Ferment Filtrate, Allium Cepa (Onion) Bulb Extract, *Lactobacillus/Hordeum Vulgare Seed Ferment Filtrate, *Lactobacillus/Sesamum Indicum (Sesame) Seed Ferment Filtrate, Coix Lacryma-Jobi Ma-yuen Seed Extract, Adenosine, Lavandula Angustifolia (Lavender) Oil, Aniba Rosaeodora (Rosewood) Wood Oil, Citrus Nobilis (Mandarin Orange) Peel Oil, Rosmarinus Officinalis (Rosemary) Leaf Oil *Certified Organically Grown **Natural Preservative ***Ecocert
In terms of ingredients, these masks are great. No doubt. They smell gorgeous and even the results from using them are satisfactory. But they don't ace in my book and I'll tell you why.
They are clear masks and comes in two parts–one for the top half of your face and the other for your mouth and cheeks. I found the sheets combined kinda small even for my face. In particular, my forehead wasn't fully covered. I think they should offer the masks in sizes or many won't get full coverage, so to speak. LOL. Also, because this is hydrogel, extra care needs to go into handling them or they'll tear easily.
But having said that, I probably won't mind repurchasing them if they continue to be on special offer. #k8SjZc9Dxk#k8SjZc9Dxk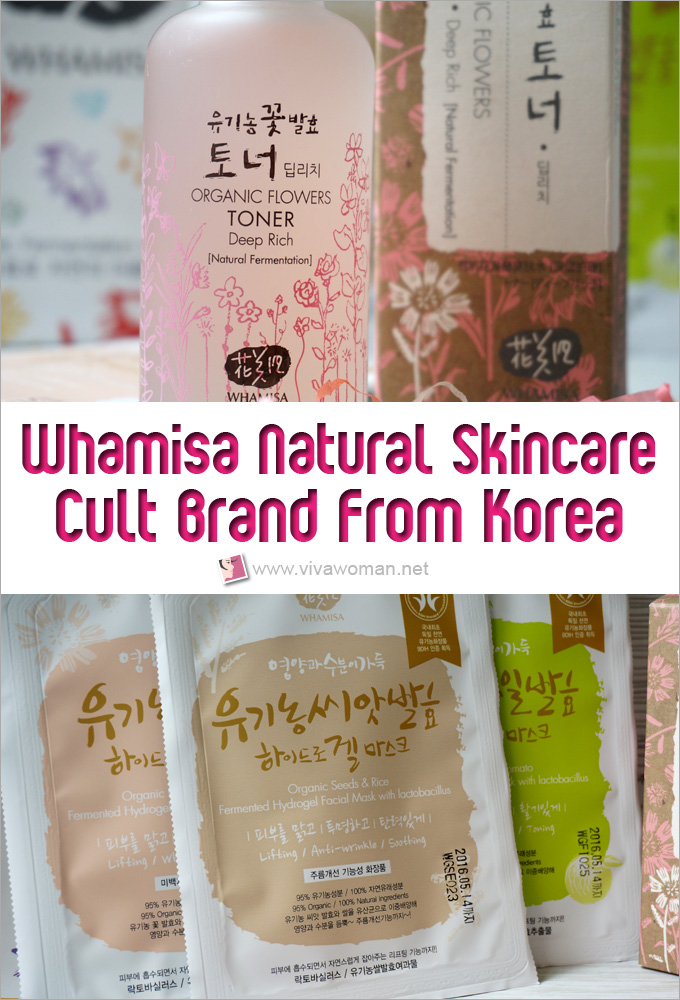 Availability in and outside Singapore
I couldn't find Whamisa while I was in Seoul. I understand the brand used to be available in higher end department stores until they changed their retail strategy to focus on distribution through organic supermarkets Dure-Coop and Orga Whole Foods. Hopefully, I'll be able to get my hands on the brand during my next trip.
For now, I get my dose of Whamisa from Olly (If you're from outside Singapore, you can purchase this item from Style Korea that ships internationally straight from Korea). It's available at Zalora but given my poor experience buying skin care products from them, I'll go with Olly, who promptly and efficiently delivered my first order without issues.
But I definitely like this brand. I think its formulation is close to the purer green brands I've tried but the fermentation process makes it more intriguing. That plus I enjoy the sensorial experience of using their products–more from the facial toner than the facial masks.
Yes, price of their products are steep but given the premium ingredients and technology, I'll say they're justifiable.
Any of you tried any products from Whamisa? Share your thoughts with us. If you have not, are you intrigued now? Would you like to try?
Products highlighted were purchased and this review is in line with my disclosure policy.
Whamisa Organic Flowers Natural Fermented Toner (Deep Rich)
Comments