Made-in-Italy Oway professional organic hair loss treatment + a special promo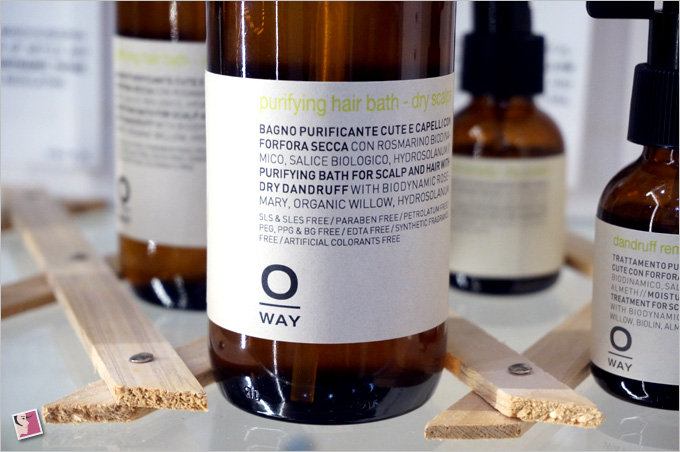 I've just come across an impressive range of green hair care range recently. This is a made-in-Italy professional organic hair care line that goes by the unique name–Oway–short for Organic Way. Don't the products remind you of some premium organic skin care?
First impressions aside, Oway is a winner in my books because one, it has an extensive collection of hair products that are for professional salon use as well as home care.
Two, their hair color, shampoo, conditioners and styling products are formulated with biodynamic, organic and fair trade ingredients comprising hydrolates, active botanicals and essential oils.
Three, I like that their products are contained in amber glass bottles.
All right. I know not everyone is a fan of glass bottles. Especially not when the bottles are heavy, not to mention slippery when handled with wet hands in the bathroom.
Still, the fact is glass has the ability to preserve the integrity of natural and organic formulations. That's why I'm always bias toward products housed in glass containers.
Prices are not sky-high
When I first saw the bottles, my first thought was, "Wow, these must be expensive." So I was surprised that each bottle of shampoo or conditioner (240ml) cost S$39. That number is not too intimidating eh?
But I'm guessing many of you haven't come across this Italian brand. I haven't seen it until now. That's not unexpected considering the brand is positioned as the world's first professional organic hair color, care and styling line with biodynamic, organic and fair trade ingredients. I suppose it's mostly available at hair salons.
This is a true-blue green hair care line. Its products are free of SLS, SLES, paraben, petrolatum, PEG, PPG, & BG free, EDTA free, synthetic fragrance, and artificial colorants.
On top of that, they adopt the minimalist approach with their packaging to minimize impact on the environment. Instead of plastic tubes, Oway favor 100 percent recyclable aluminium tubes.
Now available at Geranium
The brand recently made its foray into Singapore. However you won't find it in retail stores. Rather, Oway is available at selected hair salons. I don't have a full list of the salons that carry the range but I had my first experience of using Oway hair care at Geranium.
Perhaps some of you remember Geranium as a facial salon. I'd reviewed their gua sha facial treatment a couple of years ago and it's one of those few salons that don't practice hard sell. Well, they've since moved to a new location and since last year, they've also expanded and their facility now includes a hair salon which offers hair cut, hair styling and also hair treatments.
Today, I'm not going to review Oway's products but I'm going to share with you about a complimentary hair loss treatment I'd received from Geranium using their range of products.
Why go for hair treatments?
Some of you probably feel that paying for hair treatments are a waste of money. I had similar thoughts but I realized that DIY just doesn't cut it for some hair concerns like hair loss, dandruff and sensitive scalps. You do need professional consultation and assistance to deal with such issues.
Years ago, I used to go for hair loss treatments until I got put off by pushy sales staff who tried to squeeze every cent from me to take up expensive packages. I gave up and tried using hair loss products bought off the shelves. However, they didn't do much for me and I realized why much later.
The thing with my scalp is that it secretes too much sebum, causing the hair follicles to be clogged. When that happens, hair loss is probable. New hair also finds it hard to grow no matter how much hair tonic I apply.
I suppose I can get those deep cleansing scalp products to rid my hair follicles of the build up sebum but without a scanner, I can't tell the results. So here's where a hair salon like Geranium comes in, offering professional consultation and treatment recommendation.
A typical consultation cum treatment should take about an hour to 1.5 hour, depending on the length of your hair. My hair is short and my treatment was kept within an hour. Here's what I went through within that time:
1. Consultation
My hair and scalp was analyzed by a hairstylist using a hair follicle scanner. She explained the condition of my hair follicle and showed me how clogged it looks before proposing on the course of treatment.
2. Detox
She followed on by using Oway Purifying Scalp TM on my scalp to. This include blending the Pure Biodynamic Thyme and Blend Purifying Rice Wax to remove sebum and unclog hair follicles.
3. Massage
The hairstylist then apply the detox blend on my scalp using pressure point massage. I can't remember how long the massage lasted (maybe half an hour or 45 minutes) but it was definitely very enjoyable. The aromatic fragrance of the treatment was soothing while the massage definitely helped me relax.
After the massage, the blend was left on my scalp for 5 minutes to absorb excess sebum on the scalp and to breakdown clogs in hair follicles.
4. Shampoo And Conditioning
This was followed by a shampoo using the Oway Micro Stimulating Hair Bath. The ingredients in this product supposedly help with blood circulation and enhance hair structure.
Next product used was the Oway Frequent Use Conditioner that aims to moisture and nourish hair without weighing it down.
5. Leave-In Remedy
Finally, the hairstylist massaged their Oway Massage Densifying Remedy on my scalp. This product is formulated to oxygenate scalp, promote hair growth and strengthen hair shaft.
After the 5-step treatment process, my hair was blown dry and styled.
Besides my hair follicle looking cleansed of sebum and oily residues, everything else remained unchanged. It's unrealistic to expect immediate results for a hair loss treatment. However, having my hair follicles cleansed means I can expect better results when I use a hair growth remedy.
Price and special promo
So how much does such a hair treatment cost at Geranium? Well, it's usually S$198. But the salon has worked out a special promo price just for Viva Woman readers. Here's the deal:
Scalp Treatment at S$98 with complimentary Hair Treatment (UP $30)
Just quote Viva Woman
Promo is valid till 30 April 2016.
Please note that the treatment is not restricted to hair loss. It could be sensitive scalp, dandruff or other conditions. In fact, I've learned that those who received treatments for dandruff saw results very quickly.
If you are in need of professional help with your hair or scalp, you might want to check out the Oway range. The collection is wide and most important, you don't have to worry about forking out money to pay for packages as Geranium doesn't practice hardsell.
Oh, I am also happy to report that I am very pleased with a hair cut I had at the salon. The prices are very reasonable at $45 for my short hair and I'll definitely be heading back regularly.
Geranium is conveniently located at No.26 Horne Road, BH Building #01-01 (5 minutes walk from Lavender MRT station). Look up Geranium Facebook for more information or call 6294 2581 to book your appointment.
Service highlighted was given complimentary & this review is in line with my disclosure policy.
Comments