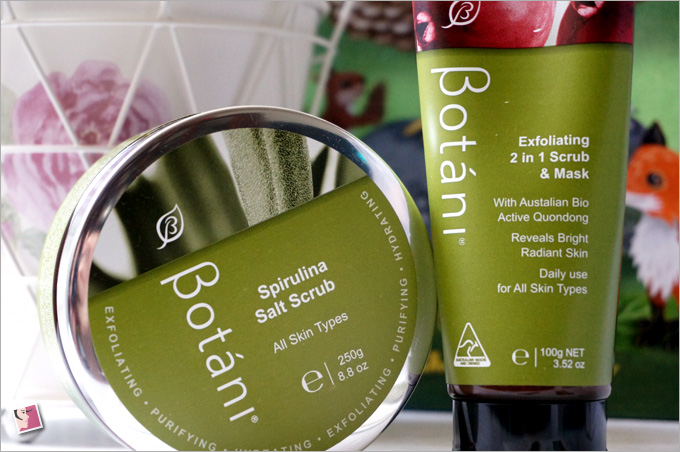 I've been scrubbing myself happy using Botáni products. One is their Exfoliating 2 in 1 Scrub & Mask for face and the other is their Spirulina Salt Scrub for body. Both scrubs contain some uncommon but skin friendly ingredients and are a delight to my senses and a pampering experience for my skin.
Botáni is not a new brand. They've been around since 1994 and I've reviewed their products some years ago. They are a range of toxic-free, natural skin care brand created by Australian based naturopath and herbalist, Barbara Filokostas, to address skin issues and imbalances.
I met Barbara earlier this year when she visited Singapore because her products are now available here. So that was when I was introduced to her new offerings including these two featured here. She was very excited about them, in particular their Exfoliating 2 in 1 Scrub & Mask and invited me to try it.
Prior to meeting her, I'd always thought scrubs are the easiest to DIY. So I was so surprised to learn that it took her a couple of years to create their face scrub.
She told me it wasn't easy to create a gentle, but effective face scrub free of harsh exfoliants like microbeads. When she finally found her answer, she had to ensure her product could pass the rigorous test so that what is offered to consumers is a product that won't compromise on safety just because it is natural and free of parabens.
Oven test
Now, I'm sure some of you are curious about the test like I was. Well, the test is called an oven test where the product was put into an oven with temperatures around 115 degrees Fahrenheit and kept in there anywhere from six weeks to three months. The purpose of the test is to determine if a product can stay stable and maintain its integrity, and not change consistency.
Woah. That's certainly some invaluable first-hand information for me. I now have better peace of mind using Botáni since this product does not contain the typical preservatives common with non-natural skin care.
Anyway, I had a go at the scrub for some time now and I can tell you it is in every way, a superior product. The best part? It doubles up as a facial mask too. Here's more information:

Exfoliating 2 in 1 Scrub & Mask
Botáni Exfoliating 2 in 1 Scrub & Mask is a cream based, non-abrasive natural face cleanser and mask that contains Jojoba Spheres. These are smooth botanical spheres utilizing legendary Jojoba oil and offer gentle exfoliation benefits.
The base ingredient in this scrub is oat bran and other ingredients include Australian bentonite clay, rice flour, quandong and olive squalane.
Up until I tried this product, I've never heard of quandong. Apparently, it is also known as 'native peach' and this is a famous fruit found in Australia's arid regions. It is high in proteins, vitamin C and essential fatty acids, and works to rejuvenate and soothe the skin, as well as boost complexion and brighten skin tone.
Here's the full ingredient list:
Aqua (Purified Water), Avena Sativa (Oat) Bran, Hydrogenated Jojoba Oil (Jojoba Beads), Bentonite, Coco-Glucoside, Oryza Sativa (Rice) Powder, Calendula Officinalis Extract, Chamomila Recutita Extract, Santalum Acumination (Quandong) Fruit Extract, Aloe Barbadensis (Aloe Vera) Leaf Extract, Citrus Grandis (Grapefruit) Seed Extract (and) Glycerin, Citrus Paradisi (Grapefruit) Peel Oil, Squalane (Olive), Carica Papaya Fruit Extract, Xanthan Gum, Lecithin, Citric Acid, Potassium Sorbate, Benzyl Alcohol, Vanillin, Anthemis Nobillis Flower (Roman Chamomile) Oil
Because it is formulated with skin friendly ingredients, Botáni Exfoliating 2 in 1 Scrub & Mask can be used daily by all skin types as a scrub and a mask to draw out impurities and removes dead skin to achieve a brighter and more refined complexion.
If you already exfoliate regularly, you probably won't see a lot of difference to your complexion using this. But you might notice that it is not as abrasive as the other mechanical scrubs you have tried or are using. The scent is also probably unfamiliar but I assure you it is nothing unpleasant.
Price of this scrub is not cheap though. At S$59, the 100g tube can probably last you about three months if you use it twice a week.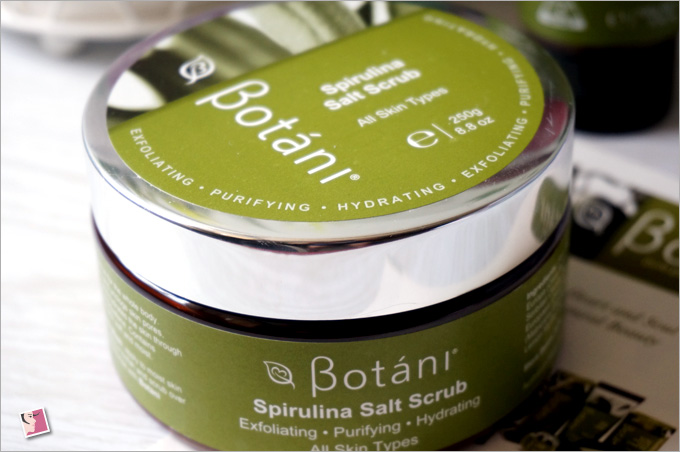 Spirulina Salt Scrub
The other product that I was invited to try was the Botáni Spirulina Salt Scrub. This one promises to be a body-smoothing skin beautifier with its unique blend of Australian sea salt, Australian Lemon Myrtle and organic spirulina.
If you like a good skin polisher that feels pampering and smells good, this product is right up your alley. But it's so dense and thick you need a bit of digging to get the scrub out. It also smells wonderfully uplifting.
The only thing I didn't like about it is the open jar. It doesn't come with a spatula so you're expected to find your own or scoop with your fingers, which is most likely wet since you'll use this during bath time. That or you must remember to dry your hands before dipping in because chances of product contamination is high once water enters the jar.
Here's the full ingredient list:

Sea Salt, Glycerin, Oryza Sativa (Rice) Flour, Coco-Betaine, Olea Europa (Olive Butter), Butyrospermum Parkii (Shea Butter), Cetearyl Olivate (and) Sorbitan Olivate Squalane (Olive), Simmondsia Chinensis (Jojoba) Seed Oil, Olea Europaea (Olive) Fruit Oil Calendula Officinalis Flower Extract, Chamomilla Recutita (Matricaria) Extract Spirulina Platensis Powder, Backhousia Citriodora (Australian Lemon Myrtle) Oil Citrus Reticulata (Mandarin) Oil, Chlorophyll
At S$58 for a 250ml jar, I would say it's pretty pricey but the quality is premier.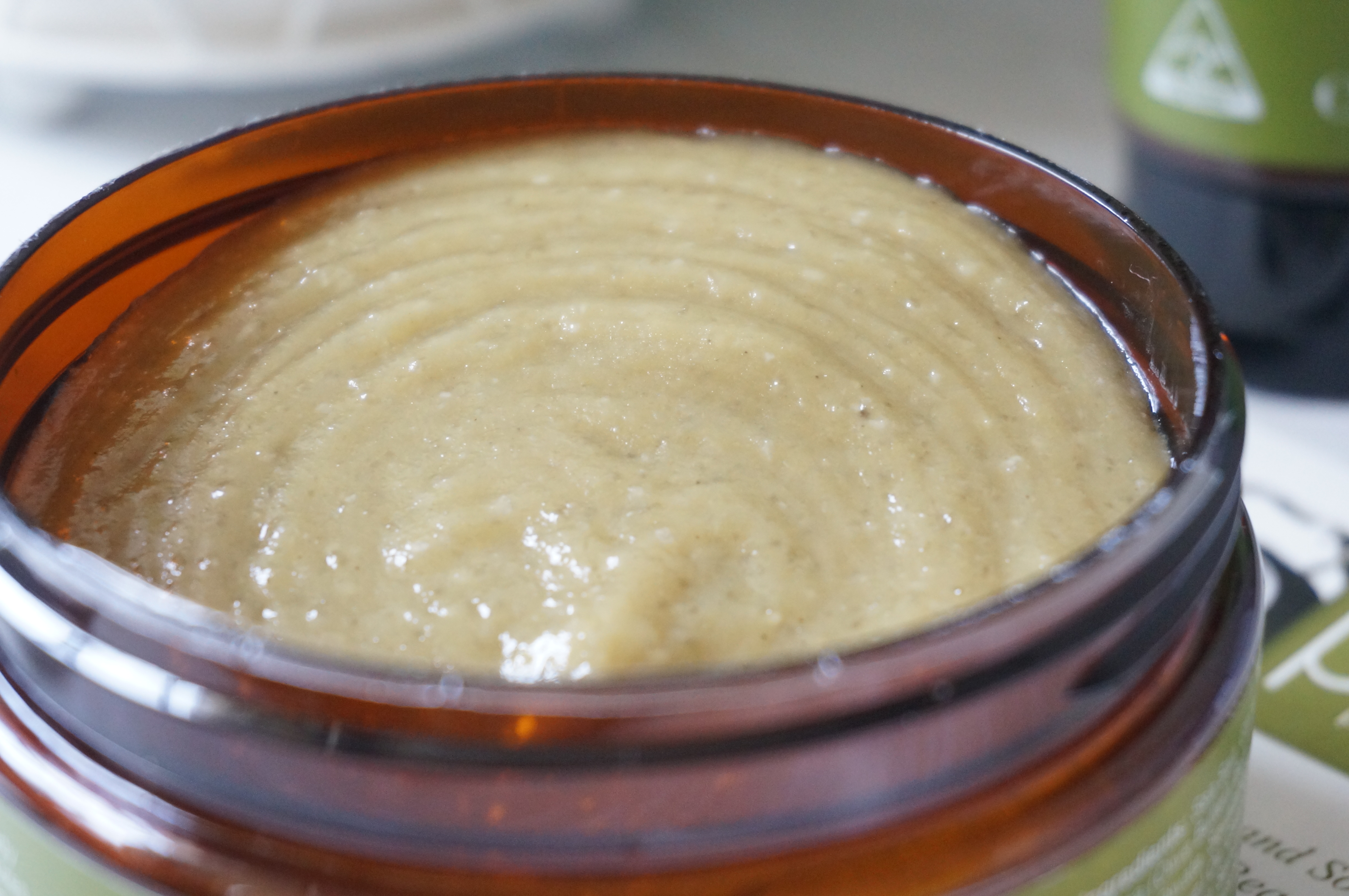 Premium quality botanical science products
Botáni products are created to heal the skin of major skin care issues, based on Barbara Filokostas' naturopathic holistic approach to skin health. Barbara also combines her naturopathic expertise with leading industry professionals in Microbiology and Cosmetic Chemistry to ensure the performance, safety and efficacy of Botáni skin care products.
Because of that, all formulations are rigourously tested for safety and results, and their products are created with natural emollients, moisturizing actives, botanical extracts, plant-based emulsifiers, as well as natural detergents and humectants—gentle enough to care for the most sensitive skin types, even for babies' skin.
All Botáni ingredients are Eco-Cert approved and they are free of mineral oil, paraffin oil, petroleum jelly, silicones, sulfates, propylene glycol (PEGs), propylene glycol, artificial fragrances or colors.
Their products are also cruelty free and vegan friendly as the company do not use animal derived ingredients such as beeswax. All formulations include olive squalene, which is nature's only biocompatible ingredient which matches the squalene in human skin.
I remember liking their Rescue Eye Treatment product back when I had the chance to try it. But I also recall being heartbroken when I broke the bottle. (T_T)
Availability
Those in Australia can get their hands on Botáni through various stockists. If you from Singapore, you can find Botáni products at Love Organic. Coincidently, this is the month where Love Organic has teamed up with the industry partners to launch a #30DaysLiveGreen Campaign to incorporate green habits in their lifestyles and collectively, make a difference on our environment. For more information, check out Love Organic.
Oh, you can get S$10 off when you signed up as their member. So go sign up already!