No more funky smell with Essentiq home fragrance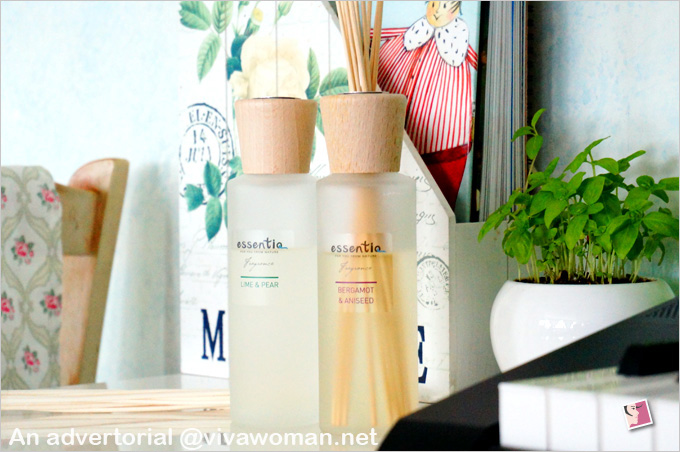 I wasn't huge on home fragrance. Sure I enjoyed the occasional scented candle but I never cared for room sprays or reed diffusers. Well, that was until we kept a dog. The funky business Gracie does at times inevitably wrecks the air quality at home…well thankfully just on some days.
While our noses cope well because of familiarity, I can't say the same for our visitors. I definitely can't bear to see them pinch their nose or hear them make unkind remarks. To pre-empt all that, I proactively sought ways to combat offensive scent.
Naturally, I resorted to using room sprays. They are great to freshen the air at home instantly–as long as I remember to use them. Another alternative is reed diffusers. I like that they are hassle-free. Place one in a room and the mood changes in an instant, lasting for weeks.
But with a gadzillion things to get, I'll admit that home fragrance somehow didn't feature too high up on my shopping list.
Safe and non-toxic
This is why I requested to try the home fragrance range when I was introduced to Essentiq. These do cost more than air fresheners but they definitely meet my purpose very well. How so?
Typical air fresheners contain toxic chemicals like formaldehyde, petroleum distillates and artificial fragrances. Instead of freshening the air, they are more of a health hazard. Just smelling them on a long term adversely affect well being for some in the most insidious way.
The Essentiq range of home fragrances on the other hand are natural, non-toxic and environmentally friendly. All the products are certified safe by IFRA (International Fragrance Association). And that's because the brand uses bio-alcohol, essential oils, 100% vegetable wax, and natural unbleached bio-wick and rattan.
Both the room sprays and reed diffusers are packed in glass bottles. Those of you who are environmentally conscious may like to know that their spray pumps are made from recycled aluminium and the wooden caps from certified sustainable forests.
Mostly fruity scent
Essentiq reed diffusers and room sprays are all available in four different fragrances, predominately fruity scent:
Lemon and Peach
Grapefruit
Lime and Pear
Bergamot and Aniseed
Thought of someone to buy these as X'mas presents? I think they make great pressies for people who loves a good scent. Of the four, I like the Grapefruit fragrance most. I'm not too fond of Bergamot and Aniseed; it's not unpleasant but I found the combination too overpowering for my liking.
The reed diffuser cost S$45 and the 125ml room spray cost S$36 (see below to get a 15% discount code). Like I mentioned, they cost more than typical air freshners but they are definitely safer. They also don't remind me of toilets the way most air freshners do. o.O
Natural cosmetics brand
Anyway, I was more intrigued by Essentiq as a Slovenia natural brand. I certainly haven't come across anything from Slovenia so this is a first. What I'd learned was that the name 'Essentiq' is a combination of the English word 'essence' and the French word 'authentique'.
The brand formulates cosmetic products that contain more than 98% of natural ingredients. None of their cosmetic products or home fragrances includes synthetic substances that are toxic.
They also do not contain many common ingredients such as synthetic colorants, formaldehydes, propylene glycol, silicones, parabens, SLS, GMO or ingredients originating from the petrochemical industry (e.g. paraffin).
Availability & 15% off
Additionally, products from Essentiq do not contain ingredients obtained from animals, unless naturally produced by them, such as milk or honey.
Besides home fragrances, Essentiq has a full range of cosmetics for the entire family–hair, face and body. They even have products just for kids.
I will be reviewing some of their shower gels soon so keep a lookout for that. Meanwhile, Essentiq is available in Singapore at natureLova. You can get a 15% off using coupon code "SE15" from now until 31 Jan 2017 for all Essentiq products.
Essentiq Home Fragrance is also available online at Sephora.sg. You can also check and test out Essentiq full range including their Home Fragrance series at the following location:
Eat Organic
619H Bukit Timah Road
Singapore 269728
Time for some X'mas shopping? Heh. #k8SjZc9Dxk#k8SjZc9Dxk

Comments