Are Ooh! Oils Of Heaven Some Miraculous Elixirs?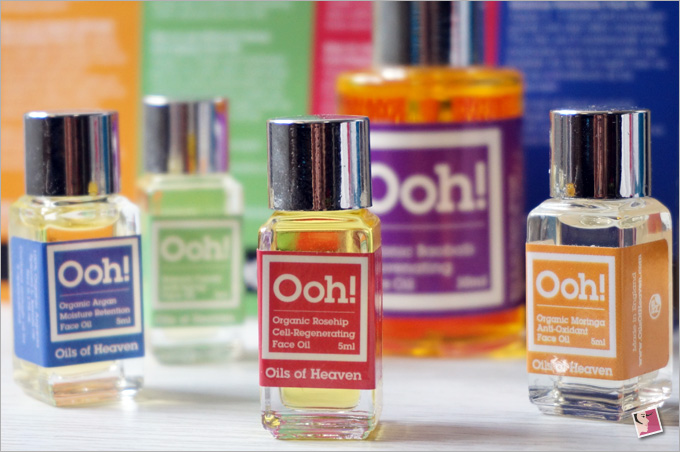 Ooh! Oils of Heaven. Are these some miraculous elixirs with divine properties? Well I wish. But these are really just earthbound facial oils containing exceptional cell-regenerating benefits that are great for our skin.
Like the Natural Cacay Anti-Aging Face Oil ( 100% Caryodendron Orinocense Seed Oil ). It supposedly contains 50 percent more vitamin E, twice the amount of linoleic acid than argan oil, and 3 times more retinol than rose hip oil. Doesn't that make you want to say "Ooh" already?
But I was first captivated by the packaging of Ooh! Oils of Heaven rather than the amazing properties of its oil. It was impossible to resist the attractive mini bottles that were offered free with my purchase at LoveLula.
Yet I had no motivations to use the oils mostly because I haven't heard about the brand. I only know the brand is based in UK and their oils are scoured from all over the world. Nothing much could be gleaned from their website; the little I read didn't convince me to take a second look until I read about the extraordinary cacay oil.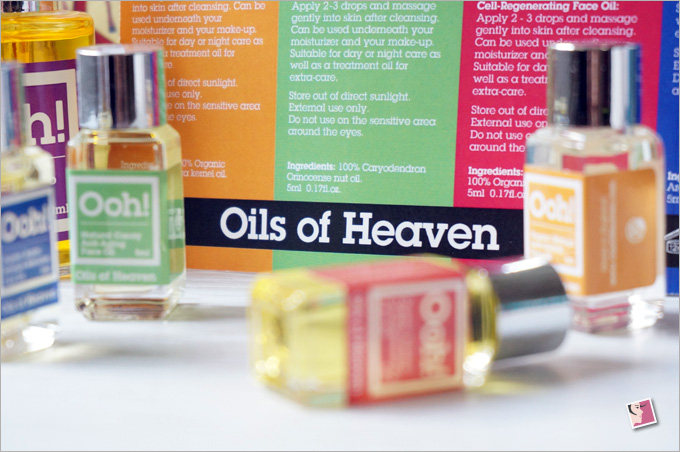 Cacay oil
This is the first time I've learned about cacay oil–that is cold pressed from wild cacay nuts harvested in the Colombian jungle. Reports have it that this oil has the best source of vitamin A, is loaded with linoeic acid and contains plenty of vitamin E.
Other than being effective at anti-aging, cacay oil is apparently good for acne prone skin. Best part is that it is a fast absorbing and odorless dry oil that leaves no residue. I even read that it can help with thinning hair when you rub a little on your scalp.
This is not a full review as I've only tried a sample of their oils but I'm quite pleased with how Ooh! Natural Cacay Anti-Aging Face Oil is faring for my skin and am considering getting the full size. But the price is a bit daunting at £39. Since all the other oils under Oils of Heaven are retailing at a lower price tag of £19, I can only assume that their cacay oil is highly sought after.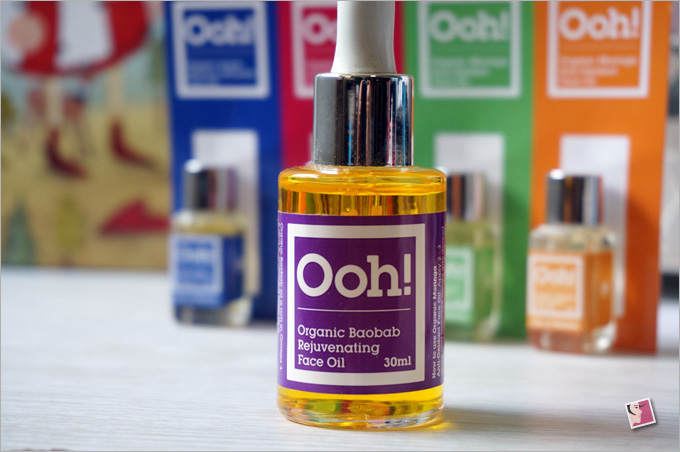 Here are details of the other four facial oils:
Organic Argan Moisture Retention Face Oil
Organic Argan oil is cold pressed from Argan Kernels. Argan oil is rich in Vitamin E and essential fatty acids such as Linoleic Acid, Linolenic Acid and Oleic Acid, perfect for regenerating tissue and helping the skin retain its natural moisture.
Ingredients: 100% Organic Argania Spinosa L. kernel oil
Organic Baobab Rejuvenating Face Oil
Organic Baobab oil is rich in Omega 3, 6 and 9, making it ideal as a rejuvenating oil for maintaining healthy skin. It is an excellent moisturiser. Baobab oil spreads easily and is absorbed quickly into the skin without clogging the pores.
Ingredients: 100% Organic Adansonia Digitata seed oil
Organic Moringa Anti-Oxidant Face Oil
Organic Moringa oil is an excellent cleanser and moisturiser as it contains high levels of natural anti-oxidant as well as oleic acid, vitamin A and vitamin C. It is ideal for preventing free radicals and other skin damaging agents.
Ingredients: 100% Organic Moringa Oleifera kernel oil
Organic Rosehip Cell-Regenerating Face Oil
Organic Rosehip oil is a clear yellow colour and is rich in vitamins C, K, and A as well as oleic acid, linolenic acid, and linoleic acid. Use Organic Rosehip oil as part of your daily skincare routine to regenerate cells in all areas such as scars, stretch marks or just to smooth fine lines and wrinkles.
Ingredients: 100% Organic Rosa Canina seed oil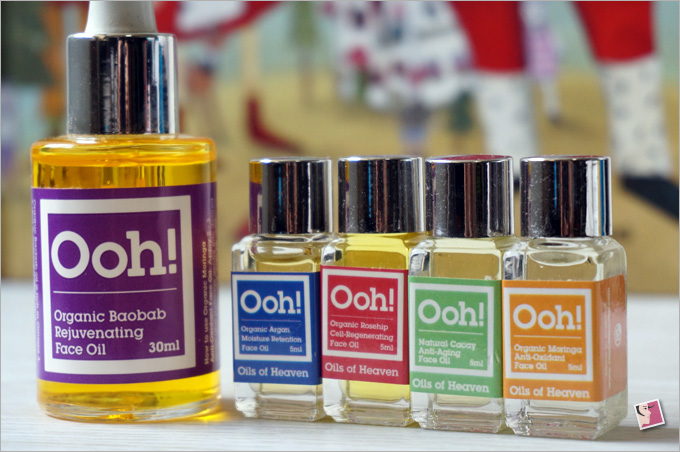 As you can tell, this is just a quick intro to the brand. I may follow up with a more thorough review when I have a chance to try their oils at length.
If you're into facial oil and are keen to give Ooh! Oils of Heaven a try, I highly recommend you try their mini version of four Oils of Heaven face oil a £10. You'll get them shipped for free if you purchase from LoveLula.
Products were given complimentary under the LoveLula Accredited Blogger Program; this review is in line with my disclosure policy.
Comments