DIY Beauty: Jojoba Seed Oil for cleansing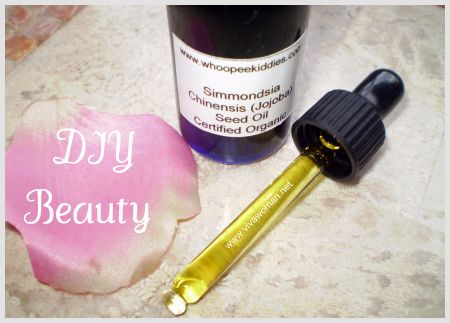 After learning that some carrier oils work well as a facial cleanser, I decided to get a bottle of Jojoba Seed Oil from Whoopeekiddies recently to try out. According to the website, this is certified organic grade whose species is "Simmondsia Californica", grown in USA. It is not oil, but an array of wax ester in liquid form.
It contains protein and minerals, as well as a waxy substance similar to collagen. Because the oil is similar to our own sebum plus it is hypoallergenic and pure, Jojoba oil is suitable for most skin types and works well as a moisturizer and emollient agent to improve skin elasticity and suppleness. In fact, I've come across many raves from users on the benefits of this oil for skincare and decided to test it out as a cleanser.
Good makeup remover
Compared to commercially available oil cleansers, this does not emulsify but it works well to remove all my makeup thoroughly. Actually better than the cream cleansers which I was using. Plus one of the benefits of Jojoba oil is that it dissolves clogged pores and returns the skin to natural pH balance.
Good carrier oil to be used for oil cleansing method
In addition, I found it a great carrier oil to used under the oil cleansing method which I learned from Leon of Beauty Secrets Revealed. I didn't find a lot of difference when I was using the Kukui Nut Oil with the oil cleansing method but with the Jojoba Seed Oil, my skin not only felt wonderfully soft and supple afterwards, but my face looked rather radiant too. You can read Leon's post via the link or this article if you're interested to find out more about the oil cleansing method. The only problem for me is that I find this method overly time consuming.
Cost effective natural organic cleanser
For each facial wash, I use about 8 drops of the Jojoba oil and I reckon the 1oz which cost me only S$6 will last me for awhile, which is fairly economical. Plus it is an organic cleanser which I believe will provide me with long term benefits. I'm definitely loving this!
Comments