EO Revitalizing Lotion for Legs & Feet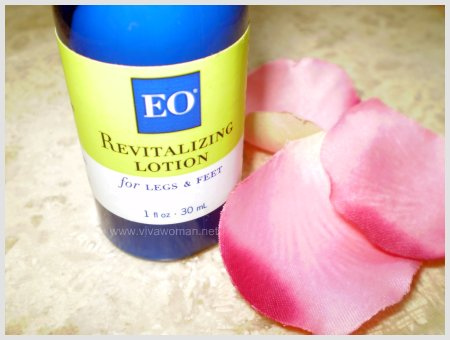 I love the range of EO bath and body products. So far, their EO Lemon Verbena Shower Gel and EO Body Lotion French Lavender have delivered wonderful experiences for me. And I'm glad that the EO Revitalizing Lotion For Legs and Feet is no different.
Refreshing smell of lavender, citrus and peppermint
The lotion is described as one to moisturize and revitalize fatigued legs and feet. As soon as I applied it, I felt a tingling cooling sensation. I don't like the smell of mint or menthol much but this lotion is very refreshing with the fragrant essential oils of French Lavender, Citrus and Peppermint. Definitely better than Burt's Bee Peppermint Foot Lotion which is also positioned as an invigorating foot lotion.
Light but moisturizing texture
In terms of texture, the EO Revitalizing Lotion for Legs and Feet is quite light with its combination of stimulating menthol, nourishing mango seed butter and Vitamins A & E. This is not a heavy foot cream. However, it is more nourishing than the one from Burt's Bees.
Use mostly natural and organic ingredients
I love the EO range for their natural and organic ingredients. The key ingredients of this lotion are Peppermint, Lavender and Mango seed butter. It contains no artificial color or synthetic fragrances but I noticed that it has some chemical ingredients like Dimethicone and Disodium EDTA. However, since they listed right behind and it's for my foot, I can live with that.
Ingredients:
EO Organic Herbal Blend [Purified Water, Organic Chamomile (Matricaria Recutita), Organic Aloe Vera (Aloe Barbadensis), Organic Calendula (Calendula Officinalis) Flowers, Organic White Tea (Camellia Sinensis) Leaf, Organic Licorice (Glycyrrhiza Glabra) Root, Organic Comfrey (Symphytum Officinale), Organic Marshmallow (Althaea Officinalis) Root, Organic Dandelion (Taraxacum Officinale)], Cetearyl Alcohol (and) Polysorbate 60, Caprylic/Capric Triglyceride, Glycerin, Safflower (Carthamnus Tinctorius) Oil, Cetyl Esters, Mango (Magnifera Indica) Seed Butter, Peppermint (Mentha Piperita) Essential Oil, Lavender (Lavandula Officinalis) Essential Oil, Lavandin (Lavandula Hybirda) Essential Oil, Lemon (Citrus Medica Limonum) Essential Oil, Menthol, Tocopheryl Acetate (Vitamin E), Retinyl Palmitate (Vitamin A), Betaglucan, Phospholipids, Hydroxyethylcellulose, Cetyl Alcohol, Glyceryl Stearate, Dimethicone, Disodium EDTA, Phenoxy-ethanol, Capryloyl Glycine.
Summary
Overall, I find EO Revitalizing Lotion for Legs and Feet very soothing to use. My husband who is a runner loves this when I rubbed it on his sore tired feet. The best part is the scent is refreshing and lovely. So if you're looking for a soothing and moisturizing lotion to revitalize your fatigued legs and feet, I would recommend this.
Where to get
I received this sample from Whoopeekiddies in my last order but I couldn't find the item on their website. I know you can find it at Dargon Dors Cosmetics, #03-1126, 32 New Market Road (People's Park Complex). Alternatively, you can get it for as low as US$5.17 online.
Comments