DIY Beauty: homemade salt bath scrub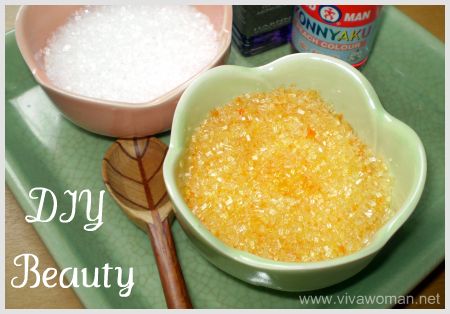 This is my second attempt making a homemade salt bath scrub and I had a lot of fun doing it! Not only that, it was so lovely to use! In my first unsuccessful attempt, I used rock salt which were too coarse for my skin. So the second time around, I tried making using Epsom Salt purchased at S$4.60 from Guardian Pharmacy and it turned out perfect!
Beauty benefits of Epsom Salt
Epsom Salt is a pure mineral compound (magnesium sulfate) in crystal form that gently exfoliates skin and smoothes rough patches. It also provides magnesium which has been shown to ease stress, relax muscles, relieve soreness, lower blood pressure and generally create a happy, relaxed feeling with raise energy levels (source).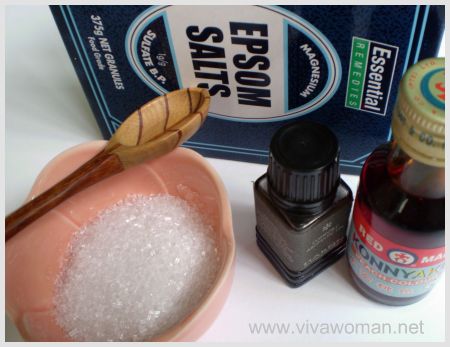 Epsom Salt bath scrub recipe
My homemade Epsom Salt bath scrub is really easy to make. All you need are:
– a cupful of Epsom Salt
– two drops of your favorite essential oil
– two drops of food coloring
– two to three drops of Jojoba oil
– one tablespoon of baking soda (optional)
Blend the ingredients together until the color is even and you're ready to scrub away!
Mix your own ingredients
You don't have to use Jojoba oil if you do not want to. Just condition the salt scrub with an oil of your choice – almond, olive or others. In addition, do note that you will notice a lot of color on your skin while scrubbing. This is from the food coloring so don't be too alarmed!
I love this homemade salt bath scrub and am going to keep this as my bath staple. It's so easy to create and doesn't feel too coarse for my skin. My skin felt soft afterwards and my stiff shoulders felt a lot lighter after using the scrub. Not to mention, it smells heavenly!
So if you're looking for some homemade bath scrub, try this. And if you can make enough, you can even put them in small bottles as little gifts!
Comments