A truly beautiful experience at True Beauty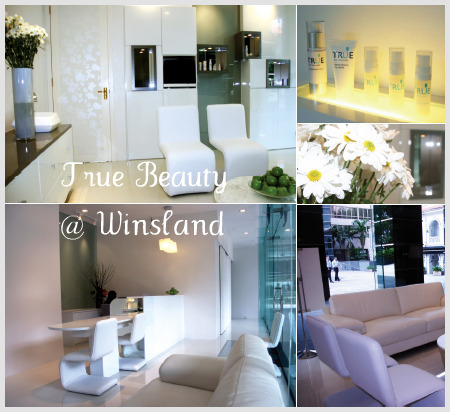 It's been awhile since I last went for a facial service. I stop going for them regularly because I didn't feel these services did anything dramatic for my skin and when I do go for them, it's more like a pampering session for myself. So when Valerie of True Beauty invited me to check out their new facial spa, I hesitated a little. However, I changed my mind as soon as I found out that they're using 100% natural products because I was keen to know what it involves.
Staff who showed their bare face
Those from New Creation Church might be aware of True Beauty because the Managing Director, Susan Foo attends session there and I've also read a number of testimonies coming from her church mates regarding her service. I was very pleased to meet Susan; she is unlike most of the beauty experts I've come across and I felt very comfortable speaking to her because there is absolutely no airs about her. In addition, all the staff at True Beauty do not wear makeup. None at all! I didn't have to deal with some sleek and polish looking consultants trying to push me products and packages!
Besides the staff, there were a couple of other things I noticed why True Beauty is different from the other beauty salons I've visited.
Products promoted to customers were used in the facials
Their products, marketed under the brand True Bio Skin Care are also used in all their facials. Now, I haven't visited that many beauty salons to know it all but of those I have visited, most of them use a different blend of products during their facials while promoting a different brand for customers to take home.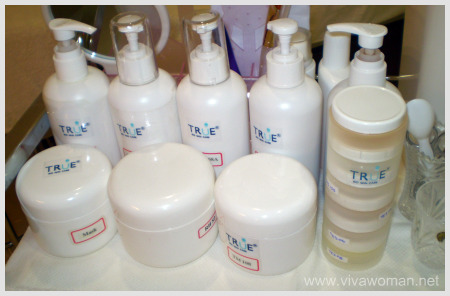 100% pure natural product range
And the products they used on my face were truly natural. I was told that their True Bio Skin Care brand of skin care contains only natural ingredients derived from pure, active plant essences harvested two hours before dawn, when concentration of beneficial enzymes, vitamins, protoplasm and collagen in the plants are at the highest. In addition, the technology used to manufacture the range ensures that the goodies can penetrate and be delivered to our skin in the quickest possible time. This is why Susan explained it is possible to have multiple treatments at one go at their salon. I was also happy to know that they use pure castor oil to remove eye makeup and a special rosehip oil detox which acts like a mask. Susan also used emu oil on my face to treat my problem areas as emu oil has the ability to heal.
No steaming and no extraction service
Unlike the facials I have received in the past, True Beauty did away with steaming my face and extracting my blackheads because their products can do a thorough deep pore cleansing. That suited me to a T because I have written why I am paranoid about steaming because it can cause skin to dry out in the long run. In fact, I learnt from Susan that it's one of the reasons why our pores become bigger overtime.  And I was happy that True Beauty uses minimal machinery and instead focused mainly on using products and hand massage to purge out the toxins and to bring an equilibrium to our acid mantle.
High level of hygiene practice
In addition, I was very pleased to find out that True Beauty uses only disposable wipes to clean all their customers' faces during the facial. No circulation of facial towels! In fact, one of Susan's staff explained that one of their standard operating procedures is to frequently wash their hands with Bacti-Stat whenever they come into contact with different items when giving a facial.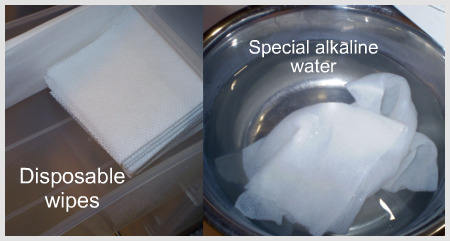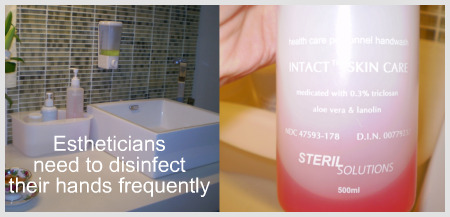 Remarkable enthusiasm to improve customers' skin conditions
After experiencing the facial and speaking to Susan, I would say that True Beauty is strictly for those who are keen to improve their skin conditions. Susan showed me pictures of her customers and I was quite amazed at how their skin conditions have improved and in some cases, looking far more youthful than before. I can vouch that there were no photoshopping done to improve the appearance! However, for that sort of effects, customers have to be prepared to go through treatments with the salon, including investing in their natural products which do appear costly. The good news is that Susan and her team are truly interested in helping her customers to address their skin conditions and are 100% committed to delivering results such that her customers are confident to show their true skin eventually without layers of makeup. Her level of passion on the topic is remarkable and that's also because she has had experienced the heartache of being nicknamed the "moon-crater face" when she was younger.
50% off first trial for Viva Woman readers
Their basic facial which is the True Revitalising Facial Treatment starts from S$150. You can enjoy 50% off for the first time; just mention Viva Woman or Sesame when you book your appointment.  You can also check out their facial menu to find out costs for other additional treatments.  True Beauty has two salons; the one I visited was at Winsland House II located on 163 Penang Road #01-01 and the numbers to call them are 6836 5775 or 6836 1157.

My thoughts
I am always happy to meet business people dealing with natural and organic products because these group of people are far less commercialized and while they have a business to run, you can always sense that they have a real passion and commitment to help us improve our skin conditions.  Personally, I started thinking about taking up a package with True Beauty sometime down the road when my budget improves after just speaking to Susan and learning about their products.  Susan by the way, is trained in Cosmetology in UK and also Traditional Chinese Medicine in Singapore.  And after experiencing the facial, I was even more convinced that I have to continue with this treatment somehow or another. My only consideration was I am not so keen to only use their products – because I'm fickle and I want to test new products in the market!
Comments