Aubrey Organics Translucent Base & Lip Tint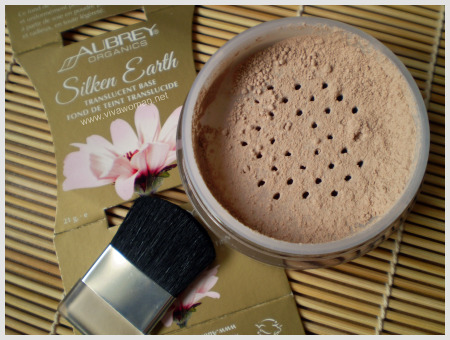 When I first received this Aubrey Organics Silken Earth Traslucent Base from Eco Living At Home, I was under the impression that this is a mineral foundation.  So I was really disappointed with how sheer it turned out on my skin, even after using this on top of a liquid foundation.  I thought this will only work well on those with flawless skin and almost gave it up.  But I thought it's kind of ridiculous that Aubrey Organics would introduce a product like that given that I've heard so much good things about them and decided to search Makeupalley.com for more information.  It was then that I found out that this is definitely not a foundation but a base that goes under or on top of your foundation!
Okay, I know the name on the box says base but it would help if the description on the box does not tell me that "Silken Earth Translucent Base evens skin tone and covers flaws while it nourishes and protects your complexion instead of stressing it."  So can you blame me for misunderstanding how to use it properly? 
Excellent for oil control
So beyond that gripe, I will say that Aubrey Organics Silken Translucent Base is great for oil control.  I have combination skin and my T-zone can get pretty greasy.  Applying this before using my usual foundation gave me a rather nice matte finish and kept the shine very well at bay.  However that matt finish made my foundation look a tad darker than usual so I guess a porcelain beige would be better for my skin tone than this beige one I'm using.
Silk powder absorbs excess oil and provides sufficient hydration
Aubrey Organics Silken Earth Translucent Base contains natural ingredients including silk powder, copernicia cerifera ( caranuba ) wax, tapioca starch, lauroyl lysine, cinnamomum zeylanicum bark powder ( organic ), aloe barbadensis leaf ( organic ), oryza sativa ( rice ) starch, tocopherol, iron oxides, silica.  The silk powder is the key ingredient that absorbs excess oil, yet provide sufficient hydration so that the skin will not dry up.  In addition, this base powder has an interesting cinnamon-like scent.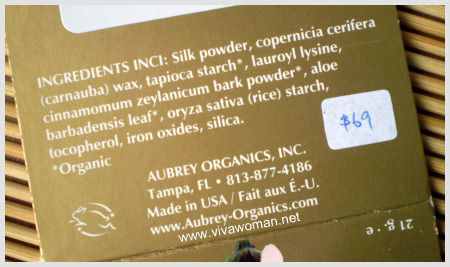 Natural Lips is glossy and moisturizing
The other product I received is Aubrey Organics Natural Lips Sheer Tint in Ruby Frost.  The actual color looks a lot darker than what is reflected on the website and is very pretty on my lips.  I really like how smooth and glossy it feels on contact but it isn't sticky at all.  In addition, my lips didn't feel dry even under air conditioned environment and remained sufficiently moisturized.   Really nice!  And at S$19.90, I'll say the price is pretty decent for a natural lip gloss.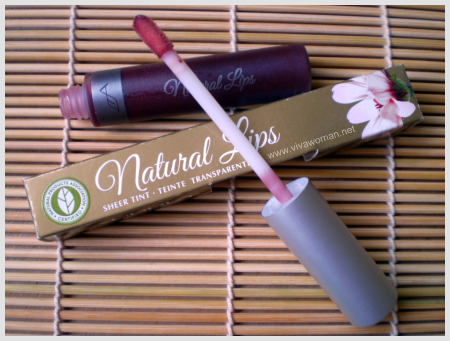 Ingredients of Aubrey Organics Natural Lips Sheer Tint 
Natural Lips contain: Ricinus communis (organic castor) seed oil, brassica campestris / aleurites fordi oil, cocos nucifera (organic coconut) oil, tocopheryl acetate (vitamin E), oryza sativa (rice) bran wax, carmine, helianthus annuus (organic sunflower) seed oil, butyrospermum parkii (organic shea butter), hydrogenated jojoba oil, glycerin, glycine soja (soybean) oil, fragaria vesca (organic strawberry) flavor oil, daucus carota sativa (carrot) root extract, mica, iron oxide, beta-carotene, citrus grandis (grapefruit) seed extract, alcohol denat. (38b, organic lavender), hamamelis virginiana (witch hazel) water, ascorbic acid.
Overall summary
After getting over the initial confusion, I found Aubrey Organics Silken Translucent Base to be useful for oil control when worn under my usual foundation.  On some days, I even wear it on its own for oil control without any foundation.  The price of S$69 looks expensive but one thing to note is that the size of this translucent base is larger than usual at 21 grams!   This product is definitely useful for those with combination or oily skin and I'm guessing the huge tub will last me quite awhile.  As for the Aubrey Organics Natural Lips, I would say it is a keeper and is currently my favorite in the cosmetic bag.  And actually, I forgot to add earlier that it even has a tinge of mocha flavor upon application!
Comments