Ahava Dead Sea Mineral Mud to cleanse scalp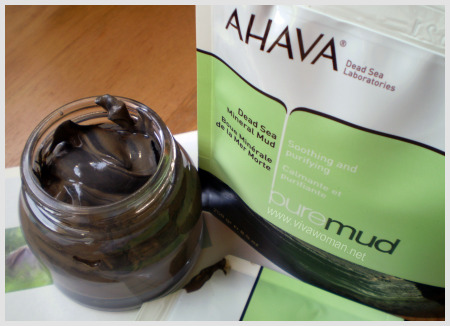 I was at Marina Square over the weekend and spotted Ahava.  I remembered Pinky gave some positive comments on their range in my entry on Dead Sea Mineral Mud Mask & Salt and decided to check out the shop.  I eventually bought two packs of the Ahava Dead Sea Mineral Mud because they're 100% pure mud harvested from the banks of the Dead Sea without any form of additives.   Plus they were on offer at S$16 for two!
The Ahava Dead Sea Mineral Mud is from their spa collection and contains a high concentration of magnesium, potassium and calcium in soluble form.  When I cut a small gap at the corner of the packet and squeezed it, liquid mud oozed out!  The reason was probably because the mud had settled and I had to pressed the pack so that the mix is more even. 
Cleanses the scalp
Although this is meant to be used on the body to deep clean, exfoliate, and restore the skin's natural moisture balance, I decided to use it on my scalp because dead sea mud is also well known for cleaning away dirt, excess oil, and unhealthy toxins from the scalp – suitable for those suffering from oily scalp, hair loss or dandruff.  In fact, you can also add some jojoba oil to the mud if you want to have that moisturizing factor.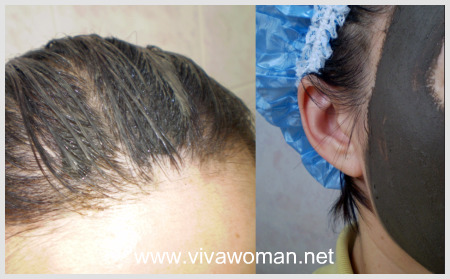 * The Ahava Dead Sea Mineral Mud was only used on my scalp, not my face.
Rubbed generously directly on the scalp
I just rubbed a generous portion of the mud directly on my scalp and then put a shower cap over my head.   After a few minutes, I actually felt my scalp feeling rather warm and I subsequently shampooed my hair after about 15 mins.   I didn't use the Ahava Dead Sea Mineral Mud on my face because I was told not to, although I had thought otherwise.  But anyway, I decided not to take the risk and used the Dead Sea Mud Mask from C'est Naturel instead.
Cleansed scalp and hair felt light
So did my hair feel cleaner?  Well, I had only applied the mud on the front of my scalp and not the back.  My hair still felt oily and so I still used my shampoo.  My scalp did look very cleansed and my hair felt quite light after the shampoo.  I was also reminded of the rhassoul clay I tried on my scalp before. However, I supposed it's too preliminary to say what other specific benefits I gained.
Dried mud can be used again by adding water
The mud smelled fine to me and I would certainly use this dead sea mineral mud again.  The 8.5 oz pack is probably going to last me at least another four to five times of usage.  I had the balance emptied into a jar with a lid.  I was told that if the contents dried up after some time, I only have to add some water and it's good to be used again. 
Use dead sea mud to relieve aches
I'll like to try the Ahava Dead Sea Mineral Mud on my shoulder the next time to relieve some of the aches that I've been experiencing.  Only problem is that I've to heat up the mud and to wrap the area.  Kind of troublesome to me.  Maybe I'll try it when I have more time.
Availability
Ahava by the way is located at #02-274A Marina Square and also #03-12 The Centrepoint.  You can also purchase their mineral mud online.
Comments