Prescriptives Well-Suited Fall Color Collection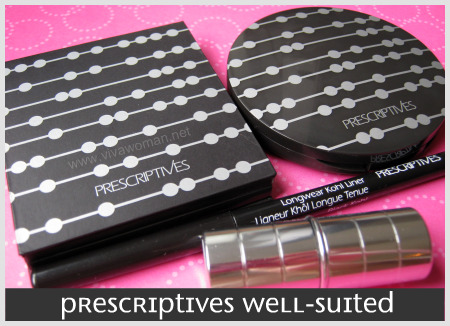 Look what came in my mail this week all the way from the States! It's the new Well-Suited, Prescriptives Fall 2009 Color Collection just launched this month! I vaguely recalled the PR folks at Prescriptives asking for my address awhile back but no one had informed me to expect anything. So this was really a pleasant surprise, especially because the packaging is so appealing!
Well-Suited Color Collection
Well-Suited is described as a menswear inspired collection with an edgy feminine influence and features a range of sophisticated shades from tweedy browns to silky purples. I received the Well-Suited Finishing Powder, the Well-Suited Eye-Color Compact Cool, a Colorscope Lipcolor Shade in Posh Honey and a Longwer Kohl Liner. I thought the colors look subtly refine and understated; nothing too intense or loud.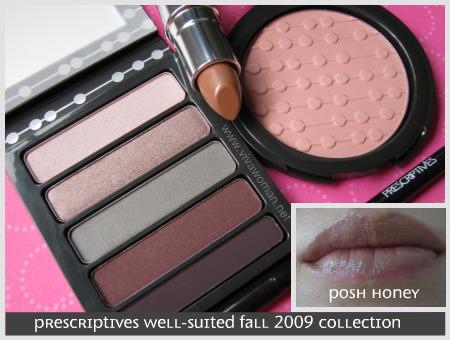 Well-Suited Finishing Powder US$28
This is a translucent, silky-light pressed powder that helps to set makeup, give skin a subtle luminosity and a smooth finish. I tried it once and it's very lightweight but I can't tell much of a difference using it. Perhaps I shouldn't have used a brush to apply this.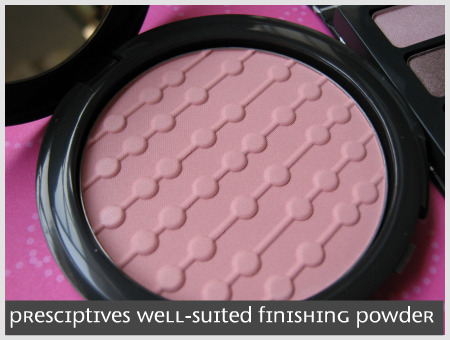 Well-Suited Eye Color Compact US$40
The eye color comes in three compacts – warm, neutral and cool.  I received the Well-Suited Eye Color Compact in a Cool palette, which features four eye shadows – Shell, Velour, Pinstripe, Casis – to color and contour, plus Blackberry to line and define the eyes. Based on first impressions, I'll say that the Cool palette is subdue and refine.  The colors also yield a very light hint of shimmer.  However, being quite a makeup noob, I definitely need to play around with this more to be able to use the colors more effectively. However, you may like to take a look at a FOTD using the warm compact at The Daily Cookie.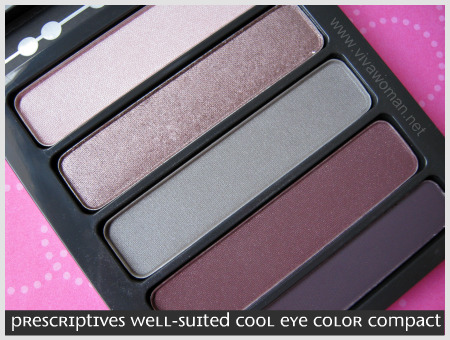 Colorscope Lipcolor US$17.50
My favorite at the moment is the lipstick. Posh Honey, the shade I received is part of the new limited edition and compliments the eye color in cool palette. It's very moisturizing and because it's almost nude, the look is more elegant than fun.
Availability of Prescriptives
To find out more information about Prescriptives Well-Suited Fall 2009 Color Collection, check out their website.   Unfortunately for us, Prescriptives is no longer available in Singapore, having pulled out some years ago and the closest to get some of their items would be online via StrawberryNET.com
.
Comments