Does zinc benefit our skin & help prevent acne?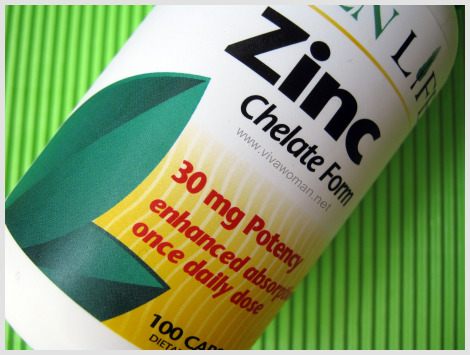 Two readers have mentioned the benefits of using zinc supplements for healthier skin.  Pei Fang aka pf1123 mentioned that zinc might help to reduce inflammation, reduce acne and acne scarring.  And in one of my earlier posts on cheek acne, a reader by the name of Lily suggested taking zinc tablets to help with acne.
I recommend taking zinc tablets. Zinc is really good for skin healing. I've been taking a zinc tablet combined with a vitamin C tablet and I've noticed my skin is healing faster and the scars on my cheeks are fading quicker!
Acts as an astringent and prevent hormone imbalances
Before coming across Lily's comments, I have often read that zinc is one mineral that is essential for healthy skin especially because it is necessary for the synthesis of collagen, which in turn helps to heal skin wounds. In addition to wound healing, zinc acts as an astringent and may help in the treatment of acne. Apparently, how it does this is that it acts by controlling the production of oil in the skin that create acne plus preventing potential hormone imbalances that can lead to outbreaks.
May help with rosacea
Rosacea sufferers may also want to take note that they could be suffering from zinc deficiency and an increased in zinc intake may help their skin condition – according to an online article from Daily Mail.
No more than 40mg per day
However, the same article stated that large doses of zinc supplements can cause stomach problems such as cramps, indigestion and diarrhoea. In fact, large amounts of zinc also can interfere with absorption of other minerals. Hence, you should not get more than 40 mg of zinc a day, from food and supplements together (source). As for food source, you can find zinc in fresh oysters, crab meat, pumpkin seeds, ginger, pecans, nuts, oats, and eggs.
Zinc supplement in chelated form to enhance absorption
Actually, my vitamin C capsule contains 5 mg of zinc but I've gone to get myself another zinc supplement in chelated form, which apparently is combined with an amino acid to enhance better absorption. I must have been taking this for a few weeks now and my skin condition has generally improved over the weeks. However, because I'm also using other skin care products, I can't say for sure if the improvement is only due to the increased intake of zinc supplement.
Perhaps others who have success with zinc supplements want to share your thoughts?
Comments