Are you suffering from hormonal imbalance?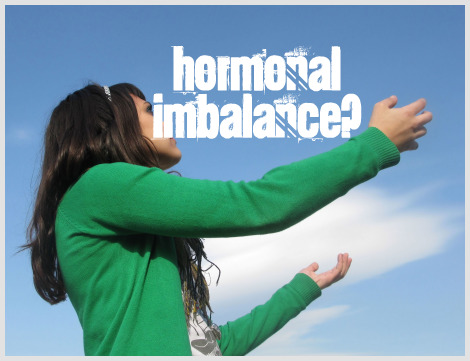 Apart from some hormonal chin acne in the past, I never really had to battle with major acne issues. However, since last year, my skin condition started to deteriorate and suddenly, horrors of horrors, I was developing acne rather frequently.
It started with new areas that I never had problems with, such as cheek acne and now, I've to deal with jaw acne as well. I am quite certain that these were not a result of the products I'm using, but rather, because of some of my poor dieting habits – eating loads of chocolate – and late nights. But it looks like it's could be more than that. My skin has gone haywire and while it is dry on the outside, it's still very oily inside! So I'm most likely suffering a hormonal imbalance more than anything else.
So what exactly is hormonal imbalance and who is likely to be affected by this?
Hormone production can vary every month
Apparently, hormone imbalance is caused by too much estrogen in a woman's body, an excess which is not balanced by progesterone. It doesn't help that these hormones can vary every month, depending on factors such as ovulation, birth control, stress, nutrition and exercise. In addition, symptoms of hormone imbalance in women tend to increase as a woman ages and may begin as early as the late 20's. I believe child birth also affects our hormone production to a large extent.
Common symptoms of hormone imbalance
This explains why I suddenly develop skin allergies and acne, on top of having foggy thinking and worsened PMS. I've also become sensitive to what I eat and can't eat processed foods or diary products as they contain chemicals that can interfere with the production of the two important hormones.  This was probably why I broke out so badly in the past week, after downing half a box of chocolates! Some other symptoms of hormone imbalance which I've yet to experience include depression, fatigue and anxiety, osteoporosis, urinary tract infections and incontinence, uterine fibroids, weight gain, water retention and bloating.
Online hormonal health profile test
I checked my hormonal health profile using an online resource and found out that I suffer from moderate symptoms of hormonal imbalance inspite of  my efforts to make healthy choices.  So I will need to get some medical attention before it becomes severe.  Going forward,  I have  options of undergoing hormone replacement therapy or using alternative medicine to efficiently produce natural hormones and I can say with certainty that I will opt for the latter option. However, I have not decided what I will use so I can't recommend anything specific yet.
So do you know if you're suffering from hormonal imbalance?   To find out, take the test from the free hormone health profile.
© www.vivawoman.net copyright notice ☺
______________________________________________________________
Comments