DIY Beauty: avocado for beauty inside out
We've recently taken to eating avocados at home, under the influence of my mom. I noticed that her skin was looking firmer after she started taking this fruit consistently for a few weeks and found out that it's because the fruit is rich in monounsaturated fat and essential fatty acids, including omega 3 and 6 fats.
Monounsaturated fats are considered healthy fats and this is why avocados are good for our skin because in combination with the omega fatty acids, they keep our skin plump and helps prevent dry skin. In addition, avocados are loaded with antioxidants such as lutein, beta-carotene, vitamin C and E, and together, these act well together as a powerful skin anti-aging combination.
Avocados help absorption of antioxidants in other foods
Another recently discovered benefit is that avocados help the body absorb phytochemicals from other foods. Researchers from Ohio State University recently reported that pairing avocados with salsa or salad allows for better absorption of antioxidants in those foods. The lycopene in tomatoes or the beta-carotene in carrots may be better absorbed if there's a slice or two of avocado in the bowl. Scientists suspect that the fat content of avocados helps the body absorb these antioxidants.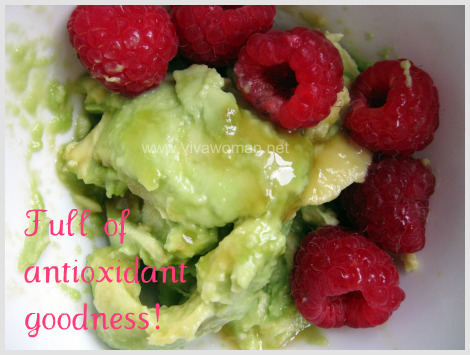 How to ripen and eat the avocado
The tricky bit about eating avocados is determining if they're ripe enough. Usually, those fresh from the supermarkets are green and hard. To be ready to eat, the skin of the avocado should be a dark green and it should be slightly soft when pressed. In fact, my first attempt at eating and using one failed because the avocado was still very green! I later found out through searches on the Net that I have to aid the ripening process by placing the avocados in a brown paper bag or wrapped in a piece of newspaper. I did the latter and in a day or so, my avocados ripened and I was able to cut the avocados into halves and scoop out the flesh.
Avocado by itself isn't tasty but I made it delicious by adding some raspberries and a teaspoon of manuka honey. It was lovely to eat! I'm going to vary the taste by adding in other fruits like strawberries or kiwifruit. You can experiment with other ingredients according to your tastebud too!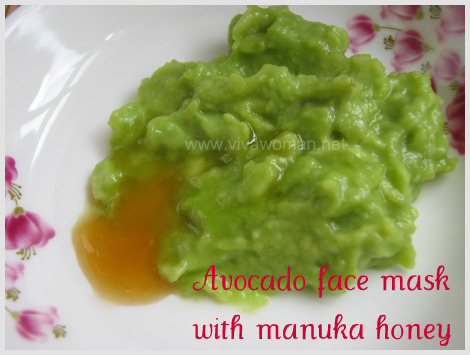 Moisturizing oil found in avocados
I also kept a little of the avocado with the manuka honey for a face mask. The oil found in the fruit can moisturize the face as it contains natural humectants to hold in moisture and true enough, there was an immediate shine on my skin after I rinse out the mask with warm water. However, I don't really like using this very much because the oil left a "film" on my skin. But if you don't mind it, the healthy fats in avocados and their oil are ideal skin and hair moisturizers and are excellent for dry skin, including stubborn skin problems such as eczema. Another simple beauty remedy is to lightly apply the inside of the peel to your clean face, and leave the oil on your face all night or rinse after 15 minutes. It's supposed to make a great foundation for your foundation or powder!
Great for cellular renewal and has natural sunscreen properties
Avocado oil is also said to be great for cellular renewal because it is an ideal medium for transporting active ingredients beneath the epidermis into the dermis. In addition, avocado oil also has natural sunscreen properties, and can enhance the ability of products to protect the skin and hair from UVA and UVB rays. So all in all, this fruit with its rich omega essential fatty oils is great for our skin from the inside out. If you're eating it and applying it topically, it can most probably double your efforts. But personally, I'll rather keep it in my mouth for the moment.
Comments