Viva Challenge: stay happy to feel beautiful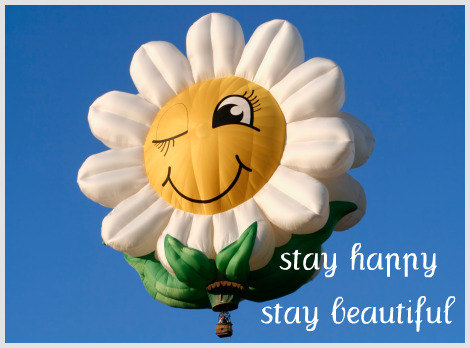 This is my last challenge for the year and I thought that it's a good time to sum up what I always believe in – be happy and you'll feel beautiful. Well, what inspired me to post this challenge is because something unpleasant happened to me last week and in just one day, I looked like crap! The good thing about me is that I'm highly resilient and I bounce back on my feet pretty quickly. So instead of mulling away, I just picked myself up, went for the haircut I've already scheduled, and immediately, I looked and felt better. (A little retail therapy helped too.)
Unhappiness breeds bad hormones that destroy collagen
Sure we all go through ups and downs and I would say the hardest thing to deal with are probably those concerning matters of the heart. But know that being unhappy and dwelling on the unpleasantries will not help to rid the problem. In fact, when you're unhappy, tense and angry, you're likely to release cortisol (source), a bad hormone that our body secretes under stress.  While cortisol is a normal physiological makeup for us, too much of it will cause us to age quicker as it has a destructive effect on the production of collagen.  And according to the book Cortisol Control & The Beauty Connection, when we are unhappy and under stress, our cortisol level increase, contributing to a faster breakdown of tissues that contain collagen, such as bone and skin.
Happy hormones improve your complexion
In fact, celebrity Jennifer Lopez told OK! magazine during the launch of Top Shop in New York earlier in April this year that her youthful looks were down to "happiness". Of course it isn't smiles alone that keep her young as sleep was also important to her but I doubt she would be able to sleep well if she was unhappy.  And remember my earlier challenge to fantasize hot sexy men as that that can help release endorphins – natural hormones that your brain releases when it senses happiness – which can improve your complexion and make your eyes sparkle?
Focus on the positives
So don't sweat the small stuff! Know that problems will eventually go away so it's no point dwelling on them – even if it's 2012.  Instead, focus on the positives and do things and surround yourself with people with happy energy!  Stay happy and you won't be fussing over every little age spot or pimple on your face.  Smile more and even if they create expression lines for your face, they definitely make you look better than frown lines and a sad mouth!
Comments