Silica gel: prevent skin care items from spoiling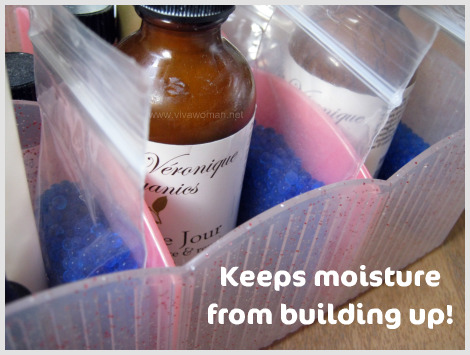 Last week, I spotted a tub of silica gel at a photo processing shop and promptly remembered Stella had mentioned using these in my last post to keep skin care and cosmetics dry and moisture free. At S$5 for 500 grams, it seems a better value compared to the bulky dehumidifier that I was getting. Plus, they're much more user friendly as I can put these gels into little plastic bags and place them where required.
Control humidity level and prevent degradation of products
Not to be confused with the water-based gel made from silicon and other synthetic materials used in dietary and beauty supplements, these silica gel are to keep moisture from building up. I only had to poke some holes into the bags so that the silica gel can absorb the moisture from the air, and help control the humidity level in order to avoid spoilage or degradation of my skin care products.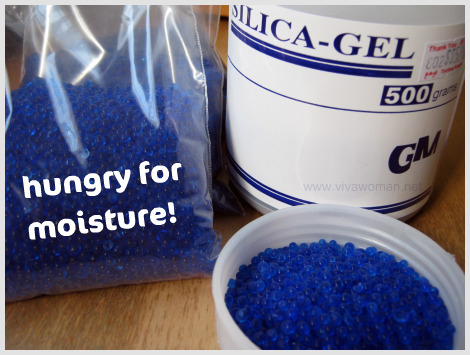 Takes up less space and flexibility in storage
Anyway, I divided the 500 grams into four big bags plus four small bags, and I don't have to agonize over the fact that I can't fit the bulky dehumidifiers into my drawers. I was told that the silica gel would turn white once they've absorbed the moisture and that's when I should discard and replace with new ones. After a few days, I already noticed some of the gels turning into a paler shade of blue.
Good for aiding storage of natural and preservative free products
Okay, some of you may ask why is there a need to use silica gel or dehumidifiers to aid your cosmetics storage. Well, it's not necessary if you're certain that your storage is dry and free from moisture. My room isn't, plus I use mostly natural and organic products that contain little or no preservatives. Hence, storing them properly and keeping them free from moisture buildup is important.
And if you're into collecting cosmetic items and wish to keep them looking better for longer, than these are definitely handy!
Comments