Decode cosmetics manufacture date on iPhone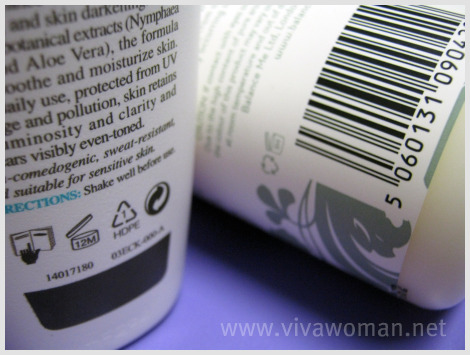 Have any of you come across this Cosmetics Tester By KomSoft for iPhone? I was alerted to this application by agnieszka over the weekend. Apparently, this interesting application helps you to read manufacture date of your cosmetics and it is determined on the basis of the batch/lot code. Sounds pretty cool! I wrote about the secret batch codes of beauty products back in 2007 and while there are some online tools to help us decifer the codes, their database are not up to date.
Why the need to read manufacture codes?
So why is it important to understand the manufacture codes? First, it is a good indicator of whether a product is fake and that is why each company has its own format for manufacture code which is pretty much tough to crack. Second, by knowing when the product was manufactured, you'll be able to determine the expiry date more accurately. The open jar symbol indicating in months or years of how long the product will remain suitable for use once it has been opened is useless if the product has been on the shelf for a long time. Most products without a use-by date should be used within three years of leaving the factory.  If you keep them longer than that, they no longer work well and you will increase the risk of contamination, particularly because of the repeated microbial exposure during use. In fact, eye care products have even shorter shelf life and items like mascaras are recommended to be replaced 3 months after purchase.
Where are batch codes found?
Batch codes are usually  printed or embossed on the package, ink-stamped onto the container, printed on the label, embossed in the crimped end of tubes or printed at the bottom of the bottle.
Why are the manufacture codes so complicated?
A reason that I mentioned earlier is that manufacturers use the codes to prevent the issue of counterfeits. Unlike natural products which are required to indicate their use-by date, other products that can last longer than 30 months need not do so. So unless you're using mostly natural products like me, otherwise, you'll probably be interested to know the manufacture code just to have peace of mind.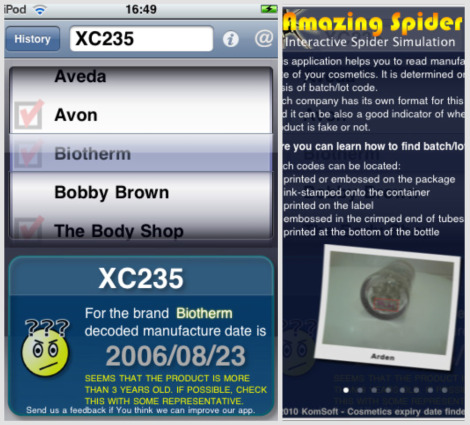 Cosmetics Tester By KomSoft
I don't have an iPhone and so I haven't tried this application. But I found out that it cost US$2.99 and was just released on Apr 12, 2010. It's in English and is compatible with iPhone, iPod touch, and iPad. Requires iPhone OS 3.0 or later and is available at the App Store. And since it's on a mobile device, it means that you can use it to check the manufacturing date of products on the go, before making that purchase!
If you've tried the application, do leave a comment to let us know how user friendly this application is.
© www.vivawoman.net copyright notice ☺
______________________________________________________________
Comments