Moisturize well and apply sunscreen during PMS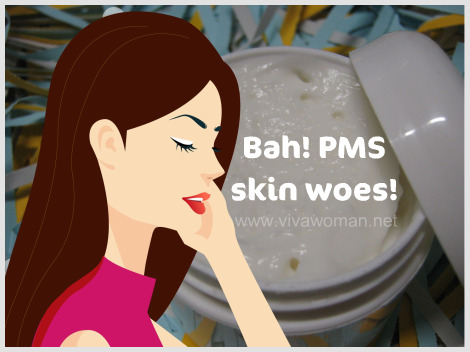 I was looking at my face last Friday and noticed it was looking unusually dreadful. Before that, I had quite a healthy glow but somehow, that completely disappeared overnight. Initially, I thought it was due to some stress and late nights but it turned out, it was due to my PMS! I wasn't aware as I don't get the usual mood swings these days. And although I know breakouts are common during PMS, this is the first time I noticed a drastic change in my complexion. I looked so much older than usual! But funnily, my face is more or less back to normal again now.
Hormone changes affect skin cell membranes
Actually, I shouldn't be so surprised because our skin is at its most vulnerable during the premenstrual phase due to the changing hormone levels. As a result, this increase sebaceous secretions and a higher skin bacteria count; hence our skin becomes more susceptible to spots and breakouts. In addition, it is also said that our skin becomes drier due to a breakdown of our skin cell membranes, which can cause higher moisture loss, and it is also at its most vulnerable to UV radiation! And for some women, their skin can get really sensitive.
Care for our skin during PMS
As such, it is important to drink lots of water, moisturize our skin well and use proper sun protection products during the PMS period. Hydrating your skin with a hydrating mask would be useful during the period. Ideally, you should rest as much too, in order to counteract whatever skin woes you may be suffering. According to the SkinGenesis essential guide to premenstrual skin, a low pH anti-inflammatory wash should be used to cleanse the skin as this will help to make the skin more acidic, reduce bacteria, strengthen the cell walls as well as helping to retain natural moisture. Plus, avoid facials and any harsh skin treatments during this period as our skin is more vulnerable to breakouts.  The best time is to go about two weeks after your menstruation, when your female hormone estrogen has increased. This is also the time when our skin looks the best because the increased estrogen helps maintain skin moisture by increasing acid mucopolysaccharides and hyaluronic acid in the skin and possibly maintaining stratum corneum barrier function (source).
Come to think of it, I've never really thought of special care for my skin during PMS.  Besides caring for any acne breakout, I still continue with my usual skin care routine and I sometimes even head out for that facial.  I guess it's time to rethink this!
Comments