Bedroom slippers to keep feet warm & soft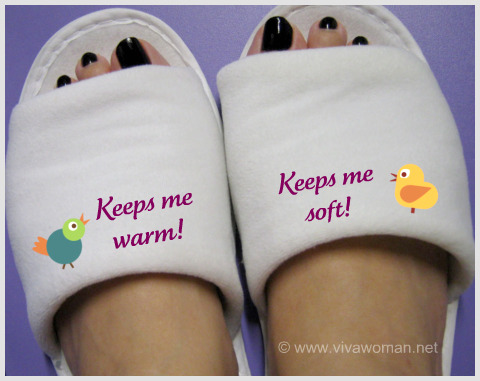 I started using bedroom slippers after I issued the Viva Challenge on wearing your socks to bed. In the post, I had mentioned that Traditional Chinese Medicine suggest that when the feet get cold, it affects the upper respiratory system and impairs the body resistance and this may in turn leads to common cold, upper respiratory infection, abdominal pain and painful period, even cardiovascular diseases. Hence, I decided to wear bedroom slippers to try promote better body resistance by keeping the feet warm and protecting the body from the attack of external cold.
Wearing bedroom slippers can also help prevent callus formation on the feet. Calluses are thickened, dead tissue involving the outer layer of the skin and the primary cause of their formation, is excessive pressure due to the underlying bone. While bedroom slippers may not have the thick cushion sole like shoes to absorb the abnormal pressure, they will still help to keep the feet softer especially if you regularly file them and moisturize them well.
You can get padded bedroom slippers that offer more cushion. Those stuffed animal bedroom slippers are quite useful actually. I have a pair but I don't use them all the time because they can get a little warm on some days. So my preference is for simple, no frills bedroom slippers.
Do you have a habit of wearing bedroom slippers?
Comments