Review: Kiehl's Midnight Recovery Concentrate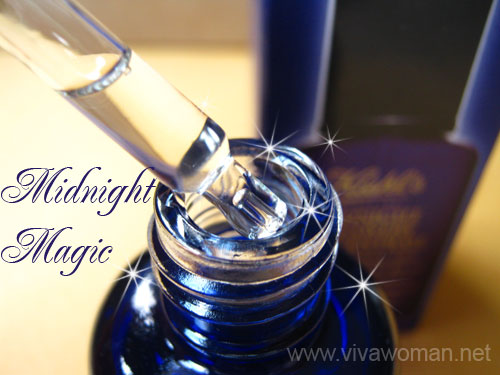 Judging from the comments, the bottle of Kiehl's Midnight Recovery Concentrate in the August VivaBella Giveaway attracted the most number of interests and one of you will get to use it soon. But how does it fare in terms of product performance? Well, here is my review, along with comments from my bestie who also tried out the product, which was sent to me complimentary from Kiehl's.
I am very fond of using facial oils and I have been using the Marie Veronique Organics Anti-Aging Plus consistently since February this year. But still, I was curious about Kiehl's Midnight Recovery Concentrate as it described as a 99.8% naturally-derived botanical elixir that promises me younger-looking skin by morning. Furthermore, the product was rated 4.5 out of 5 by 13 users at MakeupAlley and so that raised my expectations quite a bit. Kiehl's Midnight Recovery Concentrate contains squalane, evening primrose, and a blend of essential oils to provide a boost of intensive moisture to depleted skin. I was slightly leery of the lavender oil, which is not quite at the bottom of the ingredient list, but I figured out that it should be fine since I'm just going to use this concentrate in the night.
Smell, color and texture
In terms of smell, this oil has a strong lavender scent and so it's very soothing on the senses. Definitely a big love for those who heart lavender. However, unlike the other oils I've been using, this oil is colorless. I was completely surprised by the lightweight texture though. I've been using quite a number of oils but this is the first time I've come across one that doesn't leave my face with any trace of oil after application; it almost felt like I didn't apply anything on. In fact, I was quite tempted to apply more than the 2 to 3 drops according to the instructions but I didn't, since that's about the norm I use for most of my facial oils all along. I suppose it's because of squalane in the formulation, which is a botanical lipid similar in molecular structure to natural skin lipids.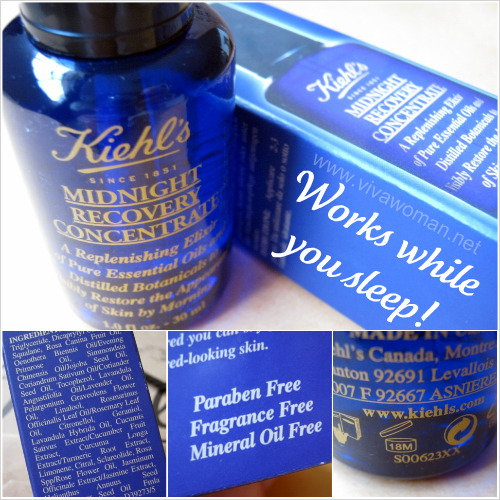 Magic does not work for me
I really wanted to believe this oil could do something for my skin but unfortunately, I couldn't see a difference after using it for awhile. I would apply it on its own, and then wake up in the morning hoping to see a more radiant looking face. Maybe it did look brighter after the first night but that could be also be a placebo effect. Subsequently, I couldn't tell any difference no matter how hard I examined my face in the mirror. In fact, I have to say I prefer my usual Anti-Aging Oil Plus because it definitely has more natural goodness going by the ingredient list. In addition, my face actually broke up with one or two pimples a few times I used this and so I decided that Kiehl's Midnight Recovery Concentrate was not for me. But I was still curious as I've read so many positive reviews on it that I decided to ask my bestie to try it for a second opinion.
Magic works for my girlfriend
My girlfriend has normal skin type and she has been using this for over a week on its own. She told me she couldn't see a difference but she received a compliment about her skin recently at a store she frequents even though she didn't have enough sleep the night before and she wasn't wearing any makeup. That surprised her because prior to that, she was often told she looked tired. So in her case, the product did deliver its promise as it's supposed to make you look rested, with soft supple skin, even if you did not have sufficient sleep.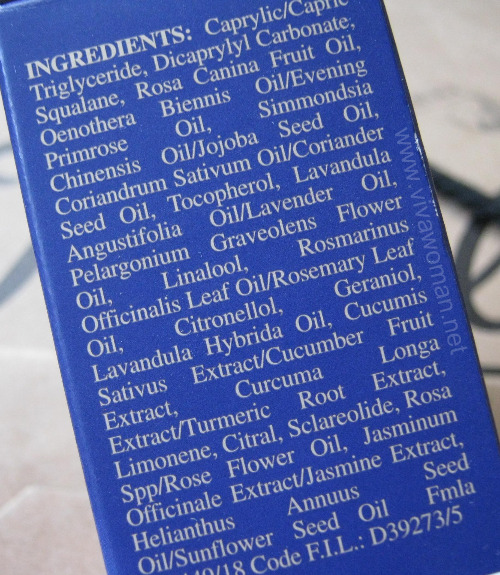 Overview of Kiehl's Midnight Recovery Concentrate
This concentrate works like a serum. You should not apply more than the recommended 2 to 3 drops on your cleansed skin and you can wear it alone or underneath a moisturizer if you have dry skin. Going by the description, you should be able to see visible results the morning after. It's supposed to work on most skin types but I'm considered as acne prone at the moment, and it did cause a slight breakout on my face. I'm not sure why because my existing Anti-Aging Oil Plus feels a lot richer and yet doesn't break me out one bit. Maybe there are just some ingredients in there that don't agree with my skin; I'm not sure. I'll really like to believe that this is a Cinderella type of skin elixir but well, maybe I just do not have Cinderella's skin.
The 30ml Kiehl's Midnight Recovery Concentrate retails at S$90 in Singapore and US$42 in USA. Since the results are supposed to be telling after a night or two, I would suggest that you request a sample of this concentrate at the stores to try before deciding if it works for you.
Comments