6 different ways to double cleanse your face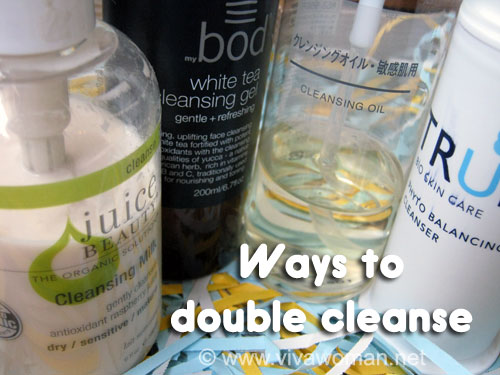 Based on the comments I've come across, many of you are already well familiar with the process of double cleansing. The first cleanse is to remove any makeup or excess oil from your face and the second, is to remove all the impurities completely from your face. I often read that double cleanse originates from Japan but when I checked Chizu Saeki's The Japanese Skincare Revolution, she made no mention of this. All that was mentioned was that makeup should first be lifted from the skin before cleansing. But I guess the concept is very popular in Japan considering that most of the well-known cleansing oil originated from there.
Actually, I was already practicising double cleansing as soon as I learned to use makeup. However, then, I used a pre-cleanse product and it was simply known as a makeup remover that really worked like a cleansing milk for the entire face. But at that time, instead of washing off the makeup remover with water, I tissued it off before washing my face with a foaming cleanser. Cleansing oil wasn't popular or almost unheard of but oil based cleansers were available to remove eye makeup. And when we talk about double cleansing these days, it seems that it always involve a cleansing oil. But must it? Well, I would think it's a personal preference and it also depends on how much makeup you use on your face. So today, I decided to share six of the double cleansing methods I've experimented with you.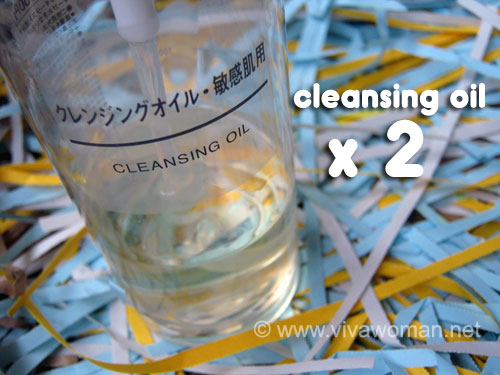 1. Using cleansing oil twice
The concept of using cleansing oil is probably still a little strange to those outside Asia. Cleansing oils such as those from Shiseido, DHC or Muji are formulated to melt away makeup completely and yet, be gentle on the skin. You should actually work a coin size amount into your dry face without any contact with water first. Personally, I find that a bit difficult with some of the cleansing oils and so I do use a little bit of water to reduce the friction while massaging. Once I've massaged off the makeup off my face, I wash my face with warm water and then follow on with another coin size amount for a final wash. This time, aiming to wash off whatever impurities that was not rid off in the first wash. Most of these commercial cleansing oils do foam a little but they are not drying at all. In fact, they always leave a "film" on the skin after washing and some ladies feel that their skin is not quite clean due to that residue.
Recommend for: all skin types & those who use a lot of makeup as this cleansing method removes all makeup effectively while leaving the skin soft and not dry. Leaves a slightly sticky residue behind that some may dislike.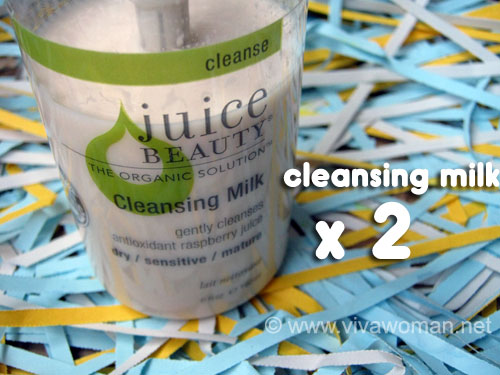 2. Using cleansing milk twice
As far as I can remember, the makeup remover that I used years ago felt like a cleansing milk. I haven't tracked their developments but I guessed, the name got changed over the years and now, most of them are widely known as cleansing milk. The good thing about cleansing milk is, they're cream based and hence, cause less friction on the skin even without water. While they do remove makeup well but with the eye area, you may require the aid of a cotton pad to remove heavy eye makeup thoroughly. So like the cleansing oil, the first cleanse is to remove all the makeup, followed by a rinse and then a second cleanse to remove all the remaining impurities from the face. In terms of residue, I actually find cleansing milk leaving behind a heavier "film". So double cleansing with milk is not something I favor. But for some ladies with dry skin, double cleansing with just cleansing milk works very well for them.
Recommended for: dry skin type & those who do not wear heavy eye makeup.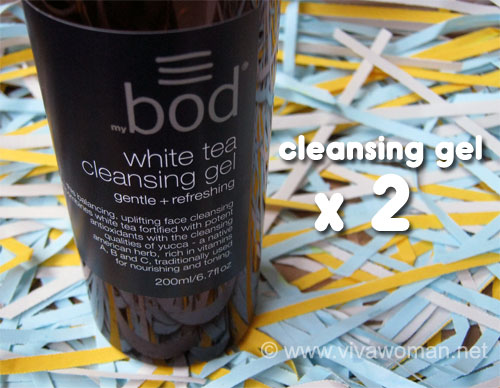 3. Using cleansing gel twice
Most people have the misconception that cleansing gels or foaming cleansers are too drying on the face. Well, it really depends on the formulation. Most natural and organic formulations do not come with SLS and hence, are extremely gentle on the skin. So with the right cleanser, you can use it to remove your makeup first before following on a second round with the final cleanse. But like the cleansing milk, you probably need the help of a cotton pad to remove excessive eye makeup too. It's not too difficult as all you need is to use a cotton pad to gently wipe the eye area during the first wash. Take note of your strength as you do not want to pull the delicate skin around your eye area.
Recommended for: normal to oily skin type & who do not wear excessive eye and face makeup.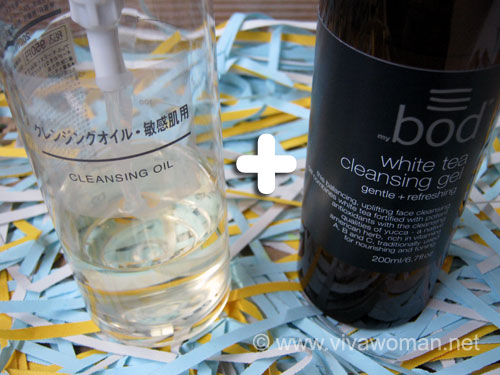 4. Using cleansing oil + cleansing gel
This is a very popular double cleanse routine for many. The cleansing oil works on all skin types and since it is particularly great for removing oil, is an effective cleanser for removing makeup, even heavy eye makeup. Because of the slightly sticky residue it leaves behind, some ladies prefer to follow on with a cleansing gel or foaming cleanser to get rid of that residue. The cleansing gel should be free of SLS so that it will not remove the natural lipids from your skin. After cleansing, your face should feel soft and not dry.
Recommended for: normal to oily skin types, particularly those who like to use a lot of makeup.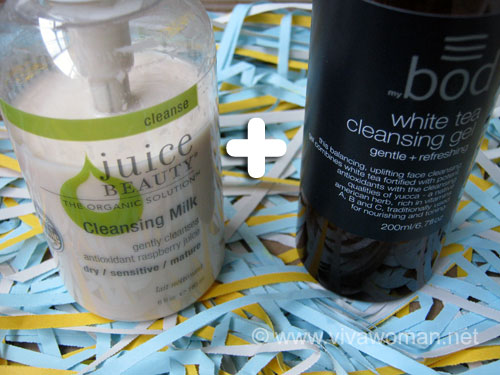 5. Using cleansing milk + cleansing gel
Likewise, some ladies dislike the sticky residue left behind by the cleansing milk and so prefer to use the cleansing milk to first remove their makeup or surface dirt, followed on by a gentle cleansing gel or foaming gel that does not contain SLS. This is quite a effective double cleanse method except that you might need to put in more effort to get rid of heavy eye makeup with a cotton pad. However, usage of a cotton pad to wipe the eye area may cause excessive pulling and hence, is not encouraged for everyday cleansing.
Recommended for: normal to dry skin types and those who do not use a lot of eye makeup.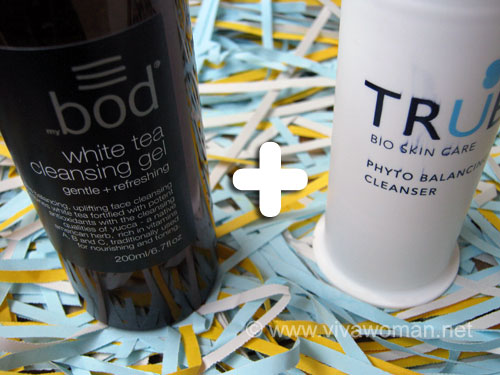 6. Using a cleansing gel + another cleansing gel
This probably don't make sense to many of you as it is quite unique to me. It is actually similar to using a cleansing gel twice but the difference is, I use two different cleansing gels. The only reason I do this is because I'm trying to stretch the use of my cleanser, which is expensive. So I pick one that is gentle and cost lesser to remove my makeup, sunscreen and surface dirt before following on with the more expensive, but also gentle cleanser, to give a final cleanse and improve my skin tone.
Recommended for: normal to oily skin type & who do not wear heavy eye and face makeup.
My overall thoughts
The method you choose will depend on your skin type, your skin care products, your makeup and your preferences. However, there is no denying that double cleanse is an important skin care routine as your face needs to be really clean to be able to absorb the active ingredients from your skin care products. In fact, a Korean beauty expert actually suggested cleansing three times! I tried that for a short period of time but found it excessive as our skin should not be cleansed in such a way that our natural lipids are stripped off too. And related to that, I'll say that the choice of your cleansers is important. Choose those that are of mild formulations without harsh chemicals such as sodium lauryl sulphate (SLS), sodium laureth sulphate (SLES) and alcohol denat as these ingredients are extremely drying on the skin in the long run.
Do you double cleanse and what's your favorite double cleanse routine?
Tomorrow I'll discuss why you should always double cleanse at the end of the day even if you do not use makeup but for now, come in and share with me, which is your favorite double cleansing routine.
Comments