Beauty breakfast: wholemeal bread & egg *yums*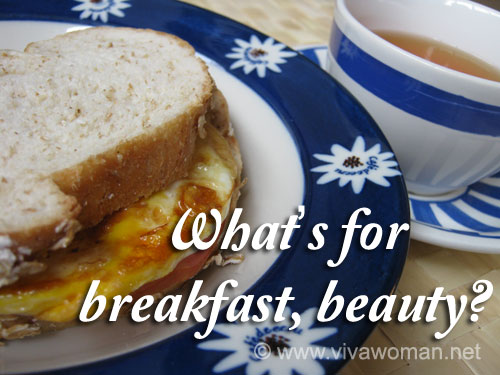 Good morning VivaBellas! What did you have for breakfast this morning? Was it something delicious, nutritious and good for your skin? This is what I have for breakfast this morning. A sandwich of wholemeal bread with egg and ham. Okay, the ham wasn't so healthy and I didn't add any vegetables but the combination is still nutritious and delicious. Plus, it's got plenty of beauty goodness too!
Beauty benefits of eating wholemeal bread
We've been eating this light wholemeal loaf from Gardenia and we love how tasty and light it is. Obviously, multigrain is much better but we only eat it occasionally (when the supermarket runs out of the wholemeal) because it just isn't as tasty. Still, wholemeal bread is a lot better than white bread because it is made from flour milled from 100% of the grain and not refined white flour. Hence, we get the B vitamins, vitamin E, calcium, phosphorus, zinc, copper, iron and fiber.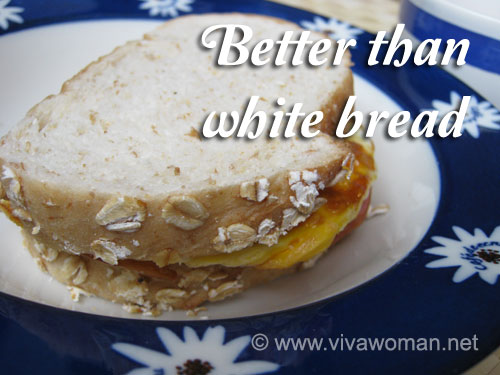 B vitamins for better complexion
You may like to know that the B vitamins are required for every aspect of metabolism in our skin. In fact, these vitamins keep new cells healthy and growing in our dermis, or the second layer of our skin. If we do not have enough B vitamins, our complexion can become dull.
Iron for radiant, rosy skin
Iron is also another important nutrient for our complexion because of it's ability to take in oxygen, making it a critical part of hemoglobin in our red blood cells and improving the oxygen flow from our lungs to our skin cells. With a steady flow of blood to our skin, our skin will look rosy and radiant.
Fiber to eliminate toxins from our digestive system and liver
You should already know that fiber is our skin's best friend by now because it will help our digestive tract work better. By improving the rate at which our body eliminate toxins, our skin stays healthy and we can keep skin issues such as acne at bay.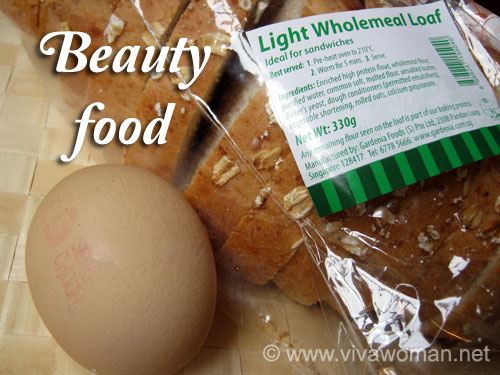 Beauty benefits of eating eggs
Eggs are cheap and good. An egg or two a day can keep your skin tight, toned and sag-free because eggs are a good source of selenium, which is a natural skin firming nutrient. You can also find choline, protein, and other skin-beautifying nutrient in eggs.
High choline content to improve skin elasticity
Choline is a B vitamin essential in the normal functioning of all cells, including your skin's. It is also a key component of the fat-containing structures in cell membranes. Hence, choline will improve the elasticity of your skin to minimize wrinkle formation.
Lutein and protein for healthy skin and hair
Recent research has shown that there maybe more bioavailable lutein in eggs than in green vegetables. A study also demonstrated that lutein in eggs increases elasticity, hydration, and lipid content in skin, resulting in a healthier appearance (source). Also, adequate protein levels in eggs are essential in growing healthy hair and nails.
Protein helps in weight loss
Protein-packed eggs have been proven to provide longer-burning energy and a fuller stomach. A scientific review article published in today's Journal of the American College of Nutrition supplement reports that leucine, an essential amino acid found in high quality protein like eggs, potentially provides a weight loss advantage during dieting by helping to reduce loss of lean tissue, promote loss of body fat, and stabilize blood glucose levels (source).
My daily bread
I do take a nutritional drink, which includes vitamin C and E, so I reckon going without fruits in the morning is fine. Anyway, I don't have enough time to peel and cut the fruits anyway. But preparation of this breakfast isn't so time consuming. It takes about 5 minutes or so. I could have cut out the ham and add some vegetable if I really want it to be uber healthy but hey, I want my breakfast tasty and fuss-free too! And while I may not eat this combination every day but wholemeal bread is definitely part of my daily diet.
Comments