Share: what time at night do you put on skin care?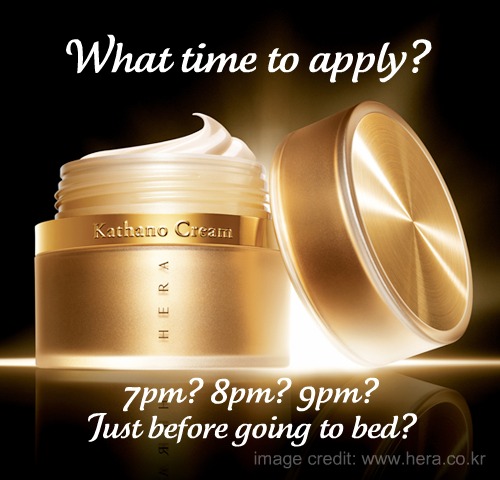 Hazel of Hazelnutt House posed a question to her readers recently asking them if they reapply skin care products before bed.  I thought it was very interesting and decided to hijack the topic today. Before reading her entry, I didn't give much thoughts to the time I apply my skin care products at night. I usually take a bath and apply my skin care products in the evening and just leave it as that. Sometimes, this routine means one hour before bedtime but sometimes, it can be three hours before I actually go off to bed. Either way, rarely do I wash my face again or reapply my skin care products before bedtime.
Since reading her entry, I've re-thought this night time skin care routine again but still can't find a right answer. Yes, it's true that instructions on most night products tell you to apply their serums or creams before going to bed but exactly how precise must this routine be and is there a significant difference? I have tried applying products just before bedtime but essentially, didn't notice a huge difference to my skin the morning after.
Maybe I'm really ignorant here and I should change my night time routine but I'll like to find out from the rest of you first. What time do you apply your skin care products at night?
Comments