Guest review: Organic Bloom & Ola Hawaii range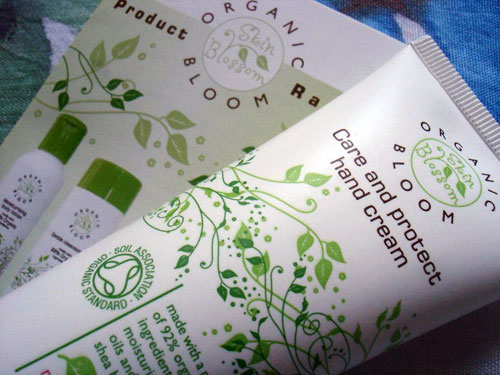 Organic Bloom Skin Blossom Care and Protect Hand Cream ($16.90)
Ingredients: Aqua (Water), Helianthus Annuus*(Sunflower Oil), Prunus Amygdalus Dulcis* (Sweet Almond Oil), Vitis Vinifera* (Grape Seed Oil), Stearic Acid, Glyceryl Stearate SE. Glyceryl Stearate/Cetearyl. Alcohol/Cetyl Palmitate/Cocoglycerides, Glycerin*, Sodium Stearoyl Lactylate, Aloe Barbadensis leaf juice powder*, Butyrospermum Parkii* (Shea Butter), Phenoxyethanol/Benzyl Alcohol/Potassium Sorbate, Pelargonium Graveolens flower oil* (Rose Geranium), Sodium Benzoate, Citral, Geraniol, Citronellol, Limonene and Linalool. *Certified as Organically Grown
The hand cream contains ingredients that are certified as organically grown and would definitely appeal to those who are conscious about the ingredients that are being applied onto their skin.
The cream has a subtle rose scent that isn't overpowering. The mild scent has allowed me to reapply the cream when I am outdoors without getting others cringing their nose at me. The cream even has a slight 'herb-like' scent that is soothing and has a calming effect. It has a light airy feeling that is easily absorbed by the skin. Most importantly, it does not leave a sticky residue after I had washed my hands. However, the slightly runny texture has caused some spillage when I uncapped the cream. Thankfully, handling the package at a certain angles can minimize the wastage. I am happily satisfied with the hand cream that I even use it for other parts of my body such as the elbow, knee and even heels! The only downside is that it is in a 60ml packaging and can only last for about 3 weeks with daily usage.
Rating: 5 out of 5 hearts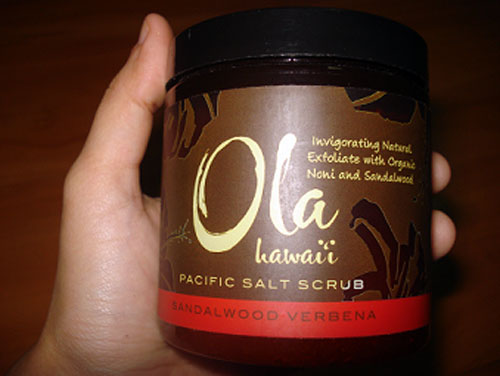 Ola Hawaii Pacific Salt Scrub Sandalwood Verbena ($39.90)
Ingredients: Pacific Sea Salt Lehua Honey*, Fractionated Coconut Oil, Virgin Coconut Butter*, Vegetable Glycerin, Coconut Oil*, Mango Seed Butter, Avocado Fruit Oil, Macadamia Nut Oil, Kukui Nut Oil, Hawaiian Alae Red Sea Salt, Hawaiian Deep Sea Minerals, *Sandalwood Powder. Extracts Of: Aloe*, Noni*, Olena Root*, Aloe Vera Powder, Noni Powder*, Lemon Verbena Fragrance*. Essential Oils Of: *Sandalwood, Lemon, Lime, Balsam Peru. *Organically or Sustainably Grown
What I really love about the scrub is the sweet coconuty scent and the fact that the scrub bits are small and non-harsh on the skin. As the scrub is mainly oil-based, there was minimal friction as I rub it against my skin. Initially when I first used it, it felt as though I was giving myself a good massage instead of exfoliating my skin. After rinsing, a light film of oil remains on the skin and lasted through the night until my morning shower.
However, due to the fact that it contains a variety of oils, the bathroom tiles can get pretty oily and sticky upon rinsing. This is a major concern for me as I have elderly individuals staying with me. As such, I spent a great amount of time, rinsing the bathroom floor; making sure that it wouldn't be slippery. Despite that, I am impress with the overall effect that it has on my skin; making it rather smooth with a tinge of silkiness. As such, I resorted to dipping my fingers in the tub to merely gather up some of the oil and use it as a moisturizer for my dry elbows.
Rating: 3.5 out of 5 hearts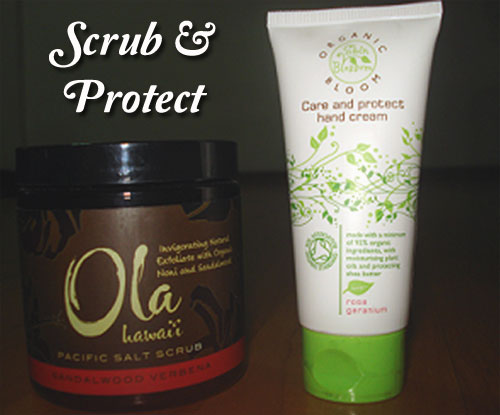 Special promotion for Viva Woman readers
Kanga Organics provides free delivery within Singapore for orders above S$80 and the good news is that Viva Woman readers can get a lifetime of 10% discount on all products! YAY! What is needed is that you type Viva Woman under remarks upon checkout at the Kanga Organics website. That's all! So if you're from Singapore and are interested in affordable organic bath and body products, head over to the website to check out!
Update: For this coming weekend only (till 14 Nov), readers who buy both of these reviewed products can get an additional 5% off total price on top of the 10%!
Comments