Organic Olive Essence: Gold Healing Nutrient
♥Guest Post♥ This is the second part of a guest post from Crystal of Watermoolen on products from Spa de Soliel, which were sent complimentary to her for review on behalf of Viva Woman..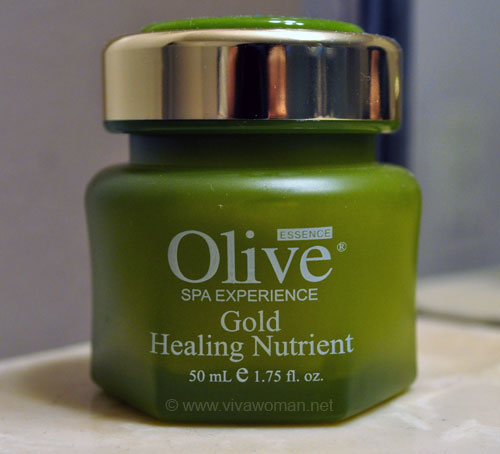 Organic Olive Essence product line
This is the second part of the review on the Organic Olive Essence product line. To read in detail about the company, please refer back to the first part of the review, where you can also find reviews of the body butter and hand cream from the same line.
In brief, Home Spa Collection is an e-commerce store that sells a variety of skincare products depending on your skincare/haircare (i.e., anti-aging, acne) needs.The eco- friendly skincare/haircare company believes in creating their products within days of the order, and all products do not contain parabens and mineral oils. The Organic Olive Essence beauty line is also certified organic by the USDA through CCOF and OASIS and is in the final process through NSF and Eco-Cert (U.S. organic certifications). I've spent about one month testing all the beauty products provided by Spa de Soleil.
All organic & natural ingredients with no parabens
Organic Aloe Barbadensis Leaf Juice, Organic Oryza Sativa (rice) Extract, Organic Coconut Acid, Organic Butyrospermum Parkii (shea) Butter, Organic Elaeis Guineensis (palm) Butter, Organic Theobroma Cacao (cocoa) Seed Butter, Organic Vitis Vinifera (grape) Seed Oil, Organic Simmondsia Chinensis (jojoba ) Seed Oil, Organic Carthamus Tinctorius (safflower) Seed Oil, Organic Helianthus Annuus (sunflower) Seed Oil, Organic Prunus Amygdalus Dulcis (sweet almond) Oil, Organic Laminaria Japonica Extract, Organic Cannabis Sativa Seed Oil, Organic Pogostemon Cablin Oil, Spherical Silica, Organic Citrus Medica Limonum (lemon) Peel Oil, Organic Guar Gum, Organic Safe Guard.
In my first review, I stated that there was no sign of olive fruit extract or olive juice extract in the ingredient list. However, I was informed by the company that there was a mistake in the ingredient list – there is actually olive fruit extract in all of their Organic Olive Essence products. Like I mentioned in the first review, I like that there are no parabens or signs of chemical preservatives in their products. Most moisturizers/night creams are water or oil based, so it's nice to discover that the first ingredient in this moisturizer is organic aloe vera leaf juice.
This cream does not contain any signs of gold even though it is called the "Gold Healing Nutrient" cream. However, the company did mention this phrase, "Optional: For additional anti-aging benefits and a subtle warm glow, add desired quantity of 24k gold to cream and mix well with spatula." I'm assuming that you may have to purchase your own 24k gold dust to sprinkle onto the cream.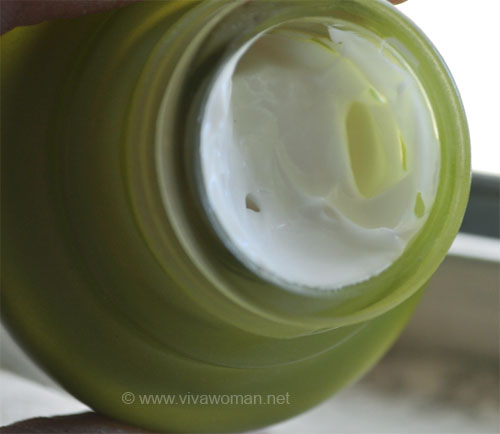 Suitable for all skin types except dry skin & noncomedogenic
Though the label indicated the product is suitable for all skin types, I think that it's not that suitable for dry skin. During winter time, my skin tends to get dry quickly so I usually need a heavy cream. Despite the product looking heavy, this cream is actually quite fluffy and seems to act more like a moisturizer than a cream. It isn't a real problem since I just slather more product onto my face. Also, I confirmed with the company through email that this cream is noncomedogenic (non-clogging pores). This cream did not cause any new breakouts or clogged pores, which is a plus! In addition, if you have sensitive skin, this cream can be a great night moisturizer.
Light, floral scent
The scent is absolutely wonderful, possibly one of the best characteristics of this cream! It definitely gives me an aroma-therapeutic feeling every time I apply it onto my face. It's a light scent which doesn't stay onto your face too long (great for sensitive skin because even though it contains "natural fragrances," you wouldn't want the scent to linger onto your skin). The scent isn't very distinctive, so all I can say is that it smells like an expensive bag of potpourri! It's a great way to end the night with the floral scent.
Packaging
The opening of the jar isn't as wide as the cap. In fact, when I almost used up the product, I had to use a Q-TIP to scrape the remaining because my fingers could not fit through the opening of the jar. I'm not sure why they didn't make the jar opening wider so that you wouldn't need to use a Q-TIP or scraper to get the product out. I'm thinking the reasoning behind the small opeing is to reduce contamination in the cream.
Conclusion
The cream claims that it will help restore moisture to your skin and protect it from the environment (i.e., the sun, pollution) and that you'll get "firmer skin in 7 days." I've used it for a month, and I have not seen any significant changes or firmness on my skin. What I did notice was that I did not have any breakouts caused by the product so this cream is truly noncomedogenic. Maybe it's because I am in my mid 20s and am not experiencing any visible wrinkles. However, I did enjoy the overall experience of this cream despite the inconvenience of the jar. In terms of long usage, I'm sure the skin will reap many benefits from the natural ingredients in the cream. This cream currently costs $29.99 and comes in a 1.75 oz jar (Home Spa Collection). This jar was used up in a month when applied only nightly on the face and neck.
Crystal will also be reviewing their facial gel cleanser in a bit.  Look out!
Comments