5+1 SLS-free foaming facial cleansers under S$40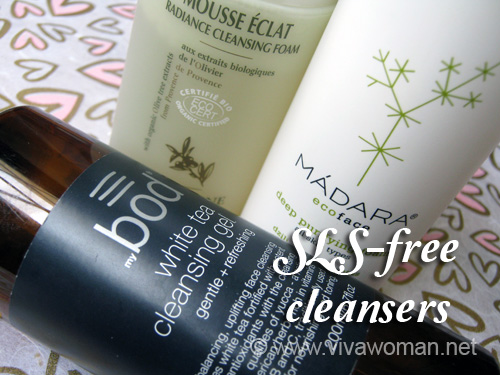 It's no secret that I love facial cleansers that foam and I believe that I'm not alone. Most of us equate foam and lather with more cleansing power. However, we also know that such cleansers shouldn't be stripping off the natural lipids off our skin. Hence, foaming facial cleansers should be free of Sodium Lauryl Sulfate or Laureth Sulfate (SLS). So today, I'll put up a summary of five facial cleansers I've tried and tested on my combination skin type – drier cheeks with oilier t-zone – that have worked well for me. I've also added one extra product, which was reviewed by a reader.
More natural formulations
Besides being free from laurly sulphates, these cleansers are all positioned as more natural in terms of their formulations, being free from parabens, petrochemicals, synthetic fragrances, and synthetic colours. Some of them even contain ingredients that are certified as organic. The alcohol you see in these formulations are derived from grain and are different from alcohol denat. Although I personally avoid alcohol of all sorts as far as possible in my skin care but the truth is, there are not many formulations that are free from them. But I took a decision to still use them anyway and they have worked well for me, thankfully.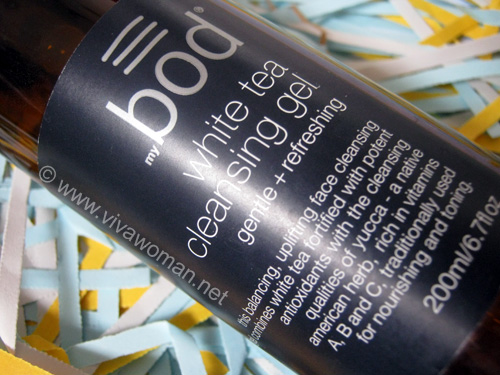 Bod White Tea Cleansing Gel 200ml S$36
Ingredients: White tea extract, sodium lauroyl sarcosinate, decyl glucoside, oat protein extract, yucca extract, ylang ylang, geranium, tangerine essential oils, potassium sorbate, xanthan gum, citric acid, sodium hydroxy-methyl-glycinate.
This is a transparent cleansing gel that foams rather well because of the sodium lauroyl sarcosinate and decyl glucoside. It's supposed to contain quite a bit of antioxidant benefits going by the ingredients like white tea and yucca, a native American herb rich in vitamins A, B and C. The oats are to provide soothing qualities and is said to assist with reducing redness in skin. I like the short ingredient list and the product does not even contain plant alcohol! It smells good, worked well for my skin and the bottle lasted me a good 4 months! Available at selected Watsons.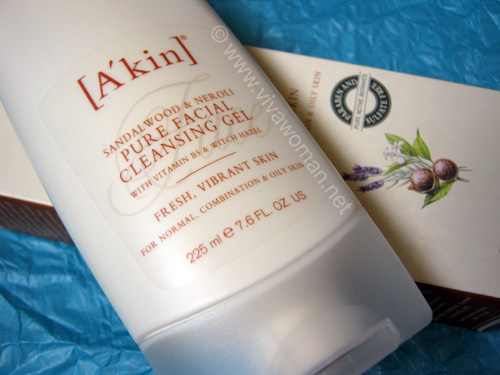 A'kin Sandalwood & Neroli Pure Facial Cleansing Gel 225ml S$37
Ingredients: aqua, disodium cocoamphodiacetate (from coconut), lauryl glucoside (from coconut, palm and glucose), sorbitol (non-GMO), sodium cocoyl glutamate (from coconut and sugarcane), glycerin (botanical source), selerotium gum, sodium isostearoyl lactylate (botanical source), witch hazel extract, glyceryl laurate (botanical source), sodium gluconate(non-GMO), sodium citrate (botanical source), citric acid (botanical source), sodium stearoyl lactylate (botanical source), methyldibromo glutaronitrile, phenoxyethanol, panama bark, panthenol (pro-vitamin B5), west Australian sandalwood oil, orange flower water.
This one comes in a gel form and foams really well. It worked for me in terms of removing my light makeup and yet left my skin soft and refreshed, even with double cleansing. The scent of scandalwood took some getting used to though, as it is rather strong and it reminds me of some old furniture.  But a few days after using this cleanser, the smell stopped bothering me.  I also like the rubber stopper, which helps control the amount of cleanser I pump out and this 225ml lasted me around 3 to 4 months.  Available at leading Guardian Pharmacies and some organic stores selling skin care too.



Thursday Plantation Tea Tree Daily Face Wash 150ml S$18.35
Ingredients: Water, Coco-Betaine, Decyl Glucoside, Chamomile Recutita, (Matricaria) Flower Extract, Melaleuca Alternifolia (Tea Tree) Leaf Oil, Sodium Hydroxymethylglycinate, Eucalyptus Citriodora Oil, Limonene.
This one disperses foam right out of the bottle and has a strong tea tree smell. It cleanses well and did not dry up my skin so it's a decent cleanser. Although the tea tree smell is strong and not particularly appealing, but the smell also left my skin feeling very refreshed. I find this formulation particularly good for those with acne prone skin. This is the cheapest of all the foaming cleansers reviewed here and is available at selected Watsons and Guardian Pharmacies.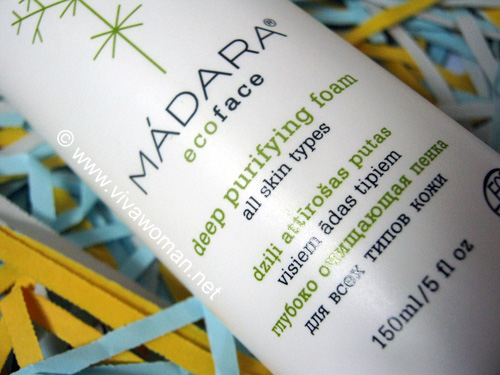 MADARA Ecoface Deep Purfying Foam 150ml S$39
Ingredients: Aqua, Rosa Damascena (Rose) Distillate*, Sodium Cocoamphoacetate, Alcohol, Glycerin*, Surcose Cocoate, Achillea Millefolium (Yarrow) Extract*, Hypericum Perforatum (St. John's Wort) Extract*, Calendula Officinalis (Calendula) Extract*, Chamomilla Recutita (Camomile) Extract* *Ingredients issued from Organic Agriculture.
This is another cleanser that pumps foam right out of the bottle. It cleanses well and smells wonderful with a botanical scent. It cleanses away light makeup but you will definitely need to double cleanse. So since it is a foam cleanser, I use this only in the mornings as I find it quite a waste to use for double cleansing. No tight or taut feeling after cleansing and face is soft and smooth afterwards. Available at Pure Tincture.


L'Occitane Olive Tree Organic Radiance Cleansing Foam 100ml S$36
Ingredients: aqua/water** – olea europaea (olive) fruit water* – disodium cocoyl glutamate** – glycerin** – coco-glucoside** – glyceryl oleate** – decyl glucoside** – mentha viridis (spearmint) leaf oil* – capryloyl glycine** – sodium cocoyl glutamate** – olea europaea (olive) leaf extract* – alcohol* – cocamidopropyl betaine – parfum/fragrance -sodium phytate – sodium benzoate – potassium sorbate – sodium hydroxide – citric acid** – limonene** – linalool**. *ingredient issued from organic agriculture; ** natural origin ingredients.
99.59% of total ingredients are of natural origin.
10.22% of total ingredients of from organic farming.
Another cleanser that foams right out of the bottle with ingredients certified as organic by Ecocert; I don't find anything exceptional about the after effects as I do not see my face becoming more radiant after each wash. I find the scent very strong when I first started using this, and I kept thinking I was stuffing my face with crushed leaves and vegetables. But I find that compared to other foaming cleansers I've tried, this one comes across more foamy and I didn't need to squirt as much. The cleansing power is quite good and my skin was left feeling fresh, clean and non drying. This is the most expensive of the cleansers listed here and is available at L'Occitane stores.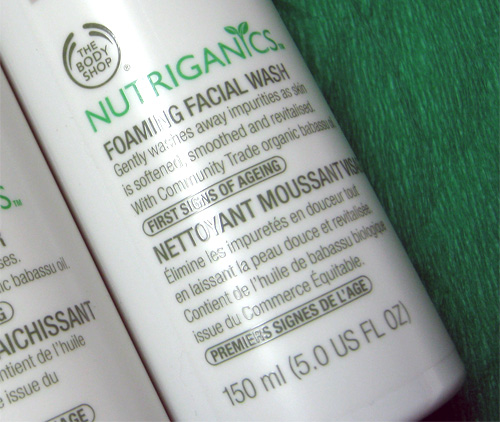 Nutriganics Foaming Facial Wash 150ml S$24.90
Ingredients: Aqua (Solvent/Diluent), Sucrose (Humectant), Glycerin (Humectant), Propanediol (Viscosity Modifier), Coco-Betaine (Skin Conditioning Agent), Cocamidopropyl Betaine (Surfactant), Coco-Glucoside (Surfactant), Polyglyceryl-4 Caprate (Skin Conditioning Agent), Sodium Chloride (Viscosity Modifier), Sucrose Laurate (Skin Conditioning Agent), Sodium Benzoate (Preservative), Salicylic Acid (Preservative/Hair Conditioner), Parfum (Fragrance), Linalool (Fragrance Ingredient), Citronellol (Fragrance Ingredient), Orbignya Oleifera Seed Oil (Emollient), Buddleja Davidii Extract (Skin Conditioning Agent), Thymus Vulgaris Extract (Natural Additive), Malva Sylvestris Flower Extract (Natural Additive), Arginine (Skin Conditioning Agent), Citric Acid (pH Adjuster), Potassium Sorbate (Preservative).
This was reviewed by Cass and the product is certified organic by Ecocert. This comes in a pump bottle, which disperses cleansing foam. She used this to double cleanse her light makeup and her skin didn't feel dry. In fact, it left her skin feeling soft. According to her, the smell was acceptable with no artificial fragrance. She highlighted that those with hyper sensitive eyes need to be careful using this as the cleanser stung her eyes when it accidentally got in. But otherwise, she would definitely recommend this product. Available at The Body Shop.


Practice of double cleansing
All of the five cleansers I've recommended worked for me without stripping off my natural lipids and yet keeping my face clean and fresh. However, note that I've either used the cleansers in the morning when my face was relatively clean or if I had used them in the evening, I've always double cleansed using the same cleanser twice or using it after taking my makeup off with a cream cleanser or oil cleanser.
Comments